5 Days for the Homeless
DeGroote | Hamilton, ON | March 11, 2013 | Updated: February 24, 2016

Six DeGroote commerce students are sleeping outside from Sunday, March 10 to Friday, March 15 as part of the 5 Days for the Homeless program. They're raising money for Hamilton's youth shelter, Notre Dame House.
Donations are being accepted for two weeks after the campaign. Visit the team's donation page if you'd like to help support the shelter.
---
What's Going On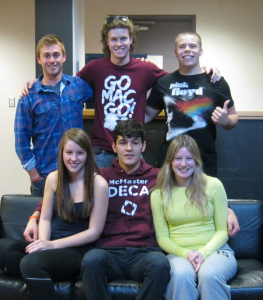 5 Days for the Homeless is a national campaign that started at the University of Alberta School of Business. Students sleep outside on campus for 5 nights to raise awareness about homelessness and to raise money for a local charity.  The McMaster team is made up of six commerce students who will be participating from March 10 – 15. Their base camp is just outside the student centre, near the entrance to Titles Bookstore. The team's goal is to raise $12,000 for Notre Dame House by the end of the week.
"Sleepers" have to obey the campaign rules. You can read all the rules on the campaign website, but a few of them are:
Sleepers can only eat what they are given as a donation, and non-perishable food has to be saved and donated to a shelter.
Sleepers still have to attend all their classes and extracurricular activities.
Sleepers have to avoid using cell phones or social media, except when they are being used to help promote the campaign.
How to Help
On Wednesday we asked two of the sleepers, Chloe and Ari, what the hardest part of the experience has been so far. We also asked them what people can do to help the campaign help real homeless kids and young people in Hamilton.
If you'd like to make a donation, please visit the team's 5 Days for the Homeless page. Proceeds go to Hamilton's youth shelter: Notre Dame House.
Drop by base camp (outside McMaster's student centre) and:

Make a monetary donation. (Even spare change helps.)
Donate non-perishable food or clothing.
Encourage the sleepers and help raise awareness.

Make a donation online through the campaign website.
Talk to your friends about the campaign and the issue of homelessness in Hamilton.
The Sleepers
The six commerce students sleeping outside during 5D4H are:
Ari Fejzaj
Chloe Cross
Gavin Cook
Max Planques
Riley Booth
Ryland Varcoe
You can read about each of them on the 5D4H website.
Updates from the sleepers are also being posted on the team's blog.
On Tuesday we asked Ari and Max why they thought it was important for commerce students to be involved in campaigns like 5 Days for the Homeless:
Notre Dame House
Dawn Kidder is the program manager for the Community Resource Centre at Notre Dame House. On Monday, she spoke to us about why the 5 Days for the Homeless campaign is important to the shelter.
Other Resources
The Hamilton Spectator ran a story about the 5 Days for the Homeless campaign at McMaster on Wednesday: No place like homelessness for these Mac students