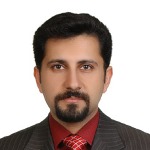 Farhad Sadeh
Marketing
McMaster University 1280 Main Street West Hamilton, ON, Canada L8S 4M4
DSB A210
905-525-9140, x26169
Farhad joined the PhD program in Marketing at the DeGroote School of Business in September 2013. His research interests are focused on Distribution Channel, Branding and B2B Marketing.
Supervisor: Manish Kacker
Education
M.B.A., Marketing, Sharif University
B.Sc., Industrial Engineering, Isfahan University of Technology
Selected Publications and Presentations
Publications
'Survey on the Effectiveness of Promotional and Communication Strategies Adopted by Financial Services', to be published at African Journal of Business Management Vol. 6 (44), 7 November 2012
'The Possible Effects of Need for Uniqueness's Dimensions on Luxury Brands: Case of Iran and UAE', to be published at International Journal of Marketing Studies, Vol. 3, No. 3; August 2011
Conference Presentations
'The Development of Buyer–Seller Relationship in Iranian Context', accepted for presentation at the Seventh International Conference of Global Academy of Business & Economic Research group, October 24-26, New York, USA
'Driving Factors and Effectiveness of Sales Promotion in Shopping Malls in Iran', presented in 14th International Business Research Conference, 28-30 April 2011, Dubai, UAE
'An Innovative Study on Customer's Satisfaction for Debit Card services (An Empirical Study on Three Iranian Private Banks), presented in 8th Annual International Conference on Small and Medium Sized Enterprises: Management–Marketing–Economic and Social Aspects, 1-4 of August 2011, Athens, Greece
'Customer Satisfaction in Port Industry (A Case study of Iranian shipping), presented in 2011 International Conference on Industrial Technology Economics – ICITE 2011, 4-5, June 2011, Kuala Lumpur, Malaysia
'Debit Cardholder's Expectations and Preferences toward Banking System in Iran (An Empirical Study on Three Iranian Private Banks), presented in Global Islamic Marketing Conference, March 20-22, 2011, Dubai, UAE
'Creating Customer Satisfaction Strategies in Maritime Industries in Iran (A Case Study of IRISL and Sea Land Shipping Companies)', accepted for presentation in Customer Satisfaction Management Conference, February 24, 2011, Tehran, Iran
'Constructing Unique Brand for Insurance Companies through Assortment IMC Tools', presented in 5th International Brand Conference, December 2, 2010, Tehran, Iran
'TPM Implementing Obstacles in Iran and Suggested Solutions', presented in 4th Conference on Maintenance, November 13-14, 2006, Tehran, Iran
'7steps of Autonomous Maintenance in TPM', presented in Third Conference on Maintenance, September 11-12, 2005, Tehran, Iran
Professional Activities
Before joining the PhD program, Farhad spent over 10 years in different industries at several job positions in Business and Management Systems area.