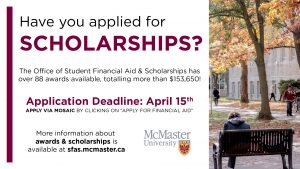 Scholarship and Award Applications are Live
Don't miss your opportunity to apply for McMaster and DeGroote scholarships and awards.
There are a number of awards that may be very relevant to you. While several awards are academic, there are also awards for student athletes, leaders, and anyone demonstrating high levels of engagement.
If you're interested in learning more about the available scholarships and how to apply, please visit sfas.mcmaster.ca/mosaic
The application deadline is April 15.