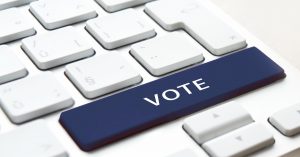 We're developing branding for the DeGroote Bistro and we want your help. The Bistro belongs to everyone at DeGroote, so you get to help choose its visual identity.
We've created three different versions of a new logo. Vote for the one you think is best, and you could win one of four $25 gift certificates or a 10 free coffees card for the Bistro in the fall!
Visit the voting page and click the heart beside the logo you like the best.
Voting closes on Thursday, April 27 at noon.