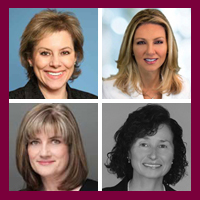 We are providing free tickets to the first 10 students who register for the DeGroote Women's Professional Network Toronto cocktail event on June 8.
Join the DeGroote Women's Professional Network for our first event in Toronto as our expert panel shares their insights on smashing the glass ceiling and making transformative impacts in business and society through senior leadership roles. Discussion topics will include how to position yourself as a candidate for senior leadership opportunities, attracting and developing top female talent in your organization, and succeeding in industries with low female representation. The panel will also speak to the value of mentorship and sponsorship, addressing unconscious bias in the workplace, and evolving corporate mindsets towards work-life balance.
When: June 8
Time: 5:30 p.m. to 7:30 p.m.
Where: Rosewater, 19 Toronto Street, Toronto, ON M5C 2R1, Canada
Agenda
5:30 – 6:15 p.m. – Registration, networking, cocktails & canapes
6 – 7:30 p.m. – Panel presentation and audience Q&A
7:30 – 8:30 p.m. – Optional networking
Dress Code: Business Attire
If interested, registration is now open.
About the DeGroote Women's Professional Network
The DeGroote Women's Professional Network is committed to the advancement of women in business and society through continuing learning and professional development, networking opportunities, mentorship platforms, and philanthropic initiatives. The Network brings together current and emerging female leaders from across the DeGroote community in support of the mission of the DeGroote School of Business. This collective of passionate and collaborative women openly welcomes students, alumni, academics, community members, and corporate partners from a diverse set of backgrounds.