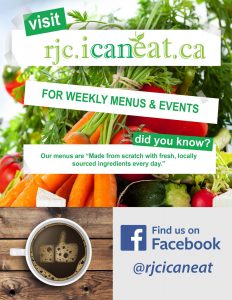 Dana Hospitality invites everyone at the Ron Joyce Center to experience meals made from scratch with fresh, local, ingredients. Every day.
Dana takes great pride in bringing exceptionally delicious menu selections to our guests, using safe and healthy cooking practices. What that means to you is that they never use frozen, pre-packaged or processed entrées. They never use canned, freeze-dried or bagged soup. Dana's Chefs prepare soups fresh daily using low sodium, MSG free soup bases and fresh ingredients.
Your Chef will be delighted to meet each student personally and discuss your shared passion for great food. Please don't hesitate to approach any of our team directly with any questions or feedback.
rjc.icaneat.ca
RJC.Icaneat.ca is is the communication hub for all of your dining needs at the Ron Joyce Center!
Within the I Can Eat website, guests are empowered with all the information you need to make a great choice when deciding what to eat. Dana wants all students to explore the ever-changing variety within their weekly menus, understand their culinary philosophy and most importantly interact with your Chef and food services team all in one place.
Take a look at the menu for the week!