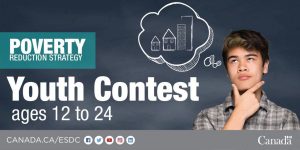 The Canadian Government wants to hear from youth across the country.
They are inviting young people, from coast to coast to coast, to answer one question: How can we reduce poverty in Canada?
Selected individuals will have the chance to showcase their entry at a national poverty reduction conference in Ottawa this September.
About the Contest
For full contest details, please visit Reduce Poverty in Canada online.  All submissions must be received by August 14.
Remember to Like and follow the Facebook and Twitter pages (please use the hashtag #ReducePoverty) for up-to-date information on the Poverty Reduction Strategy.