Online International Management Simulation Challenge 2017
The NHRDN International Management Simulation Challenge (IMC) is an International Championship where participants are exposed to the challenges of Managing Business Enterprises in a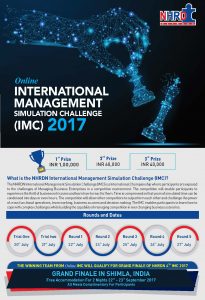 competitive environment.
The competition will enable participants to experience the thrill of business intricacies and learn how to react to them. Time is compressed so that years of simulated time can be condensed into days or even hours. The competition will allow other competitors to outperform each other and challenge the power of cross-functional operations, team working, business acumen and decision making. The IMC enables participants to learn how to cope with complex challenges while building the capability of managing competition in ever changing business scenarios.
Rounds and Dates:
Trial 1 – July 20
Trial 2 – July 21
Round 1 – July 22
Round 2 – July 24
Round 3 – July 25
Round 4 – July 26
Round 5 – July 27
The winning team from IMC will qualify for the Grand Finale in Shimla, India.*
Please visit nationalhrd.org for more information.
*Free accommodation for two nights (22nd – 23rd September). All meals will be complimentary for participants.