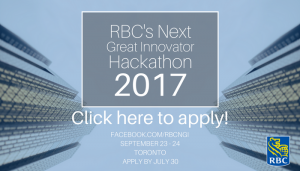 RBC's Next Great Innovator Hackathon 2017
Students bring a fresh and innovative perspective to the way we do business, so RBC is pleased and excited that you are interested in joining them to showcase your skills in order to develop a digital solution that answers this year's challenge question.
At RBC, their culture is deeply supportive, rich in opportunity and reward, and high in integrity and performance. To them, being a global leader means continuously pursuing the path to excellence. So whether they're developing new technology, inventing products for a changing world, creating innovative business models, or forging new relationships with clients, they're constantly pushing the boundaries of banking – all 80,000 of them. RBC enables their employees to achieve their goals and reach their full potential and they are always on the look out for new talent to join their amazing team.
Application Instructions
To submit your application for this year's hackathon, please submit the following:
Your up to date resume – make sure you highlight
Your technical/programming skills (MS Office, Excel, C#, C++, HTML, etc.) and any prior business or coding experience
Details of your educational background and graduation date (month and year)
Previous hackathon or personal projects
Your complete application (found by going to the next page)
If applying as a team, make sure each team member submits a separate application and lists your team name in the form
If applying as an individual, we will have a team formation session at the beginning of the event for you to select your team members
Application Due Date:  July 30 @ 11:59 p.m.
Apply online.