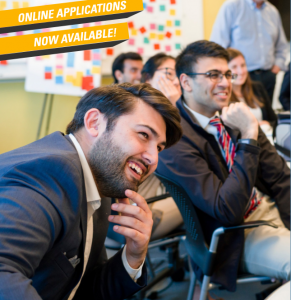 The Health Leadership Academy's Emerging Health Leaders Program will be offered in both Spring (April 29 – May, 12 2018) and Summer (Aug. 19-Sept. 1, 2018).
Applications are open online and will close on Feb. 26, 2018.
The Emerging Health Leaders Program is a two-week intensive program available to both undergraduate and graduate students. This program will challenge the way you think and it will push you to become a better leader by focusing on: personal leadership development, effective teams, change management, design thinking, as well as identifying, implementing and championing new ideas and innovations in a health environment.
At the end of the program, you are more likely to:
Challenge your thinking and develop your personal leadership capabilities
Become a champion for innovation by learning how to spot, support and implement new and creative approaches to getting things done
Develop your ability to collaborate, and work within and across multiple teams to solve complex problems
Learn about how to make an immediate impact in the workplace
Experience an intensive leadership development program that will supplement your professional resume or Graduate school application
For more information on the Health Leadership Academy, please visit healthleadershipacademy.ca