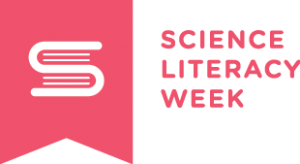 In recognition of Science Literary Week, a number of great events are lined up to celebrate and recognize the importance of science.
Thode Makerspace Workshop Series

The Poetry of Science with Hamilton Youth Poets (Sept. 19, 6:30 – 8:30 p.m.)
Science and poetry give us the unique ability to understand the world around us. There is a way to take abstract concepts and turn them into art to make them more accessible. The McMaster Space Initiative and Hamilton Youth Poets invite you to join them in this first writing workshop of two to learn the art of weaving science into poetry. Mentors from HYP will give a tutorial on basic poetry creating techniques.
Strategies for Navigating the Era of Fake News with Mark Busser (Sept. 20, Noon – 1 p.m.)
At a time when many of us read our news through the medium of social media, how do we know which stories to trust? This workshop on digital literacy will examine the problem of fake news, explore the roots of conspiracism and the general distrust in scientific communities and authorities. We will learn how to recognize types of fake news and identify the telltale signs of fake news sites. In order to turn our cynicism about the news industry towards a healthy skepticism, we will explore some interdisciplinary remedies to curb the systemic distrust in science.
IT Security Hygiene – Protecting Your Information (Sept. 20 6 – 7 p.m.)
How valuable is your MacID? What are some safeguards and best practices that can be used to improve security and privacy at work?
This presentation is geared toward reviewing basic principles of IT Security hygiene, with a focus on our responsibilities as individuals to protect our MacIDs, safeguard our systems and network, and to be a good digital citizen on the McMaster Domain. Presenter: Wayde Nie, Manager, Servers, Storage and Architecture, UTS
Energy Workshop with the McMaster Undergraduate Energy Society  (Sept. 21, 6 – 7 p.m.)
Through this workshop, we want to debunk some important myths about the energy industry and give students a snapshot of what powers their daily lives. Broken down into simple concepts a multidisciplinary audience can understand, we aim to give students a better understanding of clean energy of today and what innovations are being made to make it more sustainable. Presenters include Zainab Husain (VP Events & Campus Outreach) & Nelson Mok (VP Academic). All events take place in the Thode Library Makerspace, on the lower level.
Sustainable Development – Engineers Without Borders (Sept. 21, 7:15 – 8:15 p.m.)
Sustainable development is defined as the development that meets the needs of the present without compromising the ability of future generations to meet their own needs. Through this interactive case study, we will explore the framework for creating local and global sustainable development and the challenges that come along with it!
It Takes Two: How Iron Gall Ink Accelerates Paper Degradation (Sept. 22, 12:30 – 1:20 p.m.)
In this session, McMaster University Library's conservators will talk about the science of book and paper preservation. It all starts with chemical structure of cellulose which is the major component of paper, and how hydrolysis and oxidation affect those structures. Making matters more complicated is Iron Gall ink, the primary ink in use for many centuries, accelerates paper decay.
Electronics for the Rest of Us! (Sept. 22, 5 – 9 p.m. OR Sept. 23, 10:30 a.m. – 4:30 p.m.)
To most of us, the workings of the electronic devices that accompany (and enable!) our everyday lives often seem mysterious and opaque — an area of concern for only the most qualified 'techies'. This doesn't need to be the case. This two-day workshop will give students an opportunity to develop their skills by designing and building a functional electronic device. Limited enrollment. Registration is now open.
TEDxMcMasterU Lunchtime Salon series
TEDx Salons are smaller gatherings that allow attendees to interact with the speakers and discuss with like-minded audience members. Drs. Gibala and McNeill will be sharing their journeys as science communicators, and encouraging the audience to think about how we can better communicate science to the public.
The Science of Fitness: Translating the Message with Dr. Martin Gibala (Sept. 19 Noon – 1 p.m.)
Over the last decade, high-intensity interval training has evolved from a niche training method for serious athletes to the top fitness trend worldwide. Martin Gibala's research team at McMaster has been at the forefront of this exploding field of science, conducting ground-breaking studies on time-efficient workouts to boost health and fitness. Gibala has conducted hundreds of television, radio and print interviews with outlets ranging from The New York Times and TIME to Conan and Reddit. Together with Chris Shulgan, a journalist and the co-author of his bestselling book, The One-Minute Workout, Gibala will discuss his experience translating the fitness message, including the opportunities, challenges and potential pitfalls of science communication.
Fighting Fake News : the Need for Scientists to Speak Up! – Dr. Fiona McNeill (Sept 21. Noon – 1 p.m.)
Recently, we have seen our world filled with stories of 'fake news' and 'alternative facts' and this is extending into science. For example, the New York Times recently published a climate change denying op-ed, and news radio hosts have been calling hurricane forecasts 'hoaxes'. More than ever, the world is going to need scientists who are prepared to enter the public eye, and talk about their work. Fiona McNeill is going to talk about her experiences with 'fake news' and engage in a discussion of the steps scientists can and must take and the consequences for our world if they don't. All events take place just outside the Thode Library Makerspace on the lower level.
Additional Events
Planetarium Show: Matters of Size (Sept. 20 7 – 8:15 p.m.)
It is an astounding fact that the laws of Nature at different scales can be understood separately—e.g., you don't need to know about atoms to know how a baseball soars into the stands. Still more remarkable is that astronomy affords us opportunities to study science at almost all scales. In this show, we'll see examples of how astronomy can be used to study the very small, the very large, and the very in-between.Details: Registration is preferred, but tickets are available at the door. Tickets: $7 per person. Event is being held at the W.M. McCallion Planetarium in the Burke Science Building. 

Science Invasion of Mills Library
Breaking free of the confines of Thode Library, Science Literacy Week is invading Mills Library with the help of McMaster's Let's Talk Science crew. Monday through Friday, take a few minutes out of your day to check out cool science demos from Let's Talk Science volunteers, and learn a little, too.
About Science Literary Week Canada
Science Literacy Week Canada is an opportunity to celebrate the science that is happening all around us on campus and across Canada. Join McMaster University Library and our partners during the week of September 18-24, 2017 for a great lineup of events and activities.
Follow @ThodeLibrary on Twitter to participate our week-long trivia contest, and test your science knowledge on our arcade cabinet.