Leadership, Women and the United Nations
The Academic Women's Success and Mentorship (AWSM) lecture series, along with co-sponsors the Institute on Globalization and the Human Condition (IGHC) and Science Career and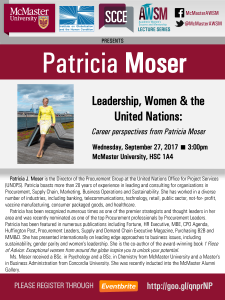 Cooperative Education (SCCE) are pleased to present the following talk:
Patricia Moser: "Leadership, Women & the United Nations"
Wednesday, Sept. 27, 3 p.m.
HSC-1A4
Please join us for refreshments and an engaging talk with an inspiring woman leader. Registration is requested through Eventbrite.
Patricia Moser (BSc, McMaster) is Director of the Procurement Group of the United Nations Office for Project Services (UNOPS), where she plays a vital role providing support to rebuild the fractured communities left behind in the wake of humanitarian disasters. Ms. Moser will discuss her work with the UN, the importance of sustainability in procurement, and her experience as a woman in leadership.
For insights into Ms. Moser's work, view this link.