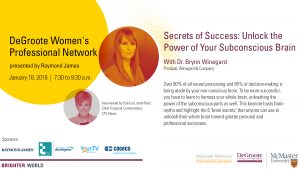 First 10 Get a Free Ticket to DeGroote Women's Professional Network
We are providing free tickets to the first 10 students who register for the DeGroote Women's Professional Network breakfast event on January 18 on the topic of "Brain Science: Secrets of Success".
Join us for breakfast with Dr. Brynn Winegard. She'll bust brain myths and share six "brain secrets" you can use to harness your whole brain to be more successful in your personal and professional life.
Brynn's presentation will be followed by a conversation with Pattie Lovett-Reid, Chief Financial Commentator of CTV News.
January 18 | 7:30 to 9:30 a.m.
Ron Joyce Centre, 4350 South Service Road, Burlington, ON L7L 5R8
Agenda
7:30-8 a.m. Registration, networking, breakfast
8 a.m. Presentation
9:30 a.m. Optional networking
Dress Code: Business Attire
Please click here to register
About the DeGroote Women's Professional Network
The DeGroote Women's Professional Network is committed to the advancement of women in business and society through continuing learning and professional development, networking opportunities, mentorship platforms, and philanthropic initiatives. The Network brings together current and emerging female leaders from across the DeGroote community in support of the mission of the DeGroote School of Business. This collective of passionate and collaborative women openly welcomes students, alumni, academics, community members, and corporate partners from a diverse set of backgrounds.