Current Strategic Plan
Purpose is how we do business.
And how we do business transforms the world.
Our previous strategic plan spanned from 2015 to 2020, with a focus on Education with Purpose.
To learn more about the implications of the plan on Programs, Activities and Culture; the Brand and Metrics and KPIs, please feel free to download the 2015-2020 Strategic Plan.
Download 2015-2020 Strategic Plan
Our differentiators
Over the course of its 47-year history, the DeGroote School of Business has developed a reputation for launching innovative new programs, establishing areas of research and teaching excellence, and building interdisciplinary research, teaching and degree partnerships. The School has now undergone a year-long process of broad stakeholder consultation to determine how it can build on these traditional strengths and develop new areas of differentiation. DeGroote is determined to raise both its national and its global profile in the face of ever-increasing market competition.

DeGroote's ambition to be consistently recognized as a top tier business school in Canada will continue to rest largely on the quality of its core management programs at the BCom, MBA and PhD levels. DeGroote must ensure its core programs remain relevant to the needs of current and future students and employers through ongoing innovation and continuous improvement, and continue to be interdisciplinary and evidence-based whenever possible; this is what makes us distinct.

DeGroote's vision of enhancing its global profile will require developing new areas of focus that will serve both a specific market need and leverage the unique capabilities of the Business School in collaboration with McMaster University and a broader community of stakeholders; this is what will make us stand apart.

For the 2015-2020 strategic plan to succeed, DeGroote will need to focus on strengthening core programs and activities as well as embracing new differentiators, specifically:
Creating innovative concentration programs;

Further integrating research, teaching, and community activities with impact;

Continuously improving on research discoveries, influence and visibility;

Committing to building and fostering a DeGroote values-driven culture that

engages all faculty, staff and students and promotes interdisciplinary thinking and

evidence-based

decision-making.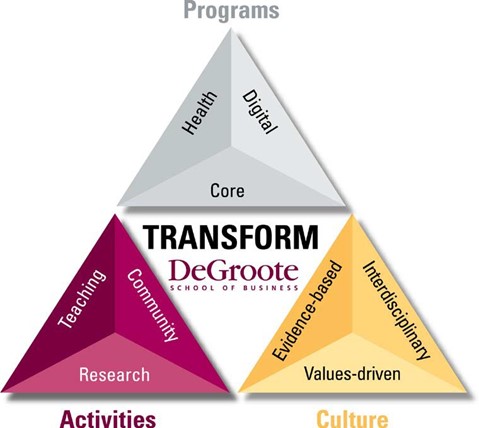 The Plan to Get There
We will accomplish our mission and vision by:
ensuring all of our

programs

and courses create an innovative learning experience

that equips our students with the new knowledge and skills needed to become

leaders within and outside the university;

ensuring our

activities

are valued by the impact they make on the economic and

social wellbeing of the many communities we serve;

building and maintaining a

culture

that engages faculty, staff and students in

collegial and respectful exchanges, bold and creative interdisciplinary thinking,

generation and application of evidence-based knowledge, continuous quality

improvement, and institutional reputation-building.
Our success will be measured by our ability to excel in and across each of these interconnected areas.