Bright idea factory: The Clinic will tap DeGroote MBA candidates to bring McMaster's research to market
November 15, 2018
| Burlington
Contributed by Andrew Baulcomb, Communications Officer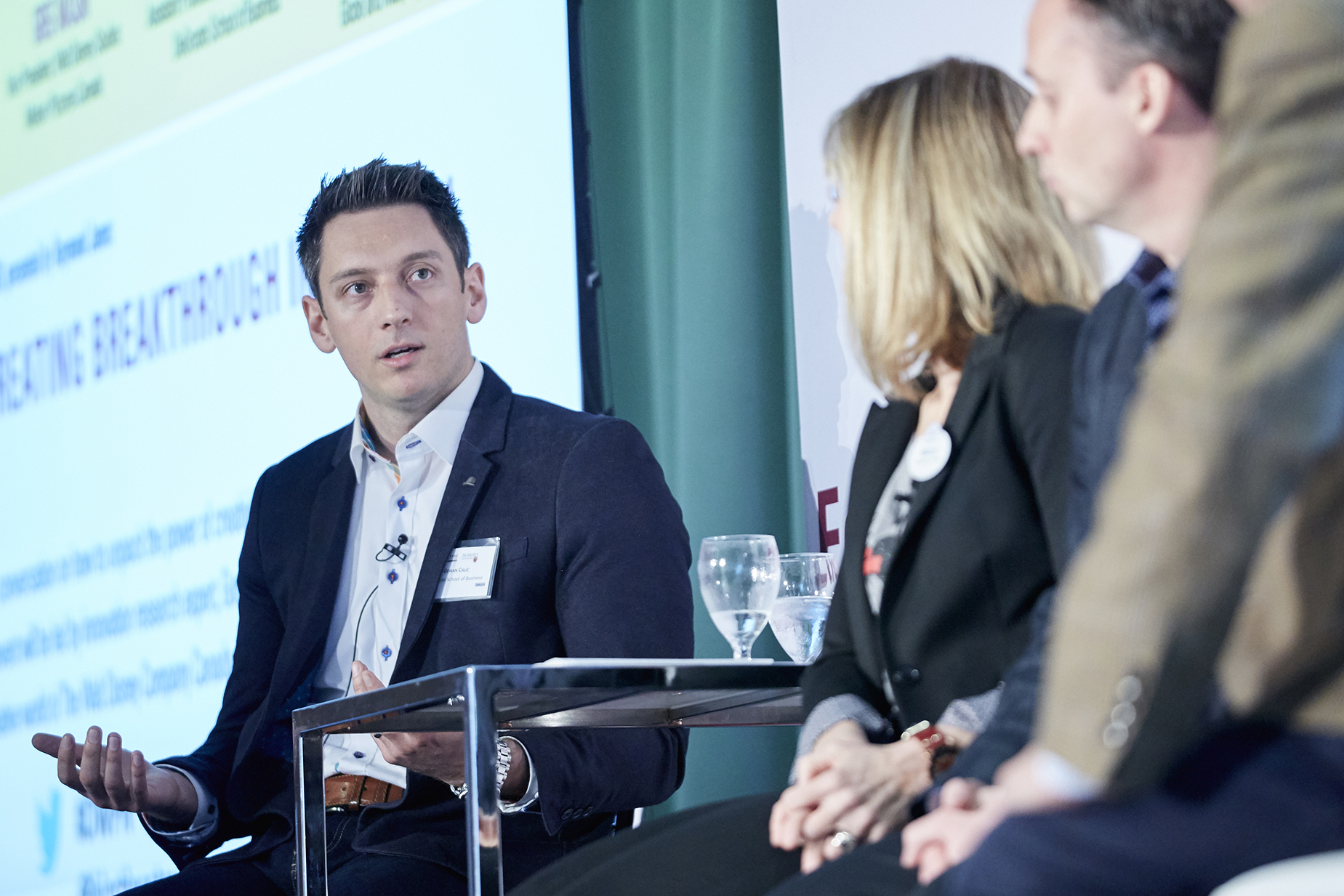 "Research that could improve and even save human lives is often just waiting to be developed," says DeGroote Assistant Professor Goran Calic (left). "Right now, this process is serendipitous and unplanned. It happens by accident, and only rarely. That's where DeGroote comes in."
---
What's the best way to take a promising research idea to market? Introduce a bunch of ambitious, highly-skilled MBA candidates and let them run with it.
Opening in January at DeGroote's Ron Joyce Centre, the Clinic will help with the commercialization of McMaster's vast repository of research by doing exactly that. It's the first site in what will become an interconnected network in Southern Ontario.
"Operationally, it will function like a start-up interested in finding great investment opportunities," says DeGroote Assistant Professor Goran Calic.
Calic, who joined DeGroote from Purdue University in 2016, will use his expertise in strategic management, mathematical modeling, and computer science to serve in a leadership role at the new space.
Participating MBA candidates will search for work that offers great social or economic value, Calic continues. It doesn't necessarily have to be health-related.
They will then bring their findings to regular meetings, to be debated and voted on by a panel of Clinic members. A majority vote in favour of an idea means the process will move ahead.
The Michael G. DeGroote School of Medicine will help identify potential projects with a medical focus, but research from any faculty at McMaster will be eligible for development at the Clinic. Business students will be encouraged to follow their passion.
Once a project has been green-lit, students will help transform the research into a viable business. This is where the expertise of DeGroote MBA candidates will be on full display.
"Research that could improve and even save human lives is often just waiting to be developed," says Calic. "Right now, this process is serendipitous and unplanned. It happens by accident, and only rarely. That's where DeGroote comes in."
The business end of the process will take shape through weekly meetings with a faculty member, as well as bi-monthly meetings with a governing board of entrepreneurs, faculty members, and investors.
There will be no lectures offered, and faculty will act as mentors and facilitators. MBA candidates will be able to sharpen their skills in finance, marketing, negotiating, and other core business areas, while helping launch a potentially world-changing business from the ground up.
With more and more business students embracing entrepreneurship as a career path, a gap remains when it comes to preparing them to enter the workforce, Calic explains. 
The Clinic will allow MBA candidates to practice hands-on learning, while also introducing them to the economic risks and rewards of entrepreneurship, he adds. 
Participation will take the form of an experiential learning credit, and success at the Clinic will be measured by the free market, not an instructor.
"DeGroote continues to support the intersection of research and experiential learning, and that's really important to me," says Calic. "I'm proud to help the School launch a space like the Clinic, and I'm eager to see what our MBA candidates can do."
Clinic locations are also being established at the McMaster University Medical Centre and St. Joseph's Healthcare Hamilton. All three Clinic sites will be linked electronically, with a target completion date of September 2019.