Cutting-edge programs and research spaces unveiled on RJC fourth floor
| Burlington
Contributed by Andrew Baulcomb, Advancement Officer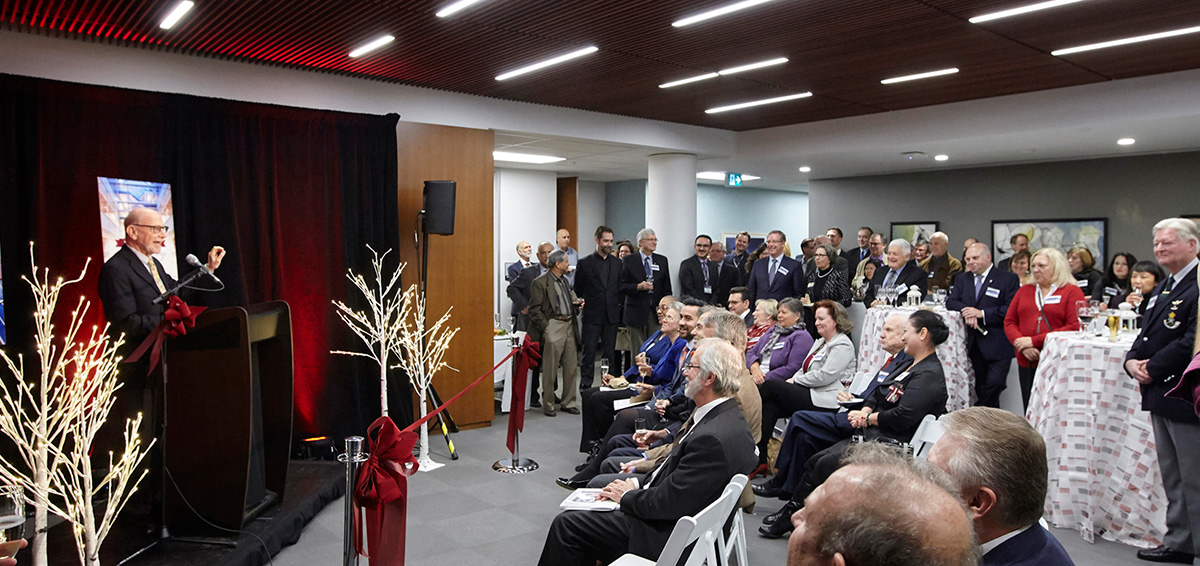 The curtain has been lifted on DeGroote's newest resource for transforming business and society.
On Tuesday evening, faculty, staff, students, alumni, donors, and government officials formally opened the fourth floor at Burlington's Ron Joyce Centre (RJC). More than 200 guests were in attendance for the grand unveiling, which included a tour of purpose-built classrooms and unique research hubs that stretch out across the bright and inviting space surrounded by floor-to-ceiling windows.
When the DeGroote School of Business opened the Ron Joyce Centre in 2010, it promised to complete the fourth floor when new programs were developed that would meaningfully transform business and society. The 24,000-square-foot space will now house three pillars of teaching and learning at DeGroote – the Health Leadership Academy (HLA), the Executive MBA in Digital Transformation (EMBA), and the forthcoming Digital Transformation Research Centre (DTRC*). The fourth floor will also facilitate the growth of DeGroote's MBA programs, and become the new base of The Directors College.
"Many people and organizations came together to make this building a reality: Ron Joyce, the City of Burlington, and Halton Region all made landmark gifts toward this project," said Len Waverman, Dean, DeGroote School of Business. "Their investment inspired a number of our friends, many of you who are here in the room, to also make gifts towards this building, and we are proud to display your names throughout it."
Waverman was joined by Patrick Deane, President and Vice-Chancellor, McMaster University; Rick Goldring, Mayor, City of Burlington; and Gary Carr, Chair, Halton Region, in delivering remarks at the opening. A number of other distinguished McMaster alumni were also in attendance, including: Paul Allison, Chairman and CEO, Raymond James; John Marinucci, Chairman and Founder, Marinucci Family Foundation; Edward Minich, Chairman of the Board of Directors, Hamilton Port Authority; Gino Scapillati, Vice Chair, PwC Canada; and Mary Williams, Vice President, University Advancement, McMaster University.
For Deane, the space represents an opportunity to bolster DeGroote's reputation as a national leader in a number of progressive research fields, as well as the RJC's impact on the greater community.
"Today, because of DeGroote's success, we are here to celebrate the completion and full utilization of the Ron Joyce Centre," offered Deane. "DeGroote staff have done an exceptional role at making this facility an integral part of the local community. They open the doors for a number of events throughout the year, all of which warmly welcome professionals from across the region to experience the building, connect with new friends, and attend insightful and inspiring seminars."
Goldring, a McMaster Social Sciences alumnus, praised the space as a key hub for Burlington's thriving business community.
"It's symbolic that the Ron Joyce Centre is situated in Burlington's Prosperity Corridor," said Goldring, referring to a stretch of industry and innovation northeast of the downtown core along the Queen Elizabeth Way. "With its new programs based on the fourth floor, the status and profile of this impressive facility is being elevated."
"Tonight is a real celebration," added Carr. "The faculty, staff, and students at DeGroote are, without a doubt, world-class, and now we're giving them a world-class facility to work in. I don't need to remind anyone in this room of how highly McMaster University is thought of around the world."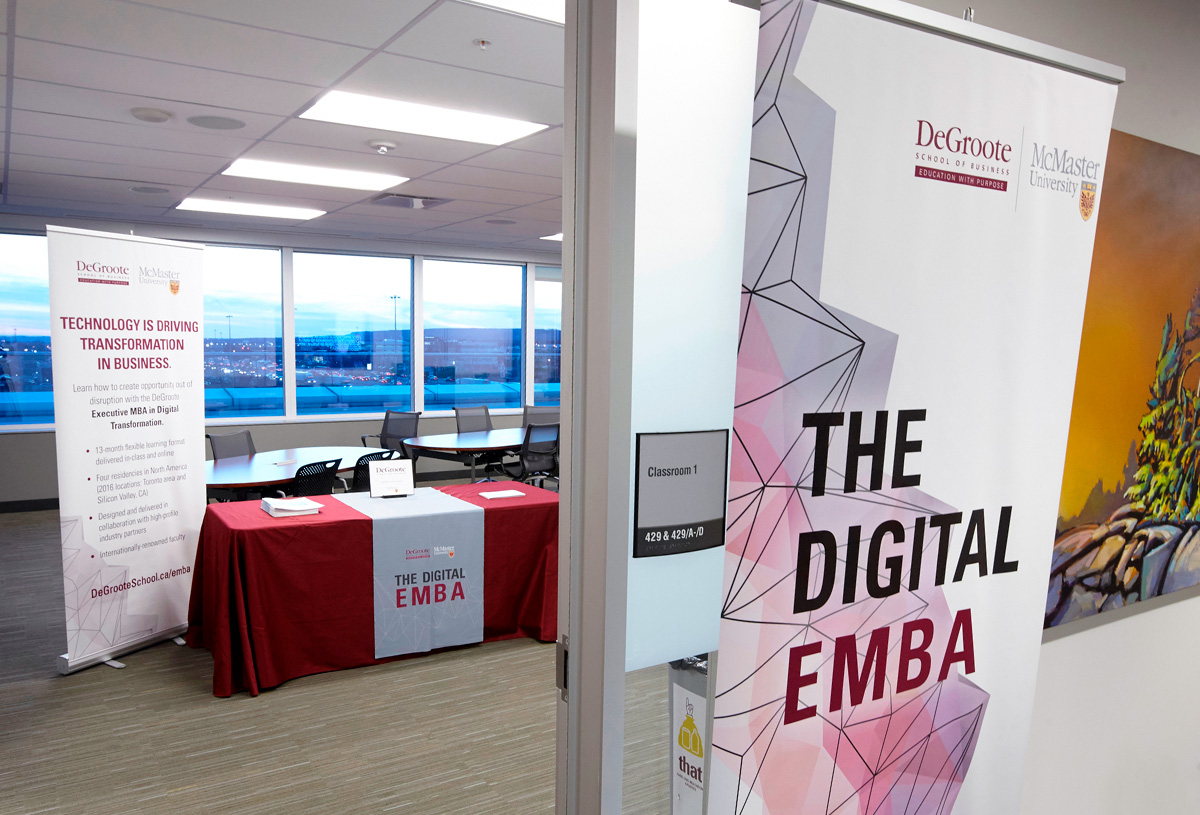 The HLA, jointly managed by DeGroote and McMaster's Faculty of Health Sciences, was conceived to develop a new breed of healthcare leader – those who are able to identify and support innovative new ways of delivering healthcare as the sector evolves worldwide. Its primary activities will involve showcasing the research findings of its two founding faculties on topics of health leadership and innovation, as well as supporting the creation of its own original initiatives in these areas.
The EMBA welcomed its inaugural cohort in September. The 13-month program is made up of four residential modules, held in Canada and Silicon Valley, California, and students learn from faculty instructors in the classroom as well as from industry experts on site. These experts include senior executives from corporate partners, including theScore, CIBC, IBM, SAS, and the Hamilton Tiger-Cats. Students study core EMBA topics such as finance, marketing, and strategy, while also learning technical content more often associated with master-level courses in data science and business analytics.
Once fully approved, the DTRC* will function as a "self-sustaining, world-leading research centre and knowledge hub," says Professor Khaled Hassanein, with an overall focus on the leadership and management of digital transformation. The DTRC will incorporate a wide range of disciplines into its research activities, including business, engineering, economics, neuroscience, psychology, computer science, and communications.
The Directors College, a joint venture of the DeGroote School of Business and the Conference Board of Canada, was the country's first university-accredited corporate director education program when the College was unveiled in 2003. Participating students are groomed to be forward thinking, values-driven, change-enabling directors, equipped with the skills needed to support robust inquiry, discussion and effective decision-making.
* Pending final approval of McMaster University