DeGroote Brings Home 5 Trophies from JDCC
Emad Mohammad
, associate dean (academic) | Hamilton, Ontario | February 13, 2015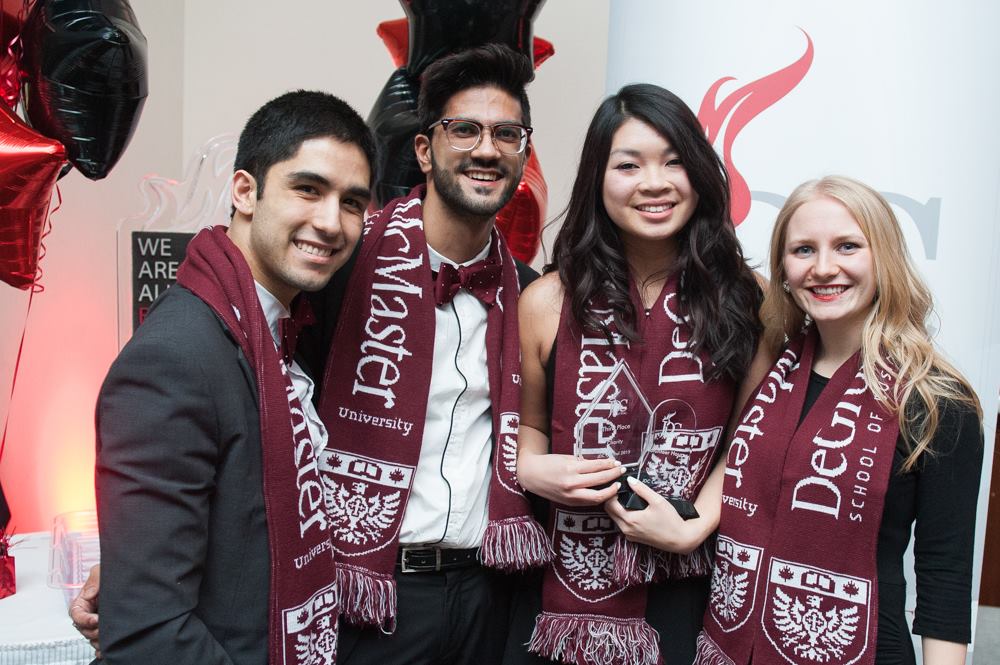 A team of 45 undergraduate students, under the supervision of Linda Stockton, competed at the Jeux Du Commerce (JDC) Central Competition which was held from January 29 to February 1, 2015 in Toronto.
The DeGroote team consisted of eight academic teams, one debate team, one social team and one sports team. Fourteen schools competed in the Central Region of the JDC. The students have been training hard since the beginning of the school year and brought home five trophies.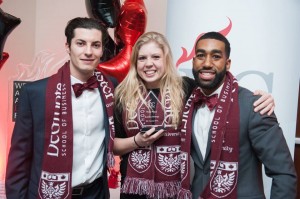 In the charity competition, our team won the top prize in volunteer hours, and came in third in the Overall Charity Contributions. In the academic competitions, our teams won the first place in the Entrepreneurship case competition, and the third place in the Marketing and Business Strategy case competitions. We were third overall for number of trophies won by a school.
The DeGroote School of Business is proud of the success of our students in such events. Competing in such events shapes the ideal DeGroote students; well-rounded, emotionally and culturally intelligent students who are closely engaged and involved with their communities. Congratulations to our delegates who so well represented the DeGroote School of Business:
Captains – Lindsey Schneider and Sushen Talwar
Executives – Amanda Law, Melissa Turner, Stacie Massia and Taylor Silva
Accounting – Daniel Fan, Adam Lovell and Yazan Khalefih
Business Strategy – Gwynneth Oosting, Jeff Pellizzari and Chris Burgess
Entrepreneurship – Mahmoud Al-Awawdeh, Daniel Munro and Shivraj Gill
Finance – Patrick Castle, Sarah Mohamed and Andrew Typa
Human Resource – Brittany D'Souza, Viola Cieplechowicz and Patrick Vuong
International Business – Ashwin George, Chloe Cross and Kala Grant
Marketing – Jake Shipman, Lydia Vanderkooy and Raena deJong
Management of Information Systems – Waji Hashmi, Henry Nguyen and Wesley Tang
Debate – Aaron Doucet, Jethro Krause, Kasey Lambert and Harrison Nolan
Social – Jide Egbewumi, Phillippe Messina, Helen MacKenzie and Megan Bates
Sports – Alisa van Veen, Cara Lafranier, Lianne DiPaolo, Connor Chambers, Spencers Russell, Zachary Fennema, Turner Lee and Andrew Silva
Other stories tagged: dean, JDCC, student competition