DeGroote co-designed Minor in Innovation profiled in Globe and Mail
January 10, 2019
| Hamilton
Contributed by Andrew Baulcomb, Communications Officer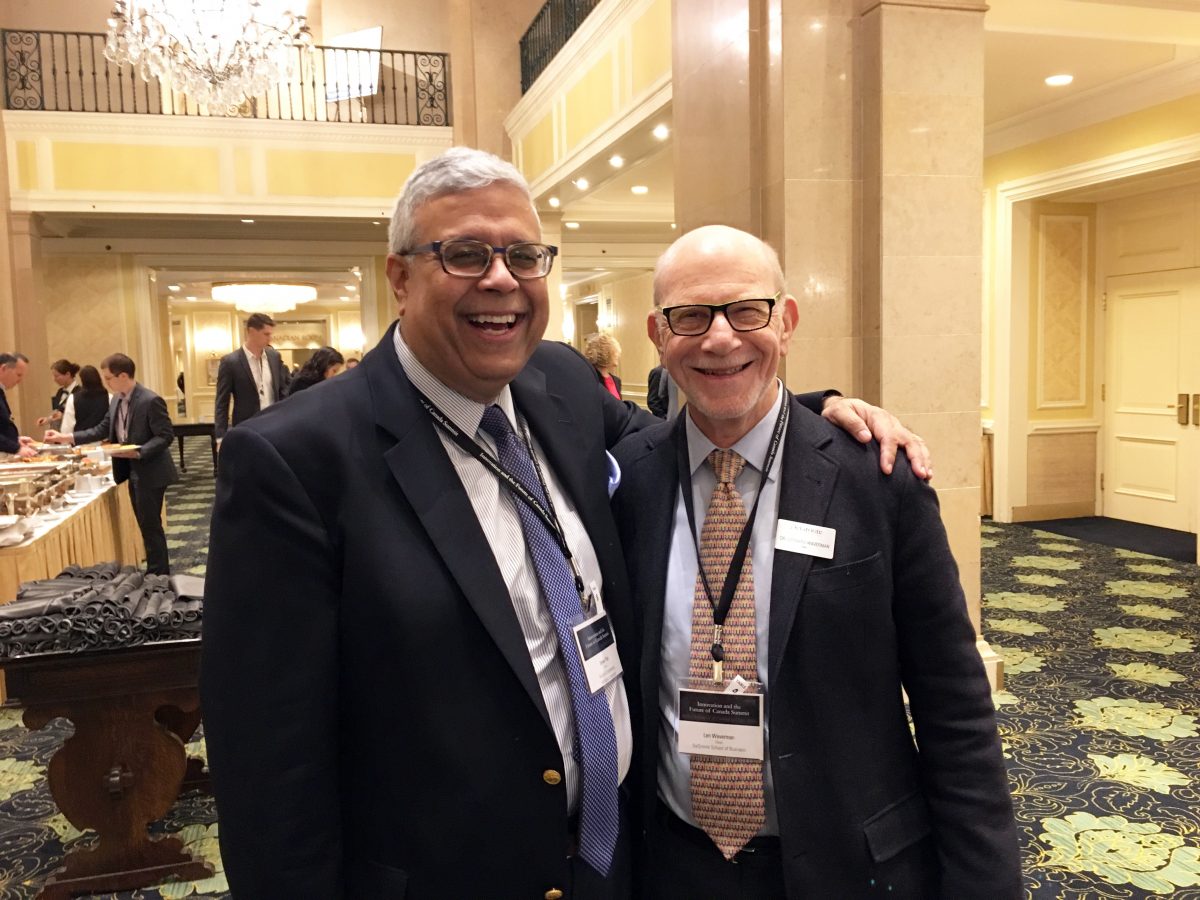 Len Waverman, Dean, DeGroote School of Business (right) and Ishwar Puri, Dean, Faculty of Engineering, at the 2017 Innovation and the Future of Canada Summit. The pair recently discussed McMaster's Minor in Innovation, a joint initiative of the two faculties, with The Globe and Mail.
---
Innovation may be the hottest topic in academia, according to DeGroote Dean Len Waverman. He recently spoke to The Globe and Mail about McMaster's new Minor in Innovation.
The story, published Thursday, details the partnership between the DeGroote School of Business and McMaster's Faculty of Engineering on the Minor, which officially launched in September and is open to all undergraduate students.
Read the full story in The Globe and Mail
"Innovation is a hot topic and it is so critical," Waverman tells Globe contributor Jennifer Lewington. "Most students are not going to graduate and go to firm 'X' and rise in the ranks and retire. They will have a multitude of jobs and they have to understand how to innovate and how to think about innovation."
"Innovation is not about turning out entrepreneurs," Waverman continues. "It is about turning out people who are creative, nimble, and can help organizations change."
The Minor in Innovation was designed to give students the tools they need to succeed in today's fast-paced, innovation-driven marketplace.
The program will roll out over the next three years, and began with two courses in the 2018-2019 academic year.
Students will learn the fundamentals of entrepreneurship through a series of guest lectures from prominent business owners, as well as how to develop, prototype, test, and market ideas.
They will also have an opportunity to work at an existing startup company or team up with fellow students to develop a new business venture.
Interested in learning more about the Minor in Innovation? Click here.