DeGroote's Inaugural 24-Hour Case Competition Spotlights Experiential Learning
January 30, 2019
| Hamilton
Contributed by Izabela Szydlo, DeGroote Research Writer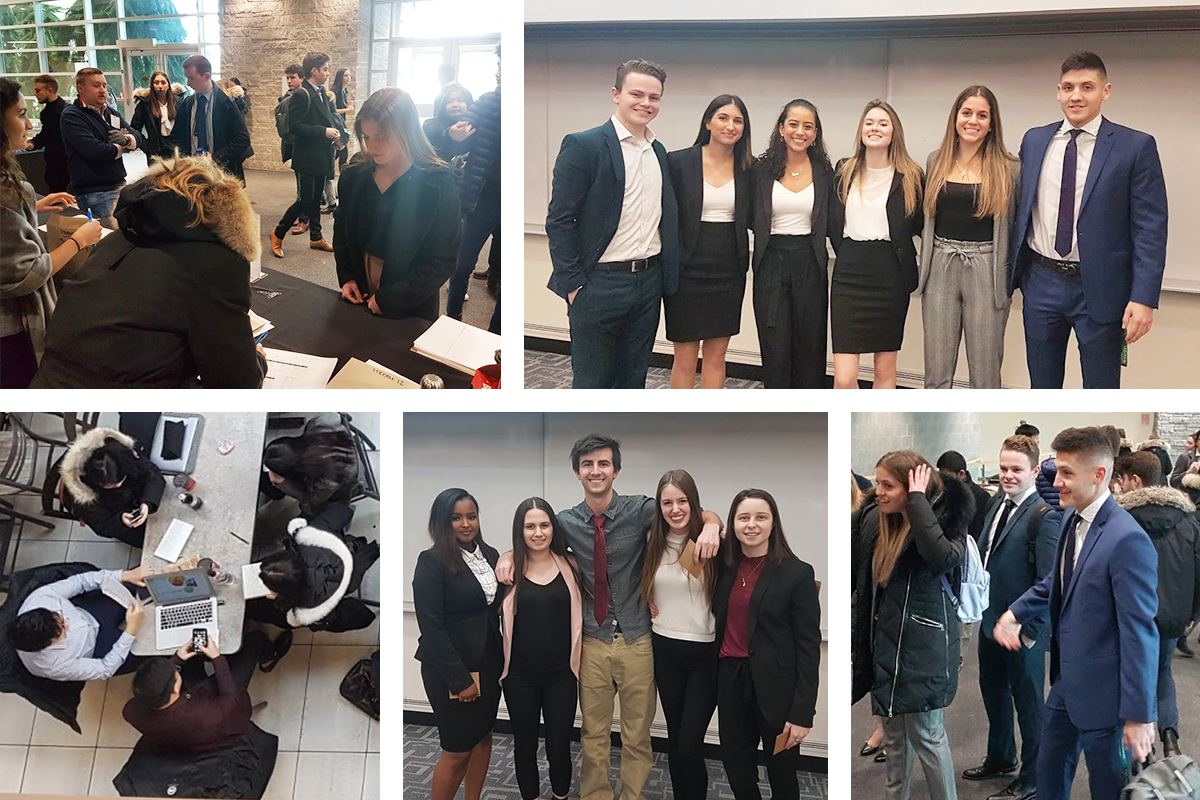 "We are trying to build opportunities into the [BCom] program from the very beginning that start to develop [career-related] skills", says Associate Dean, Sue McCracken. 
---
While many Ontarians figured out ways to stay warm this weekend, the DeGroote School of Business's Bachelor of Commerce first-year cohort had other things to think about as it participated in DeGroote's 24-Hour Case Competition with a focus on financial literacy and planning. The competition was the first ever event of its kind at DeGroote.
"For 900 students this weekend, having fun and getting to know their peers was an important part of preparing for the future of work," says DeGroote's Associate Dean, Sue McCracken.
On Friday evening, the students were divided into "Hubs" and attended Opening Ceremonies during which they received their case and activity details, along with timelines for the next 24 hours. The case, written by DeGroote alumnus Geordie Stewart, focused on a student who had started her Bachelor of Commerce at DeGroote with a less than ideal financial situation. Limited savings, no part-time job and no plan made it unclear how Terry, the fictional student, would be able to afford school, necessities and her rapidly expanding social life. Students were challenged to help Terry build the initial components of a financial plan to guide her through university and beyond.
Dahlia Abdel-Latif was one of the participating students. She says at first, the case competition was intimidating but she soon realized the extensive amount of benefits associated with such an experiential learning opportunity.
"I've never done anything like this, so to be honest, I was scared out of my mind," Abdel-Latif says. "But as I got through it, and doing it with people I just met this week in tutorials, I realized just how great of an experience it was. I felt like a business student. It was a real-life experience, so I was learning from it and now I can apply it to my own life. It's just really cool."
The case competition's collaborative element is an essential part of McCracken's vision for fostering an environment of belonging and transforming business education through increased engagement amongst peers, faculty, alumni and employer partners. First-year students also got their first opportunity to experience this vision in September, when they participated in a full day of welcoming activities. The 24-Hour Case, says McCracken, is just another example of her concept, which will also build on DeGroote's already strong academic foundation.
"Our senior students have told us they'd like more experiential, case competition type activities in the earlier years of the programs," she says of the inspiration behind 24-Hour Case. "Alumni also have said they wish they had more experiences like this to prepare them for summer and graduate jobs. And discussions with employers reveal they are looking for strong communication skills, grit, perseverance, agility, thinking outside the box and teamwork. We are trying to build opportunities into the program from the very beginning that start to develop these skills."
Students utilized those essential skills employers are seeking on Saturday when 171 groups presented a seven-minute action plan and recommendation to one of 18 judging panels, each consisting of faculty, alumni and/or employer partners. Students will now receive written feedback from the judges in an upcoming tutorial so they understand what they did well and what could be done differently for future presentations. Top performing teams were acknowledged at the Closing Ceremony on Saturday afternoon, exactly 24 hours after the start of the competition.
"We hope students take away greater confidence in themselves that they can tackle a case, present in front of a group and work with others — even in first year," says McCracken. "They were pushed out of their comfort zone and they succeeded. We also hope they gained a sense of community and the understanding of the support they have at DeGroote."
Beyond the numerous benefits to students, 24-Hour Case was also an opportunity for DeGroote to connect to with its alumni and several employer partners from firms that included FutureVault, Planswell, Loblaw/OCE, Unifi, Huxton Black and Arch.
"The support from our alumni/employers and senior students is overwhelming," says McCracken. "We have a great DeGroote family that we need to take advantage of. Our network all wants to work together to support our students."