For Devashish Pujari, innovation and sustainability go hand in hand
| Hamilton
Contributed by Izabela Szydlo, DeGroote Research Writer
At McMaster University, students, researchers, faculty, and staff collaborate across disciplines to explore and expand their potential in a globally renowned, innovative education and research community, committed to advancing societal health and wellbeing. For the next several months, the DeGroote School of Business will be highlighting researchers that are contributing to this push for a brighter world.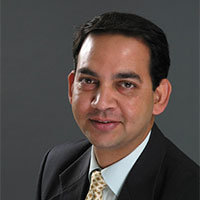 While DeGroote Associate Professor Devashish Pujari was growing up in India, the world's deadliest industrial disaster occurred. Known as the Bhopal gas tragedy, the 1984 incident claimed the lives of more than 3,000 people when highly toxic gas leaked from a Union Carbide pesticide plant in the city of Bhopal. It was one of the defining moments that sparked Pujari's interest in environmental issues, which later influenced his main area of research – the intersection of innovation and environmental sustainability in business.
"Sustainability-oriented innovation is a very significant area of research in today's world, and sustainability issues are one of the great challenges of our times," says Pujari, who teaches Marketing at DeGroote. "It is now established that human activity is contributing to environmental degradation and climate change. As the intensity of storms, flooding, and fire increases tremendously, it becomes imperative that the intersection of innovation and environmental sustainability brings out solutions that positively impact the environment and society."
Pujari's work examines the advancements companies make to attain environmental sustainability, as well as how this improves business performance and creates value for the firm. Over the years, he has looked at how firms develop and market green products that address issues of environmental sustainability such as pollution prevention, carbon emission reduction, material and resource efficiency, energy management, and waste minimization.
"I believe innovation and creativity unleashed by entrepreneurs and businesses will bring in a lot of sustainability solutions," Pujari says. "My area of research is already having an impact on businesses, as it provides evidence on how to be greener or how to create green partnerships to attain both environmental sustainability and value for the firm. As businesses become more sustainable, not just environmentally and financially but also socially sustainable, society benefits a lot.
"When I look ahead, I see scholars, NGOs, and private firms becoming more proactive and working closely toward finding solutions to acute social sustainability challenges such as poverty, marginalized communities, and inclusiveness," he continues.
It is now established that human activity is contributing to environmental degradation and climate change."
Pujari's research spans beyond this field. He has collaborated with researchers from various disciplines – such as operations, engineering, and those working in the area of bio-materials for the commercialization of green products. He is also now examining open innovation, such as the crowd sourcing of ideas and crowd funding.
It's an emerging trend Pujari has been studying for the last four years, along with PhD candidate Mohammad Tajvarpour. Their work focuses on how various types of crowd funding (lending-based versus reward-based), as well as funding share of the crowd (for example, 20 per cent versus 50 per cent), can provide signals to investors and contributors about the quality of the project and potential demand.
"This emerging trend fires up the entrepreneurial spirit in people," Pujari says. "If anyone has an idea or prototype, they can utilize crowd funding platforms such as Kickstarter or Indiegogo rather than relying on funding from hard-to-get venture capital firms. The important question that needs to be answered is: What makes them successful on these open innovation platforms?"
---
Devashish Pujari's research focuses on the intersection of innovation and sustainability, investigating sustainable product innovation, collaborative relationships for developing sustainability-oriented technology, product and process innovation, and green partnerships and their impact on firm value. More specifically, he looks at the role and impact of dynamic and ordinary capabilities on the performance of sustainable product innovation. His research interests also include understanding impacts of crowdfunding formats on new business ventures success. He also studies service innovation and new service development, with particular emphasis on customer involvement and engagement in NPD/NSD process.