Embracing change: Digital Leadership Summit looks at modelling the future of work
September 22, 2017
| Toronto
Contributed by Andrew Baulcomb, Communications Officer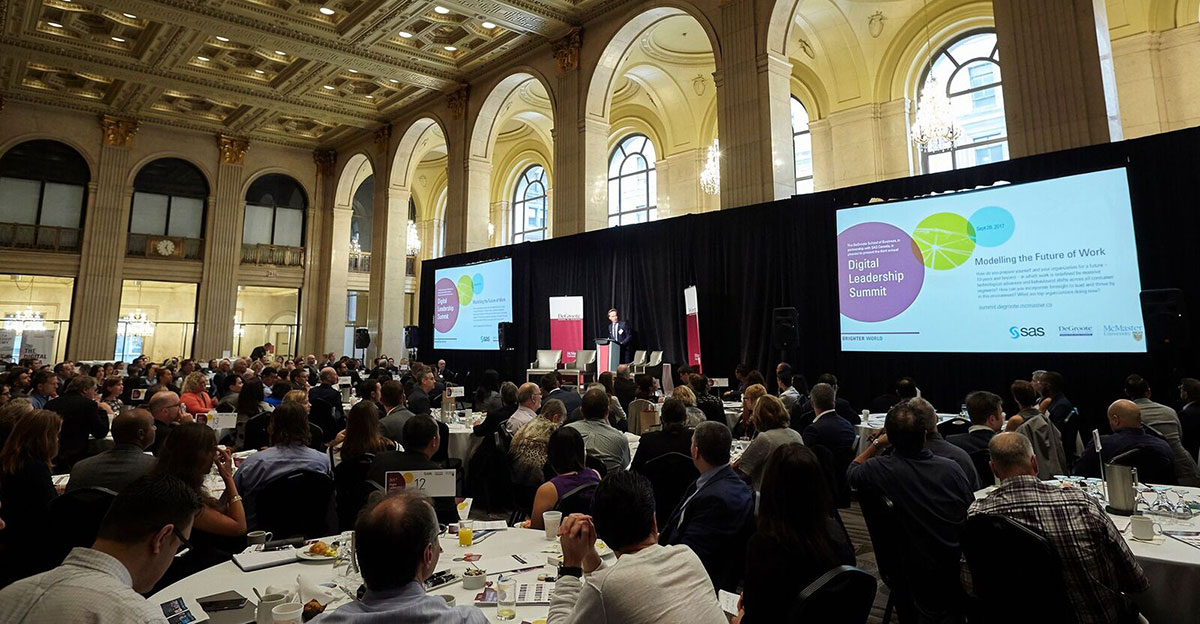 What will the future of work look like? That was the focus of Wednesday's Digital Leadership Summit.
The DeGroote School of Business, in partnership with SAS Canada, hosted the third-annual Summit at Toronto's One King West Hotel & Residence. The event attracted nearly 200 guests, who were able to listen to 19 industry and academic experts discuss the need to remain resilient through change, as well as having the foresight to make strategic decisions 10 years into the future and beyond.
In recent years, DeGroote has made the topic of digital transformation a pillar of its strategic development. The Summit sits alongside the School's Executive MBA in Digital Transformation (EMBA), Knowledge @ DeGroote events, Executive Education programs, research efforts, and MBA curriculum updates in a comprehensive suite of digital-focused offerings.
"It's increasingly important for business leaders to think about the future of work, and how it will impact their organization," says DeGroote Dean Len Waverman. "Digital transformation and the implementation of new technologies is already having a profound impact in every space. Learning how to adapt should be a strategic priority for any business, large or small."
Barry Libert, Chairman, OpenMatters, is the author of a new book entitled The Network Imperative, described as "a call to action for managers and executives to embrace network-based business models." In Libert's view, technologies such as artificial intelligence, virtual reality, and augmented reality will fundamentally change how we interact with the physical world around us – including how products and services are currently being delivered.
Libert, a guest speaker on Wednesday's How to Lead Through Disruption panel, says events such as the Digital Leadership Summit are necessary to highlight the "increasing imminence of risk" that comes with to doing business the way we have always done business, even if everything is working fine. His co-panelists included John Dalla Costa, CEO, Centre for Ethical Orientation; Sanjay Khanna, Director and Futurist of Baker McKenzie's Whitespace Legal Collab; and Suzanne Stein, Associate Professor, Strategic Foresight & Innovation at OCAD University.
For Kathy Woods, Partner and National Lead, Deloitte Leadership, the workplace of the future is also going to look a lot different. In fact, change is already happening. She took part in the Technology & Health Panel, alongside Jason Fischer, Interim Division Head, Division of Emergency Medicine, The Hospital for Sick Children; and Marwan Sati, Development Executive, Cognitive Clinical Advisors, IBM Watson Health Imaging.
Woods made waves earlier this year when she proclaimed to CBC News, "this is my office now," holding up a backpack containing her laptop, glasses, and other basic supplies. The story, titled "No desk of your own: The office plan of the future?" has since been shared more than 5,700 times.
"There is no doubt that we are already experiencing significant changes on every front when we think about work and the future of work," says Woods, an expert in talent, leadership, and organizational development, with more than 25 years of experience in her field.
"It's also clear that these changes are going to exponentially accelerate in the next five years as we experience the increased use of technology – artificial intelligence, cognitive computing, and robotics – and as our workforce changes in terms of demographics, expectations, and capabilities," she adds.
Some of the greatest workplace changes in Canada are being felt in the country's news media industry. Brodie Fenlon is Senior Director, CBC News, Daily News & Bureaus. He participated in the Technology & Media Panel, joining Jacquie Matthews, President of Ipsos ASI Canada; and Tony Schibono, Vice-President of Design at Diply. The latter has been described as a leading social entertainment publisher for millennials.
Fenlon – a former reporter in London, Ont. who helped launch Huffington Post Canada in 2011 – says the future of work for the next generation of journalists is going to demand extreme flexibility. This will require a "lean-in" approach to change, he explains. At the same time, budding reporters will need to have a renewed commitment to accuracy, fairness, balance, and transparency.
"The most successful journalists of the future will also be those who embrace disruption as an opportunity, because the only certainty for the future of journalism is that it will look dramatically different in 10 years. We'll be serving audiences in places we can't yet imagine," offers Fenlon.
"In an era of fake news and wavering trust in media, we need to be rock-solid on accuracy and fairness," he continues. "Journalists are going to be expected to get it right all the time, and to be transparent about how their journalism happened."
Other guest speakers and moderators at the Digital Leadership Summit included: Associate Professor Nick Bontis, Assistant Professor Goran Calic; John Crean, Managing Director, Teneo Strategy; Pat Finerty, Vice President, Alliances and Business Development SAS Canada;  Michael Hartmann, Executive Director of DeGroote's EMBA in Digital Transformation, Co-Director, Health Leadership Academy, and Principal of the Directors College; Bob Johansen, Distinguished Fellow, Institute for the Future; Mark Morreale, Academic Program National Lead, SAS Canada; and Alfredo Tan, Former Group Director of Global Marketing Solutions, Facebook Canada.
---
Take the next step in your career and prepare yourself to be a leader in today's rapidly changing digital landscape with DeGroote's EMBA in Digital Transformation. Learn more