Friends or Foes? Activist Hedge Funds and Other Institutional Investors†
| Hamilton, Ontario
Contributed by Andrew Carrothers, PhD candidate
In September 2011, the share price of Canadian Pacific Railway (CPR) dropped to less than $43 — in October, hedge fund Pershing Square Capital Management announced an ownership position in CPR and the share price immediately jumped to $62.50. The fun had just begun.
…hedge funds are subject to light regulation because they are not sold to retail investors…investors must meet wealth and income threshold…
In the ensuing months, Bill Ackman, founder and CEO of Pershing Square, pursued a shareholder activism campaign that included direct communication with CPR directors and executives, an extensive media campaign, and a successful proxy battle that elected seven Pershing Square nominees, including Ackman, to the CPR board of directors, ousted CPR CEO Fred Green, and installed Hunter Harrison, legendary in railroad circles, as the new CEO responsible for driving operational efficiency improvements.
Over time, the market continued to respond favourably as CPR's performance improved. In April 2013, CPR announced the best quarterly results in its 132 year history and the share price peaked at over $142 on May 17, 2013. Pershing Square had built up an ownership stake of 24 million shares (14.2% of the outstanding CPR shares worth $3.4 billion). As testament to the ability of hedge funds to move financial markets, on June 3, when Pershing Square announced the intention to capitalize some of its gains by reducing its ownership position to 10% over time, share price immediately dropped 3%.
CPR Stock chart
(click for larger image)

Institutional investors (e.g., public and private pension funds, insurance companies, mutual funds, banks, independent investment advisors, endowment funds, and hedge funds) are organizations that pool and invest large sums of money on behalf of their stakeholders. The motive for activism is to increase shareholder value by addressing agency conflicts (i.e., the tendency of managers to take self-enhancing actions that are not in the best interest of shareholders). Although boards of directors have a fiduciary duty to shareholders to control agency problems by hiring, firing, rewarding, and monitoring top management, activism occurs when boards fail in their responsibilities. In the mid-1980s, traditional institutional investors, particularly public and union pension funds, emerged as the most common shareholder activists.
In the past decade, however, hedge funds have overtaken all others as the most prevalent in the investor activism space. Hedge funds are different than other institutional investors. Activism by traditional institutional investors is typically limited to informal discussions with management or launching non-binding shareholder proposals. In contrast, hedge funds begin monitoring targets before acquiring an ownership position and become agents of change with specific goals that depend on the unique situations prevalent at the target company.
Typical hedge fund activism includes challenging bad strategies, removing poorly performing executives, and ensuring that mergers and other management activities make sense for the shareholders. Compared to traditional institutional investors, hedge funds are more effective in implementing change at target companies because hedge fund managers have the means and incentive to focus on longer term value enhancing activities. Hedge fund managers have stronger financial incentives and higher levels of personal wealth at stake. A typical hedge fund fee structure pays managers 2% of assets under management plus 20% of all profits above some pre-specified level. By design, hedge funds are subject to light regulation because they are not sold to retail investors; "accredited" investors must meet wealth and income threshold to be eligible to invest.
…activist hedge funds and other institutional investors have compatible goals — they are friends not foes.
As such, hedge funds are not subject to diversification constraints, they can use debt and derivatives as leverage to enhance returns, and they can use short selling strategies. They typically have fewer conflicts of interest than other institutional investors and generally have lockup provisions that restrict their investors from withdrawing funds so that they do not risk being forced to sell assets at inopportune times to meet liquidity demands. Hedge funds collectively focus on different investment strategies — shareholder activism is one approach they take to generate abnormal returns.
Support for hedge fund activism is not universal. While proponents argue that activist hedge funds are beneficial, critics hold that the benefits of activism do not accrue to stakeholders equally and deny that activism creates long term value — any shareholder benefit is short term in nature and based on financial manipulation rather than true value creation. To successfully implement activist agendas, hedge funds require support from other shareholders. Hedge funds typically acquire minority ownership positions in target firms and given that institutional ownership at publically traded firms was more than 60% in 2005, it is clear that institutional investors collectively control sufficient power to affect the effectiveness of hedge funds.
On one hand, if hedge fund activism is based on self-serving financial manipulation, hedge funds would avoid targets with high levels of institutional ownership because other institutional investors would have incentive to protect their interests. Hedge funds would be hurt if other institutional investors decide to support incumbent management and impede agenda implementation or choose to liquidate holdings in response to activism and drive share price down. On the other hand, if hedge fund activism creates value that other institutional investors cannot because they face structural and regulatory constraints, then other institutional investors will support activist agendas. Value creating hedge funds should prefer high levels of institutional ownership at target firms.
The financial well-being of typical Canadians depends on the investing success of these institutions.
The observation that the level of institutional ownership has a meaningfully large and statistically significant impact on the probability of being targeted suggests that hedge fund activism creates value — hedge funds prefer high levels of institutional ownership because they expect to benefit from support for value creating activism. The market responds positively to hedge fund activism — the average abnormal return at target firms in the +/- 20 days surrounding the disclosure of activist intentions is 7.1% and the average buy and hold abnormal return in the 20 months after the disclosure is 23.0%. The trading behaviour of other institutional investors indicates that they have a favourable view of hedge fund activism. The level of long term focused institutional ownership does not change in the two years following the activism event consistent with activism creating long term value. Institutions with short term investment horizons trade to capture profits after the arrival of the hedge fund but the level of short term focused institutional ownership returns to pre-event levels within two years.
Long term investors hold their positions to profit from long term abnormal return; short term investors take profits but return seeking more. When hedge funds take the lead, the constraints that limit the ability of other institutional investors to engage in effective activism are no longer binding. By explicitly or implicitly supporting activist hedge fund agendas, other institutional investors play an important role in improving governance, performance and shareholder value at target firms — hedge funds have a track record of delivering increased shareholder value and hedge funds rely on institutional investors to implement their agendas. Overall, the results of my research suggest that activist hedge funds and other institutional investors have compatible goals — they are friends not foes.
While hedge fund activism began in US markets, it is a global phenomenon, and has become increasingly widespread in Canada and will have significant ramifications for typical Canadians. In the last six months alone, hedge fund Jana Partners led a hostile proxy contest at Agrium of Calgary, Samara Capital were successful in electing three members to the board of directors at Selwyn Resources Ltd of Vancouver with the stated goal of challenging and changing the business strategy at Selwyn, and in mid-June, hedge fund Scout Capital announced a 5.5% ownership share in Tim Hortons, calling for sweeping changes including enhancing shareholder value by converting company owned restaurants into a real estate investment trust (REIT). There are few things more closely linked to the collective Canadian psyche than coffee, donuts, and railroads.
Activist hedge funds are here to stay and play, which may well be a good thing for a much broader group of people than the wealthy investors who are permitted by regulators to entrust their savings to hedge funds. When shareholder activism is successful, the benefits accrue to all shareholders, not just to the activist. This fact is very important to average Canadians because activist hedge funds target firms with high levels of institutional ownership — institutions such as mutual funds, insurance companies, and pension funds. The financial well-being of typical Canadians depends on the investing success of these institutions.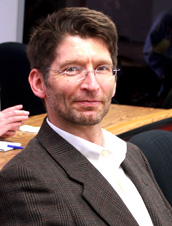 † Andrew Carrothers (carrotag@mcmaster.ca) is a PhD candidate at the DeGroote School of Business, McMaster University, Hamilton, Ontario, L8S 4M4 Canada. He is a CFA charter holder and professional engineer and will be speaking on this topic on October 24 at Finance @ DeGroote.