Game changers: DeGroote research projects receive $525K boost from SSHRC
Shanzay Fayyaz, Data and Communications Intern | Hamilton | December 15, 2016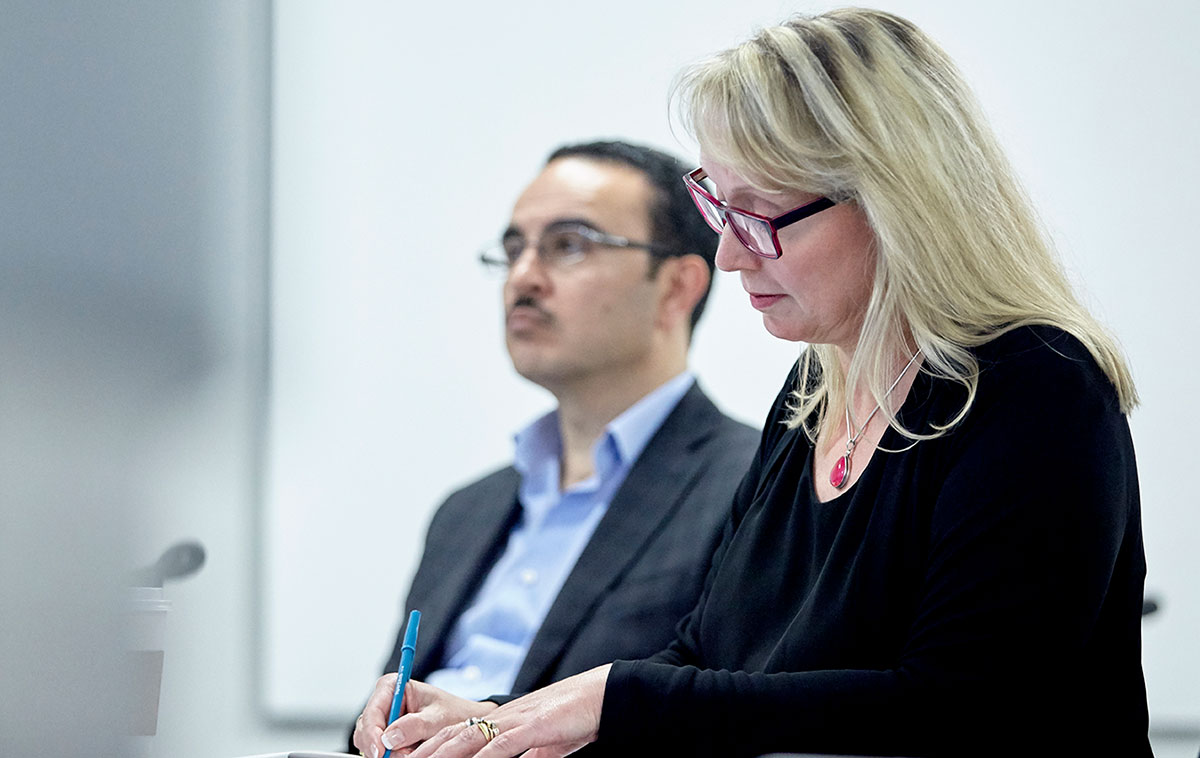 Earlier this year, a number of outstanding DeGroote research projects were awarded more than $525,000 from the Social Sciences and Humanities Research Council (SSHRC) via the Insight Grant Competition and Insight Development Grants.
The School's ongoing mission is to help transform business and society, and the research culture at DeGroote allows some of the country's best researchers and students to earn valuable federal funding and develop new ideas to help shape our future.
Professors Milena Head and Khaled Hassanein received $148,250 to further their project entitled, Understanding Technorruptions: Users' and Second Hand Users' Perspectives. The primary goal of this research program is to develop a construct that measures individuals' stress experienced due to "technorruptions," short for technology-mediated interruptions.
Given that wireless devices such as mobile phones are pervasive, the research aims to understand the impact of technorruptions on individuals using Information and Communication Technologies (ICTs) during a work meeting, as well the impact on those surrounding them. The results of this research will help guide companies in designing and implementing methods aimed at reducing stress derived from technorruptions, as well as its negative consequences for employees.
Associate Professor Manish Kacker, along with co-applicants from McGill University, the University of Texas, and the University of Rennes in France, received $71,450 to advance their project entitled, Dual Distribution, Innovation Strategy & Firm Value: Evidence from Franchising. The use of dual distribution, defined as the joint use of independent and vertically integrated distribution channels, has accelerated with the rapid growth of Internet, mobile, and other interactive technologies.
A comprehensive and precise understanding of the links between dual distribution, innovation strategy, and firm values remains to be developed. Thus, the team's research is focusing on the franchising industry in North America and France. More specifically, it's concentrating on how distribution channel structure can directly and indirectly impact shareholder value.
Next, Assistant Professor William Allender and his DeGroote co-applicants Manish Kacker, Ruhai Wu, and Sourav Ray, received $155,708 for their project entitled, Consumer Search and Retailing: The Case of Bluetooth Low Energy. Growth and expansion within the retail industry has introduced new challenges to the traditional retail environment.
Bluetooth Low Energy (BLE) devices are relatively inexpensive, and allow retailers to track an individual's movements throughout the store and send customized advertisements to them. The aim of this research is to better understand the value of customer location tracking data and the strategic information consumers' search and purchase history can provide. This information can be critical in determining how the search process, as well as the cost of searching, affect the final purchase decision in traditional retail formats and the associated implications for retail planning.
Lastly, Associate Professor Justin Jin and his co-applicant from York University received $52,000 to conduct research into The Impact of Economic and Monetary Policy on Bank Financial Reporting. The global financial crisis at the end of the last decade involved numerous bank failures and a significant economic downturn around the world.
The research team will explore how economic and monetary policy uncertainty impacts transparency in financial reporting while also considering the role of risk taking and external governance mechanisms.  With banking and audit related expertise there are anticipated findings in relation to the last financial crisis and subsequent recovery.
SSHRC Insight Development Grants
In addition to the above research, two other DeGroote projects were also awarded grants via the 2016 SSHRC Insight Development Grant (IDG) program, which enables the development of new research questions, as well as experimentation with new methods, theoretical approaches, and/or ideas. Associate Professor Hongjin Zhu was awarded $53,172 for her research entitled, Cross-Border Knowledge Transfer and Firm Innovation: The Role of Skilled Immigrants. Anticipated research findings bear implications for the globalization of knowledge, management of immigrant workers, and the competitiveness of Canadian firms.
Professor Mohamed Shehata, with colleagues from McMaster, Hofstra University, and York University, will use $44,787 in funding to expand a research project entitled, Test-Bedding a New Credit Loss Model: Searching for the Consequences in a Controlled Laboratory Environment. After the 2007/08 global financial crisis, the International Accounting Standards Board (IASB) issued new standards. This research team will explore the unintended and intended consequences of the changes with anticipated insights both in relation to accounting standards and organizational behaviour.
Other stories tagged: research, research funding