Gino Scapillati: Inspire and flourish
Gordon Pitts
, Business Writer-in-Residence, DeGroote School of Business | Hamilton, ON | March 2, 2015
Gino Scapillati has been announced as this year's recipient of the Wayne C. Fox Distinguished Alumni Award. He will be honoured on April 30 at our 16th annual Evening of Accolades dinner being held at the Trump International Hotel & Tower in Toronto.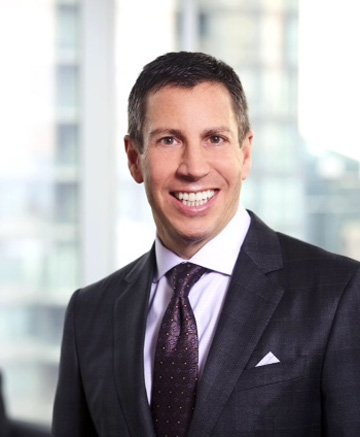 When Gino Scapillati, B.Com. '81, was a teenager, he hated to write. The written word was not his strength – he was a classic 'numbers guy,' a top math student, which is what led him into accounting.
It was a splendid career choice. His numerate skills were the base for his rise to the top of his profession – today, as vice-chair of PricewaterhouseCoopers LLP Canada and as a member of the global governance board of the vast PwC professional-services network.
Now that he is an international business leader, he recognizes an intriguing irony. While his life was once dominated by numbers, "all I do now is write and present. It is very interesting: I learned how to capture thoughts and ideas with fewer words and I always come at it from the readers' perspective."
Call it the education of Gino Scapillati. Learning to listen, persuade and inspire is part of the necessary arsenal of successful leaders. These are strengths Scapillati learned to master since growing up in Welland, Ont., and going on to be a commerce graduate at McMaster University's DeGroote School of Business.
His relentless drive towards growth and self-improvement – which continues today at age 56 – goes a long way in explaining why he is being honoured by the DeGroote School with this year's Wayne C. Fox Distinguished Alumni Award.
Scapillati has managed to bridge the delicate tension in a leader between "How can I succeed?"and "How can others succeed?".
Throughout his career, he has sought the proper balance between his personal goals and the needs of others – and of his firm. Scapillati has managed to bridge the delicate tension in a leader between "How can I succeed?" and "How can others succeed?".
The two can be entirely compatible, he maintains.
"You start off as a subject expert and then you ask, 'How do I lead?' I focused on two words, because they promoted my own development: Inspire and flourish. If I can inspire others to flourish and I can flourish myself, we are moving toward realizing everyone`s full potential."
Scapillati began this education early, as the son of post-war Italian immigrants to the Niagara Peninsula. His mother was a seamstress, his father a tailor, who in time ran his own men's clothing store. Gino sees his own journey in parallel to his father's – you start as a specialist in a subject area, whether tailoring or accounting, and then you learn to serve clients and lead people.
McMaster offered a great business education and the University allowed him to ease gently into a fast-paced urban professional life. Scapillati was a small-town boy who was nervous about going to the big city of Toronto. Hamilton was closer to home and McMaster occupied this green, welcoming campus.
He smiles when he thinks about his life today – jetting to meetings around the world as a leader in a global network, engaging in discussions of the international economy and geopolitics, and finding time to slip into an art exhibit, or indulge his love of good food and jazz.
After DeGroote, he soon enough ended up in Toronto as a young chartered accountant with PwC, and then back to Hamilton as a partner. He moved to Winnipeg to lead PwC's work with a major client, Canwest Global Communications, which took him into the leadership of the firm's media and communications practice. Now back in Toronto, he headed up the auditing and assurance practice in the Greater Toronto Area, which amounted to half of the firm's auditing business in Canada.
His horizons were expanding. He considers the technical professions, such as architecture, accounting and engineering, as foundations to a career. "I could take accounting as a foundational skill and then focus on client services and supervision and management work." Then he made the big leap to lead PwC Canada's client-facing efforts, which meant a lot of strategy and positioning for a billion-dollar business.
Mentors are good but if you pattern yourself too much after someone else, it will not be genuine.
Fortunately, he could explore all this within PwC. Asked why he remained with the same firm all his entire career, he explains that he has been accorded such different roles, it adds up to several careers under the PwC umbrella.
As he became a manager, he read a lot about talent – how to keep it and nurture it – and team-building. As he shifted towards leadership in the firm, he turned increasingly to psychology and human behaviour. He discovered the work of Martin Seligman who promotes positive psychology through books like 'Flourish: A Visionary New Understanding of Happiness and Well-being.'
The "flourish" bit stuck with him. "I like that word – it is the idea of bringing your best self. It is challenging because you have to stretch beyond your comfort zone. To develop more fully, you have to do things you are not good at, but you need to do them to adapt in a short period."
Along the way, he relied on mentors, taking away attributes that made them effective. But he learned not to try to replicate entirely other people. If you do that, "you lose your authenticity. People see you are not yourself and they say 'Where is Gino?' "
He found that particularly relevant to communications styles. Early in his career, he could be a good public speaker, but in certain situations he was less effective. Often, with presentations or town hall meetings, the interplay with the audience didn't feel right. While a certain mentor might thrive in big spaces, Scapillati found he needed more interaction, or perhaps, a panel instead of speech from on high.
So he learned to thrive in the smaller situations, all the time working on large-scale speechifying. Today he feels comfortable in all situations. The lesson: "Mentors are good but if you pattern yourself too much after someone else, it will not be genuine."
He also became more strategic about changing people and their attitudes, realizing that there are those that will embrace change and those who will resist. The majority is often in the middle wondering: what is in it for me?
If 20 per cent of the group embraces change, for example, a leader might use that group's energy and persuasion to bring along the 60 per cent in the middle. The leader should know when it is futile to devote undue effort to the entrenched resisters. "Too much of that and you drag yourself down. In the end, you don't achieve what you need to do."
"I try to focus on the desire to change and to flourish. People want to be part of the success, to be part of something bigger, but they need someone to help show how to fit into the bigger picture."
Now, as one of 18 global board members, he calls on different skills, as an international statesman for the firm. It is thinking about worldwide strategy, market and operations, and contributing to the multinational network and its success by challenging and supporting leaders.
He remains true to his roots, although he has learned to rein in some of his small-town humility. In the past, he would think, with some awe, that "I am just this little guy from Welland – how did I get here?" He was advised by a coach: Get over it — everyone comes from some place. The message: humility is great, but don't let it stand in your way.
On joining PwC, he never imagined becoming a partner, let alone a leader — never mind taking a global role. But, "we all have our unique talents and it is up to us to understand them and develop them. I didn't do it to be promoted only, but to develop as a more complete individual. The nice thing is it did lead to promotion and to life fulfillment."
In other words, he could inspire and flourish.
Gino Scapillati, BCom '81, is vice-chair of PricewaterhouseCoopers LLP Canada and a member of the global governance board of the PwC professional-services network. 
Other stories tagged: alumni, alumni profile, Distinguished alumni