Go Ahead Goal: Hockey Coach + MBA Candidate
Sara Alhattab, student experience intern | Burlington, ON | December 10, 2015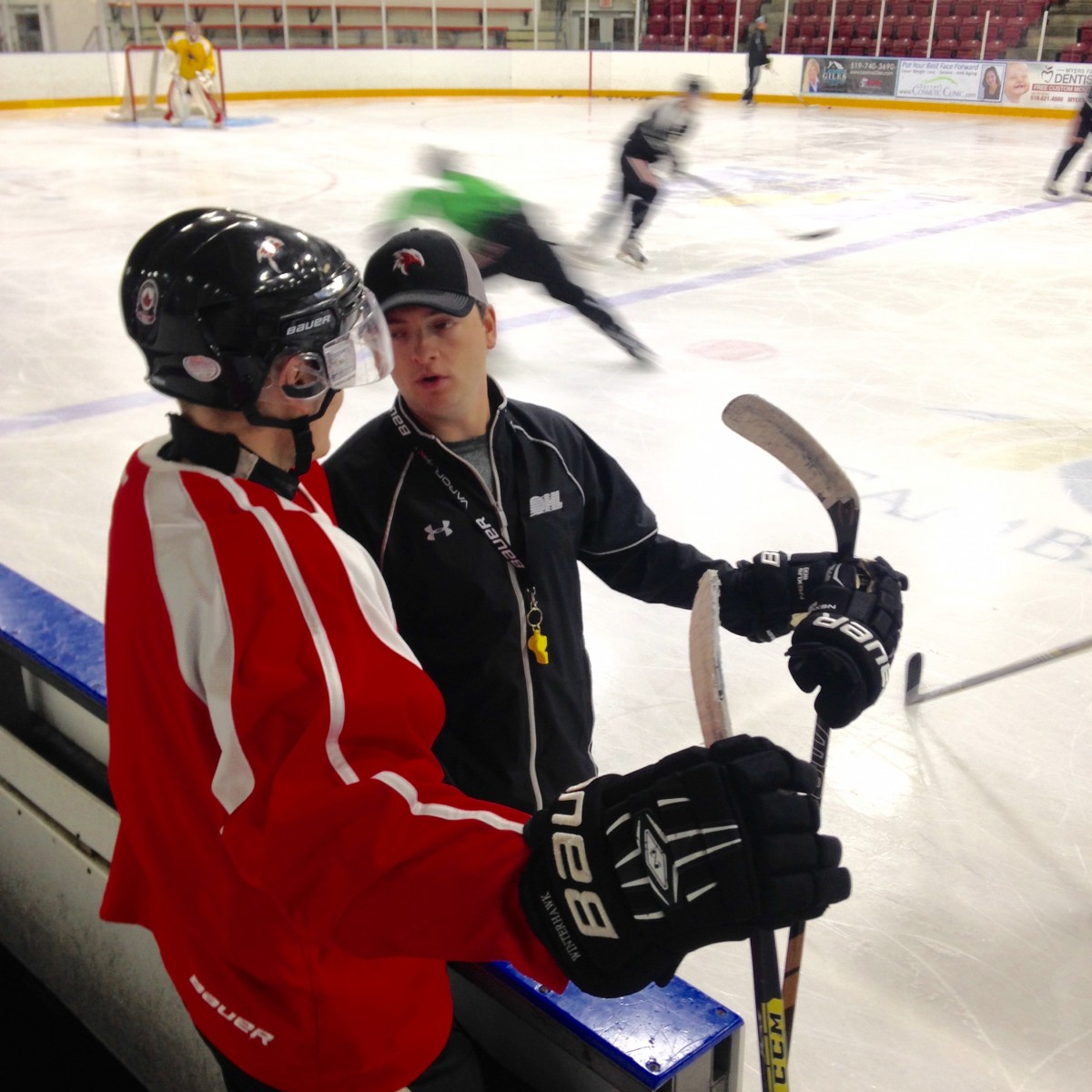 "I had a sports psychologist named Rich Ennis that worked with me one-on-one when I was [a youth] playing Junior Hockey. He's now working with one of my own players," says Daniel Fitzgerald. "I spoke with Rich after my first game coaching Cambridge and he said, 'I knew you'd be a coach.' At 16-17 years old, I was destined to be a coach and not a player."
Fitzgerald, 28, is the newly appointed head coach of the Cambridge Winter Hawks Jr. B hockey club and a first-year MBA candidate at McMaster University.
"Hockey is my passion, it always has been. I love going to the rink, I love thinking about hockey, I love analyzing the game, I love working with the players—I just love every bit of it."
Fitzgerald, the hockey coach
Fitzgerald accepted the position as the new head coach of the team early in the season in October 2015. He says that his success with his previous team, the Dundas Blues Jr. C hockey club, likely put him on the "radar in terms of coaching in the area." Though he's only been head coach of the Cambridge Winter Hawks for a short period so far, Fitzgerald speaks positively of the team and experience.
"If it was any other team, I don't know if I would've taken the job in-season," he says. "But when [Cambridge] gave the call and I sat down with them and chatted, it just felt like the perfect fit."
Along with the new position came new responsibilities.
"It's a different world in terms of what I've been used to," he says, adding that he now has to deal with recruitment, scholarships, and Ontario Hockey League teams. "Plus, it's a higher level of hockey. There's a greater investment from the players and coaches."
The team has four assistant coaches, two of which also came over from the Dundas Blues Jr. C hockey club and another two who were already there when Fitzgerald took over. He says that the team has a good dynamic and they all strive for the same goals.
Despite their seven wins and twelve losses, Fitzgerald says that the most important thing is to remain positive about the group and the team's direction.
"The players are committed to the game and have good characters," he says. "We know [our streak] will turn around. The process is there and we're seeing a lot of guys develop."
"Dan is a real players coach," says the Winter Hawks' captain Matt Harding, 20. "He never gets down on players and uses mistakes as a teaching method."
Harding, a first-year economics student at Wilfrid Laurier University, adds that Fitzgerald taught him the value of remaining "cool and calm" when things get heated.
"Seeing the way he acts and how composed he remains has a calming influence over the team and has helped me as a leader of the hockey team," adds Harding.
You can't just be a coach anymore; you
have to understand the business side of the game.
For Fitzgerald, "seeing young men grow as people" is the most fulfilling part of his career. He says that hockey provides a good atmosphere for his players—who are 16 to 20 years old—to develop strong characters and become "good people" by learning to cooperate with teams, coaches, and fans that are from various ethnic and socioeconomic backgrounds, as well as experiences.
Fitzgerald, the MBA candidate
As a former teacher, Fitzgerald draws on his previous techniques when coaching by giving constructive criticism and applying different learning styles. He also draws on his coaching experience to enhance his current MBA education, and vice versa.
"More than anything, it's the soft skills I bring into the [MBA] program," Fitzgerald says. "But I've also found new ways to develop the same skills here while learning from and collaborating with people from different backgrounds, degrees, and experiences."
He adds that the nature of his coaching job is to be analytical, but that the MBA program has also enhanced this skill by schooling him in new ways to critically assess statistics and personalities.
"I'm developing as a business professional and it helps me in coaching. I'm trying to bring new techniques into the hockey program," he says. Fitzgerald calls himself "a bit of a jacket collector." Along with a diverse and impressive resume playing hockey, the Niagara District Junior Hockey League and the Ontario Hockey Association have also both named Fitzgerald coach of the year in 2015. Fitzgerald also managed a lower level team in the past, was a director of hockey operations, and sat on a number of boards.
He says he could see his MBA education moving him towards the management side of hockey.
"You can't just be a coach anymore; you have to understand the business side of the game. If I continue with hockey and coaching, the MBA will help me better understand the business and financial side of it so that I can be a greater asset to whatever organization I'm with."
"You can take this degree anywhere. That's exciting for me," he adds.
Other stories tagged: act with integrity, be collegial, collaboration, leadership, mba, mba student, Strategy & Leadership, student author