In photos: DeGroote unveils wall of honour for Distinguished Alumni Award recipients
October 17, 2018
| Burlington
Contributed by Andrew Baulcomb, Communications Officer
Recipients of the Wayne C. Fox Distinguished Alumni Award will now be honoured in a much more befitting manner at DeGroote's Ron Joyce Centre.
On Tuesday evening, campus and community leaders gathered in Burlington to celebrate the unveiling of a new honour wall for past and future Distinguished Alumni Award winners.
The award is presented annually to an alumna or alumnus whose personal accomplishments, reputation, and character have enhanced the reputation of McMaster University.
The tribute was spearheaded and funded by Teresa Cascioli, BCom '83, who received the award in 2008.
Cascioli, former CEO of Lakeport Brewing and a noted philanthropist, was recently named an Industry Professor at the DeGroote School of Business. She sits within the School's Strategic Management faculty area, and focuses primarily on entrepreneurship.
Below, take an insider's look at the unveiling ceremony. All images courtesy of Mike Lalich: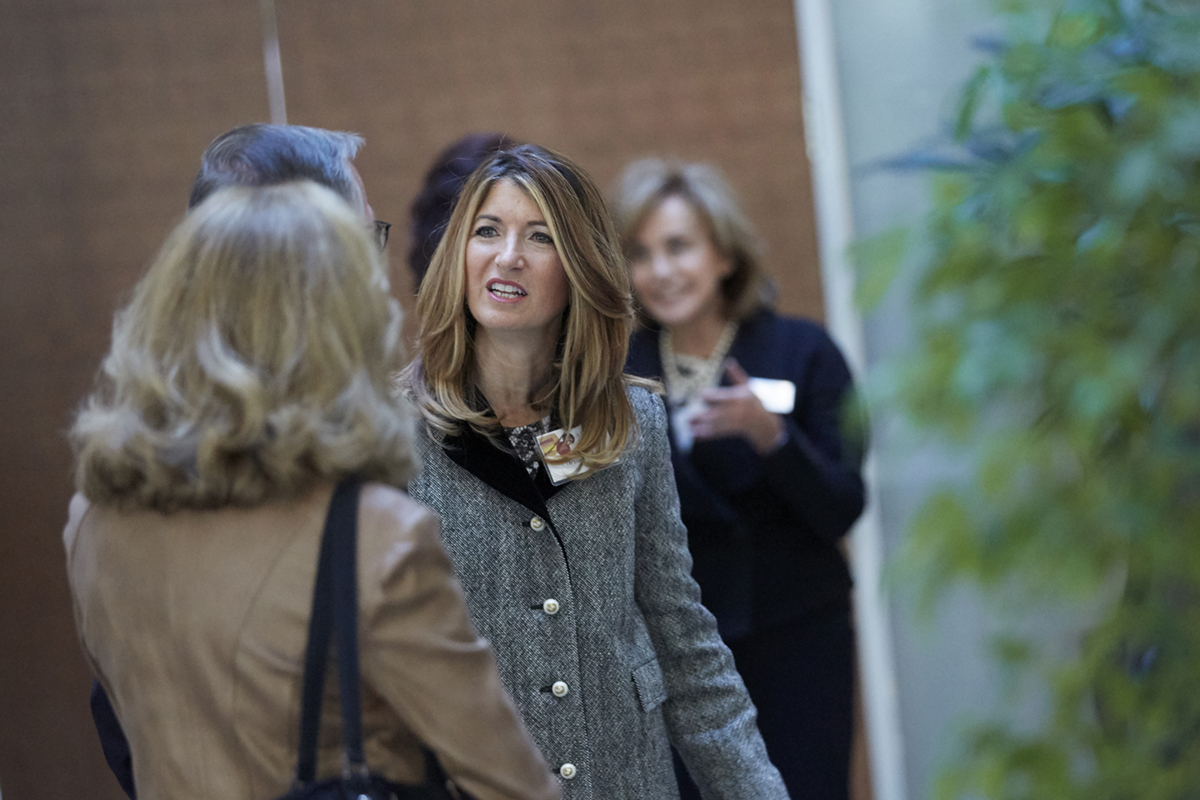 Teresa Cascioli, BCom '83, converses with guests at Tuesday's unveiling of the Wayne C. Fox Distinguished Alumni Award honour wall at the Ron Joyce Centre.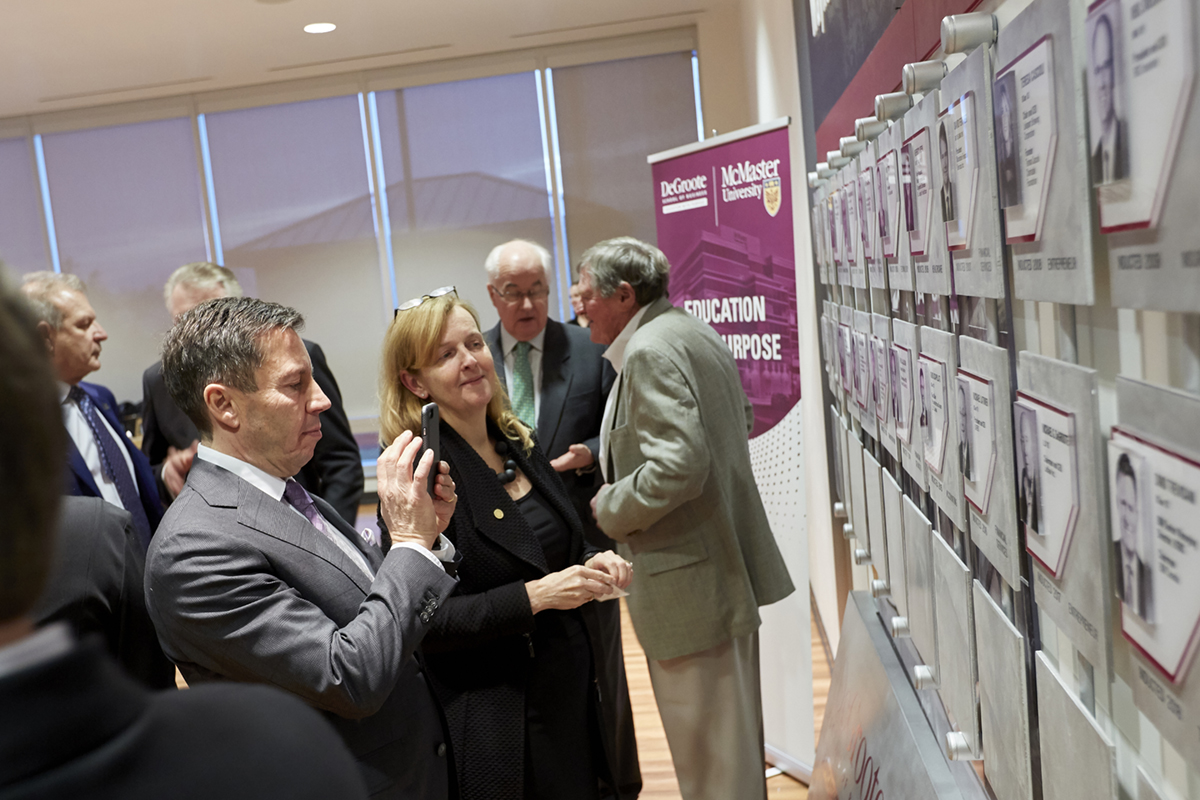 Gino Scapillati, BCom '81 (left centre), is Vice Chair, Strategy and Innovation, at Bennett Jones. Scapillati was named a Distinguished Alumni Award recipient in 2015. Mary Williams, Vice-President, University Advancement (right centre), admires the honour wall with Scapillati.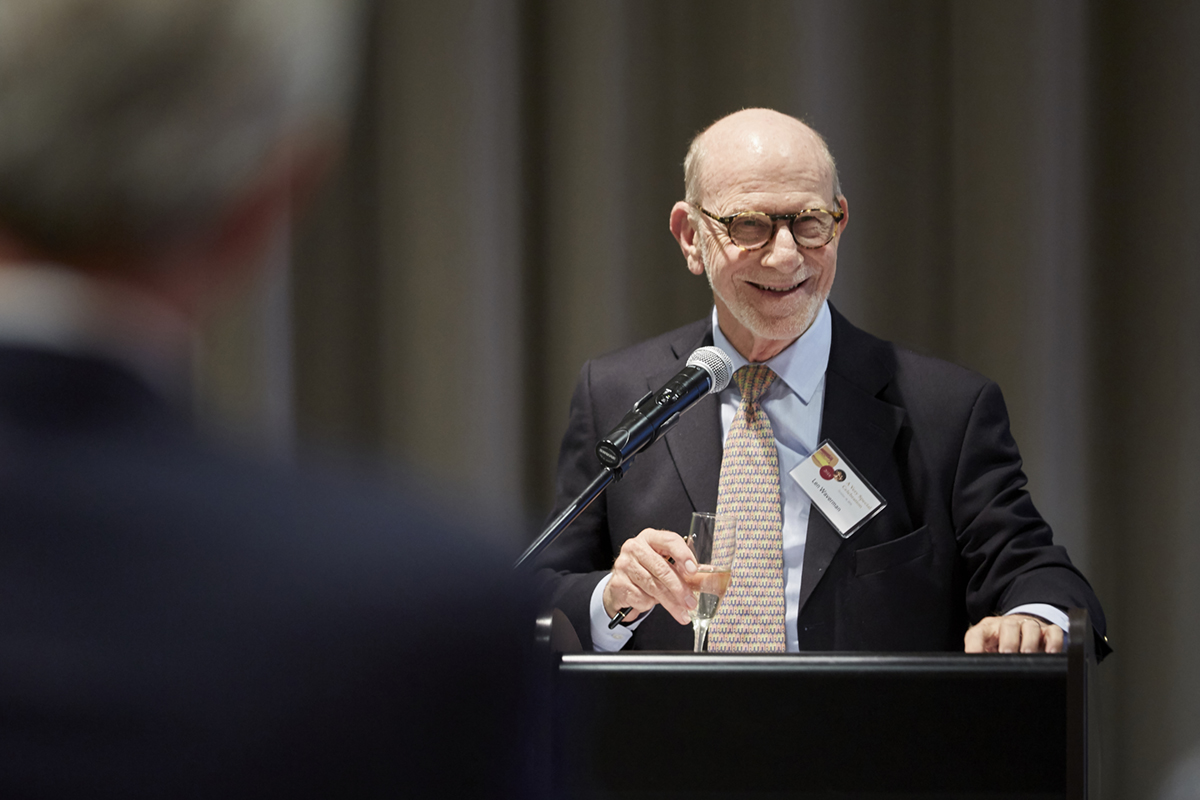 Len Waverman, Dean, DeGroote School of Business (pictured), was on hand to deliver remarks at the event, alongside Patrick Deane, President and Vice-Chancellor, McMaster University; Williams; and Cascioli.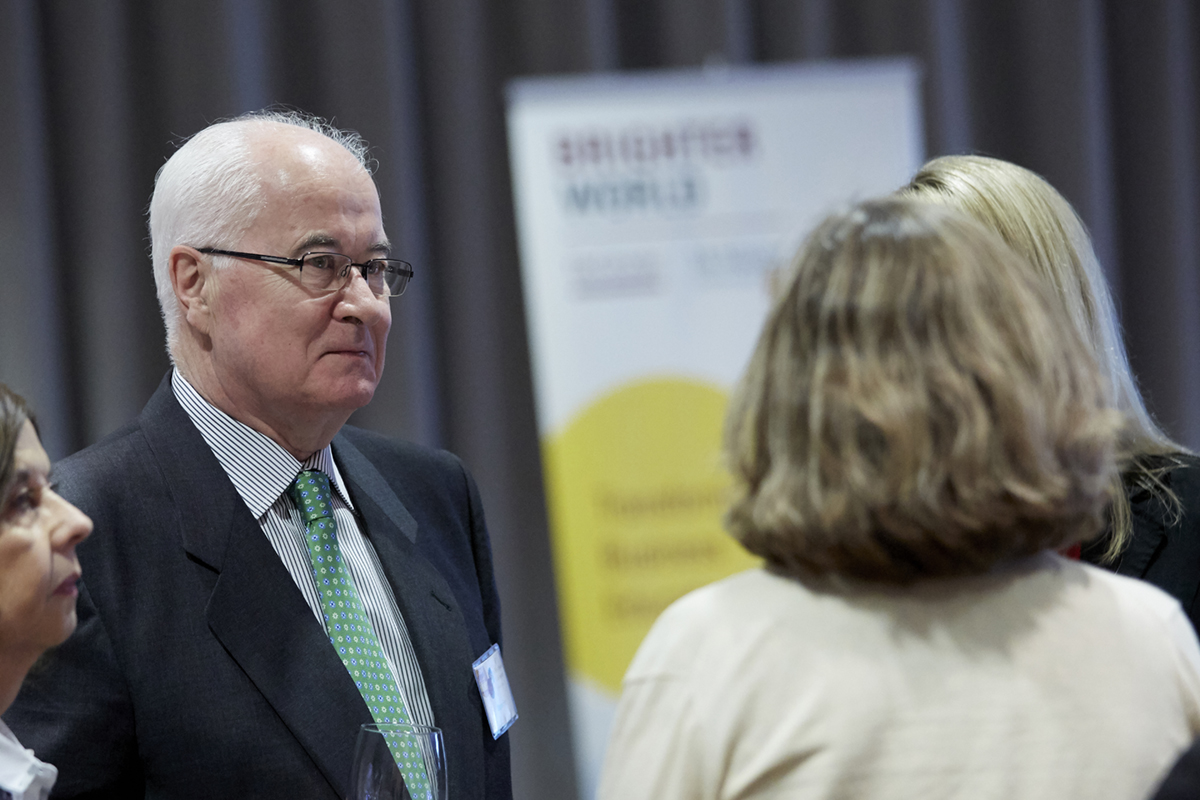 Wayne C. Fox, MBA '73, is the namesake and inaugural recipient of the Wayne C. Fox Distinguished Alumni Award, which he received in 2000. Fox is Managing Director and Chairman, Cygnus Investment Partners LP.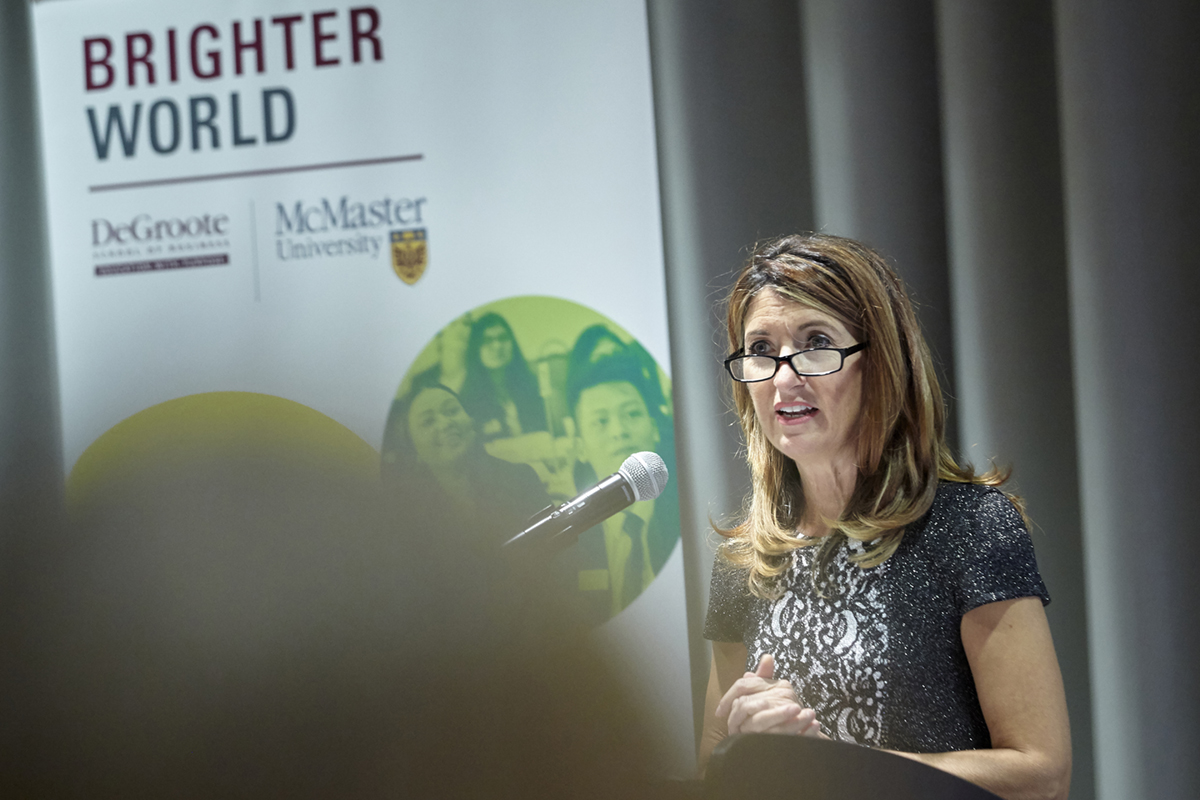 Cascioli addresses guests during the unveiling ceremony.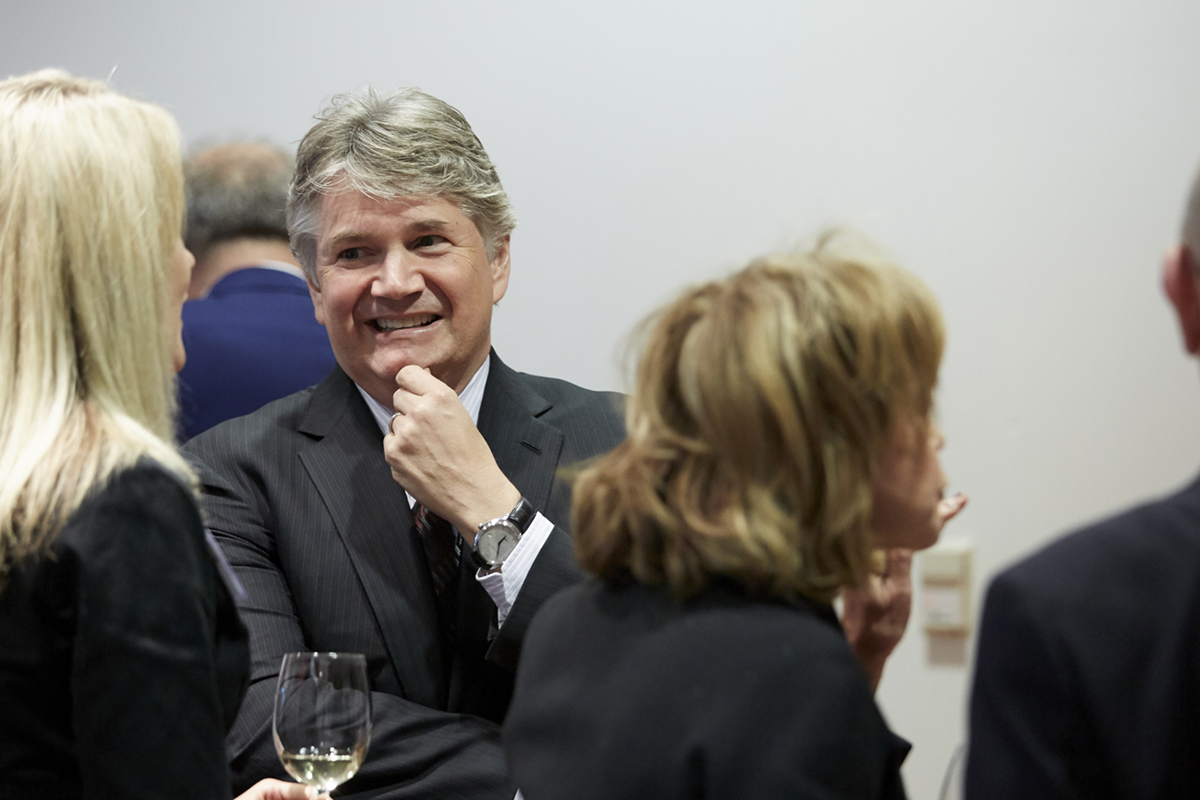 David Feather, BA '85 & MBA '89. Feather, who recently launched the David Feather Family Scholarship for Integrated Business and Humanities (IBH) students at McMaster, received the Distinguished Alumni Award in 2007.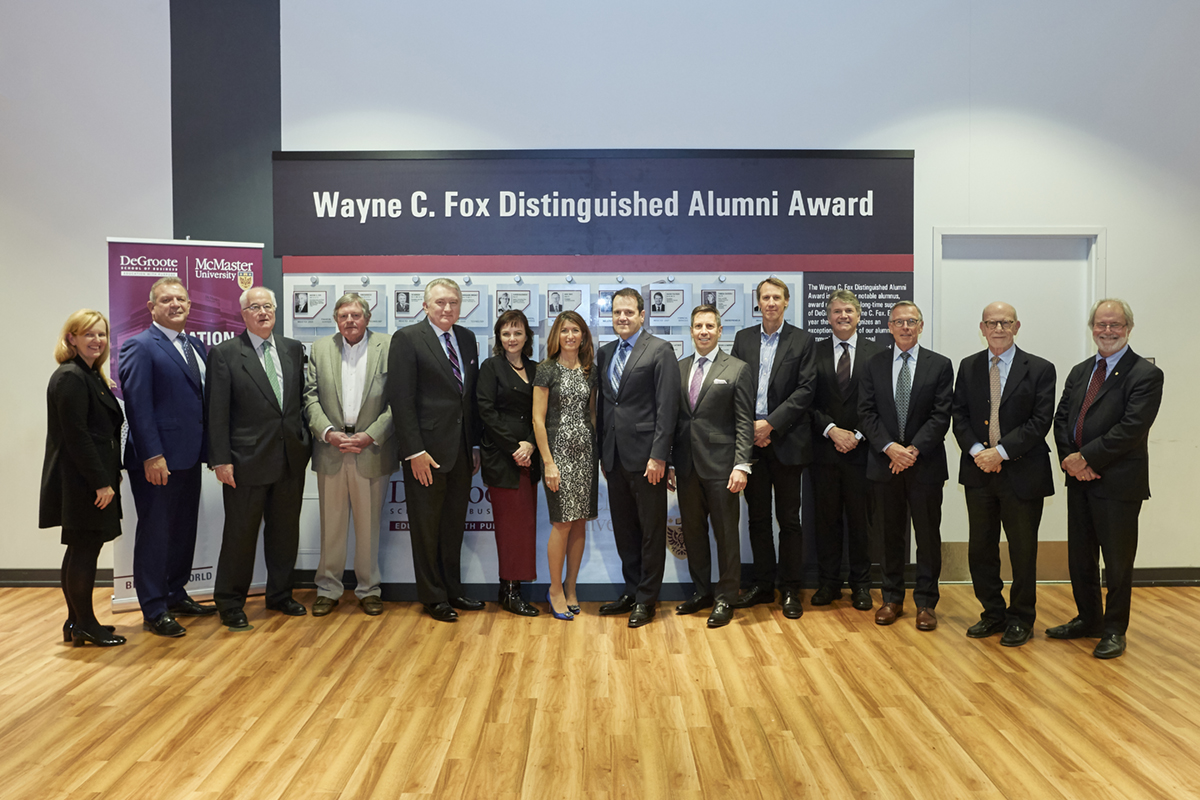 From left: Mary Williams, John Marinucci, Wayne C. Fox, Gary Kain, Ed Minich, Rebecca Repa, Teresa Cascioli, Marco Marrone, Gino Scapillati, David Williamson, David Feather, Ken Troy, Len Waverman, Patrick Deane.