Judy Bradt Brings Tips, Strategy, and Insight to her Role as a Seasoned Business Advisor
November 18, 2021
| Hamilton, ON
Contributed by Rebecca Hull, DeGroote Writer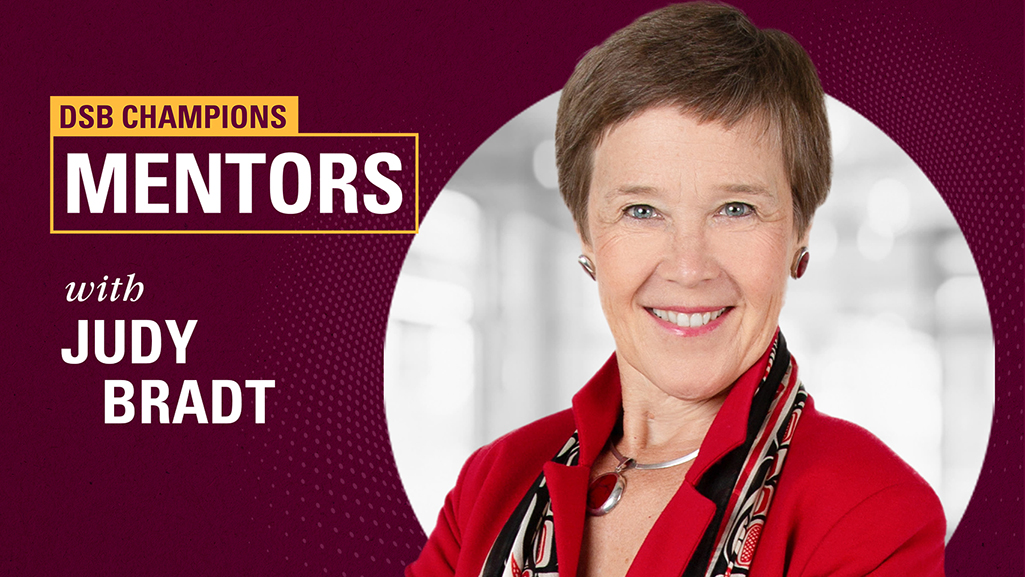 Once Judy Bradt (MBA'83) graduated, she never would have imagined working in government contracting. But her curiosity to explore the MBA program after receiving her Bachelor of Arts became the catalyst to discovering her newfound career. Bradt began her career working with IBM, but it didn't seem like a good fit. Her true passion was in business strategy. Bradt tried applying to the International Monetary Fund (IMF), Intergovernmental Economic Organization (OECD), World Bank, and Canadian Embassy in Washington. After multiple rejection letters, she found her first opportunity in the United States.
"Late 1987, Canada and the United States had just signed the first Free Trade Agreement and were about 12 months from implementation. A new position had opened up in nondefense government procurement," says Judy Bradt. "I left my home, my family, the computer industry, my native land, and I showed up at the Canadian Embassy in Washington."
Judy Bradt's start with Canada's Trade Commissioner Service
Over the next 15 years, as part of Canada's Trade Commissioner Service, Bradt became Canada's top expert in government procurement. She helped in helping over 5,000 Canadian companies win over $200 billion in contracts with the U.S. federal government under the trade agreements. However, Bradt still aspired to do and learn more. That led to making a tough decision to leave and start her own business in government contracting.
I got to the point where I realized I wanted to work in more depth and creatively. I have a powerful sense of service, and I had to make a hard decision to stop serving my country. To serve those 5,000 business owners is something I am extremely proud of. I connected with and cared about the business owners I was helping. My business background helped me see the world from their point of view.

---
Building relationships is key
Throughout her journey, Bradt emphasized the importance of relationship-building when working in sales. She believes that genuinely getting to know someone personally – even in a professional setting – helps a person land a deal. In addition, Bradt advises to always do your research in advance when meeting someone important. That way, you always appear smart and informed.
Go slow. Take the time to get to know who someone is. The pandemic gave us incredible opportunities to have conversations on Zoom or the phone. It is a chance to ask someone: How are you? How's your family doing? Even if naked toddlers are running around looking for Cheerios in the background, take the opportunity to connect with someone on a human level.

---
Summit Insight
Summit Insight, Bradt's federal business development company, helps people find and connect with the buyers they are truly meant to serve. She is also an award-winning author of Government contracts made easier and an influential public speaker. Bradt is driven by the desire to make a difference in the world by connecting people together.
Think about what happens to your world when you treat opportunity like dough instead of pie. Add warmth. It rises.

---