Lisa Brown: Arch Award recipient
Leah Rosenthal, Advancement Officer | Hamilton, ON | June 4, 2015
Lisa Brown, MBA '10, is a Project Manager at Power Generation Systems at Toromont Cat. On June 3 she received an Arch Award from McMaster University.
Share with me some memories of your MBA and your time at McMaster University.
Coming back to McMaster to do my MBA was nostalgic, but also a very distinct experience in its own rite. I thoroughly enjoyed my undergrad experience as an engineering student, and still maintain a lot of those friendships. It definitely played a significant role in forming who I am today, but it was also a different time in my life. This time I was making a conscious choice as a full-time working adult to invest in my own development, to further myself in my career and to work towards fulfilling my personal goals as well. While pursuing my MBA at Mac, I really felt engaged in what I was learning, and the people I was meeting. Each interaction contributed not only to making me a more knowledgeable professional, but also to making me a better thinker, and to ask better questions. It opened up a world of possibilities to do more than just the status quo.
How did DeGroote prepare you for your career in construction and power generation?
I had already spent a number of years working in the construction and power generation industry prior to completing my MBA. You learn the ropes and you work hard, but it's easy to fall into a routine. As cliché as it sounds, my time at DeGroote reminded me how important it is to be the driver of your own development. You don't stop looking for learning opportunities just because you stop being a student in the formal sense. Completing my MBA really awakened my innovative side and my hunger to know more and do more. There is always the question now, "How can we do this better? How can I make an impact?"
You sit on several boards, and act as Director of the Canadian Association of Women in Construction (CAWIC). How do you balance your work, professional volunteering and personal life?
There's no sugar-coating it; it definitely takes effort. The main thing is being organized about how you spend your time and recognizing when the scale is tipping too far in any one direction. You can't say yes to everything, so you have to be realistic about how much you can do, allocate your time wisely and make time for what matters most. The most important job I have is being a mom, so I make sure that I am there for the soccer games, the school concerts, etc. I make sure I get that quality time with my family first and foremost. Sometimes that means I have to shuffle that time around other obligations to make it happen, but that family time doesn't get crowded out. As for work and professional volunteering, I firmly believe you have to love what you do and feel a connection to the cause. Being in that headspace allows you to make the leap from just "spending your time" to "making an impact". It doesn't feel like work anymore, and so you don't mind making time for it. It gets your energy level up rather than winding you down.
You are an active blogger and social media enthusiast, how has technology helped you in your career?
One popular criticism of social media is that people don't talk to each other anymore. For me, it has had the complete opposite effect. It is so much easier to reach out and interact with people in way we have never seen before. It's so much easier now to find common ground with someone you've just met, or learn something new about someone you've known for years. These little discoveries are great conversation starters. They can lead to the deeper conversations that foster strong working relationships, generate opportunities and ideas, or transfer knowledge and practical experience. Many great innovations are simply great ideas borrowed from one application and used in a new one. You have to have conversations with people outside your usual circles to tap into that, and social media is a very accessible resource for many of us.
Volunteer for something that matters to you. I cannot emphasize enough how rewarding the experience is, and how much you really do learn from it.
Share with me what it is like to be a woman in leadership? How do you help other women in business?
There has been a lot of attention to the lack of women in certain industries and in senior roles in the last couple of years. As a woman, it really is refreshing to see increased awareness around the unconscious biases, those of both men and women, that fuel this problem. I am both hopeful and confident that we will see significant change in this area over the next number of years. At present, the best tools I see to overcome these obstacles are self-awareness and communication. You can't let those biases undermine who you are and where you want to be. Anything you can do to learn more about yourself: your strengths, your weaknesses, your passions, how you operate, how you're perceived by others, how to challenge yourself and get out of your comfort zone; allows you to focus on where to improve yourself and how to adjust your behaviours to connect and communicate better with others. It's not always easy to do, but can be well worth the effort. If I feel like someone's misunderstood me or misread my intentions, I will make the effort to connect with that person again, at the next opportunity, and express myself better. Being open and authentic with others in a way that is also considerate of the other person and what matters to them, has always served me well.
When it comes to helping other women, I like to share experiences – their own and mine. I don't have all the answers, and I'm always learning, but at least I can say, you're not the only one. This is what I was faced with and this is how I overcame it; you can too. On a more formal level, I'm a director at CAWIC, which seeks to facilitate the success of women in the construction industry. This is my sandbox, and I wanted to be a part of the change that makes it a better place to work for all of us.
On Wednesday, June 3 you will receive McMaster University's Arch Award. What does this honour mean to you?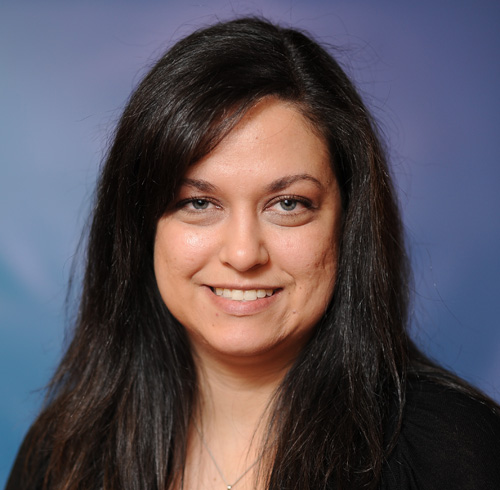 I am so incredibly honoured to be receiving this award. I'm fully aware of how many exceptionally talented, innovative and generous individuals belong to the McMaster community. To be recognized by McMaster for my own humble achievements inspires me to dream that one day I can leave a lasting footprint too.
Any advice for current DeGroote students and our alumni?
Be who you are. Figure out what drives you and then set goals for yourself that will get you to where you want to be. Write them down and aim high. Don't worry if you change course later. You're in the driver's seat. You're allowed to.
Volunteer for something that matters to you. I cannot emphasize enough how rewarding the experience is, and how much you really do learn from it. That's free education, and it has an undeniable impact on your community.
Meet people. Go to networking events alone and get to know other people. Even a 5-minute conversation can be a learning experience. Doing this can be intimidating at first, but you get good at it the more you try, and you feel great after.
Above all, don't be afraid to try something new. Challenge yourself, always.
Lisa Brown, MBA '10, is a Project Manager at Power Generation Systems at Toromont Cat. On June 3 she received an Arch Award from McMaster University.
Other stories tagged: alumni, alumni profile, arch award