Newcomer Kitchen: How Syrian refugee women are cooking their way to success
February 21, 2017
| Hamilton
Contributed by Leah Rosenthal, Advancement Officer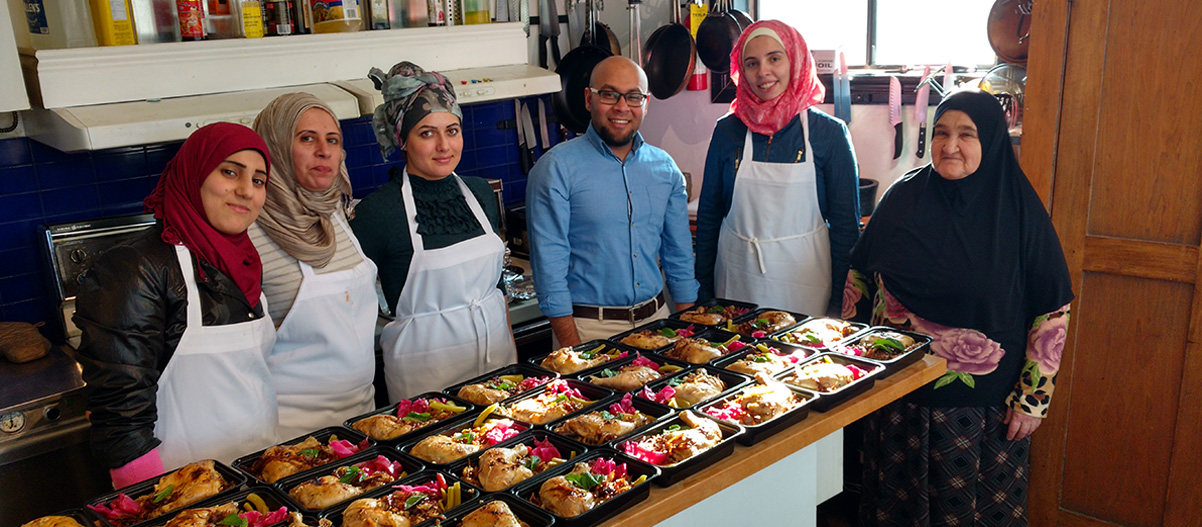 Imagine packing up only what you can carry. Imagine fleeing a war-torn country and landing as a refugee in Canada.
Now picture a kitchen. The different smells, the cacophony of sounds. There is laughter, there is sharing, there community in this kitchen. There is healing.
Newcomer Kitchen invites Syrian refugee women to cook a weekly meal and socialize. The meals are then sold, and the proceeds shared among the cooks. Currently there are 59 women enrolled in the program.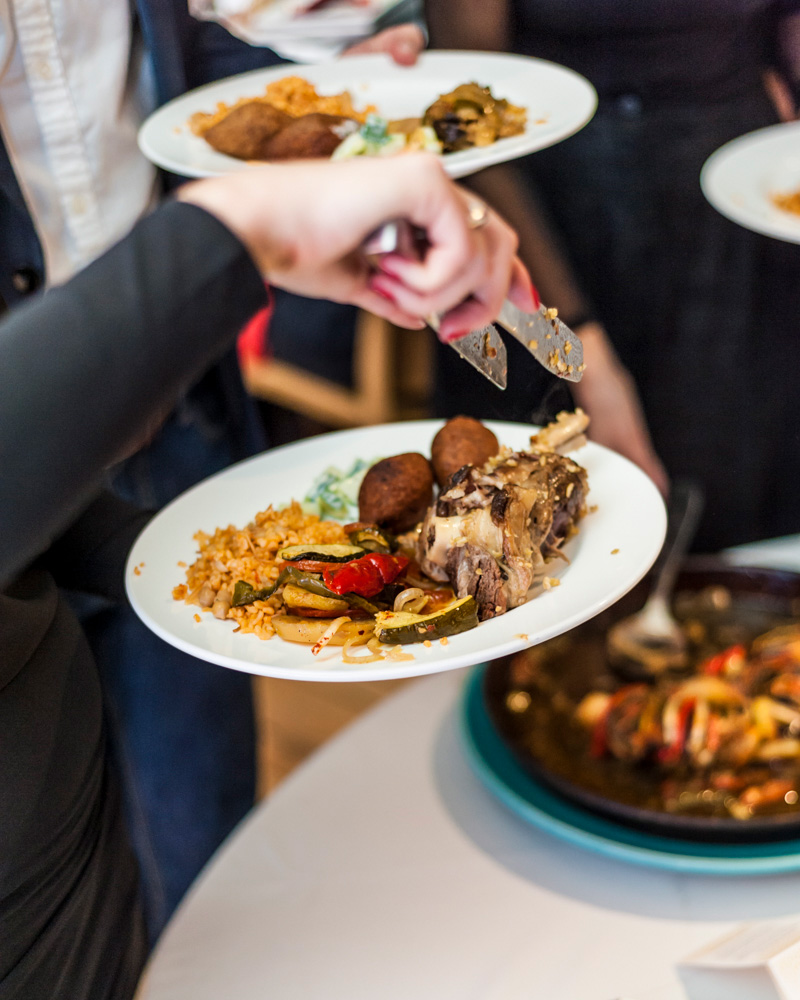 The initiative, which began at The Depannuer in Toronto, is working to create a model that can be replicated with any newcomer group, in any restaurant, in any city in the world. What began as a safe space for women to cook and prepare meals for their families – many of whom were living in hotel rooms without access to a full kitchen – has now transitioned into a way for those women to make money.
Newcomer Kitchen has already been covered by Time and the Huffington Post, and the relatively new start-up had the pleasure of hosting Prime Minister Justin Trudeau when he broke bread with several Syrian newcomers on the first anniversary of their arrival in Canada. With a second Toronto location opening in May 2017, Newcomer Kitchen has big hopes for what it can accomplish in the near future.
At 28 years old, MBA candidate Faizan Ashraf knows a thing or two about being in a new land. Living in several Middle Eastern countries as a child, Ashraf immigrated with his family to Canada from Pakistan in 2014. As treasurer of Newcomer Kitchen, Ashraf has been instrumental in helping set up the policies, procedures and processes around accounting. From implementing a cloud-based accounting system, utilizing smartphone technology and providing guidance on money matters, Ashraf is helping the initiative in its expansion phase.
"I knew from childhood that I wanted to be a part of a non-profit organization that gives back to the community," he says. "I am so proud to be on the Newcomer Kitchen team. As an immigrant myself, I firmly believe that by helping each other, we can help the world."
The impact on the women and their families is profound. Zubaida Haj Issa, who fled Syria in 2013 to Turkey and arrived in Canada in 2015, shares that Newcomer Kitchen has "helped me emotionally and psychologically – when I'm here, working and cooking with the other women, I forget about the pain and misery in Syria."
Below, Faizan Ashraf shares how he is helping Newcomer Kitchen grow from a start-up initiative to a multi-location thriving business.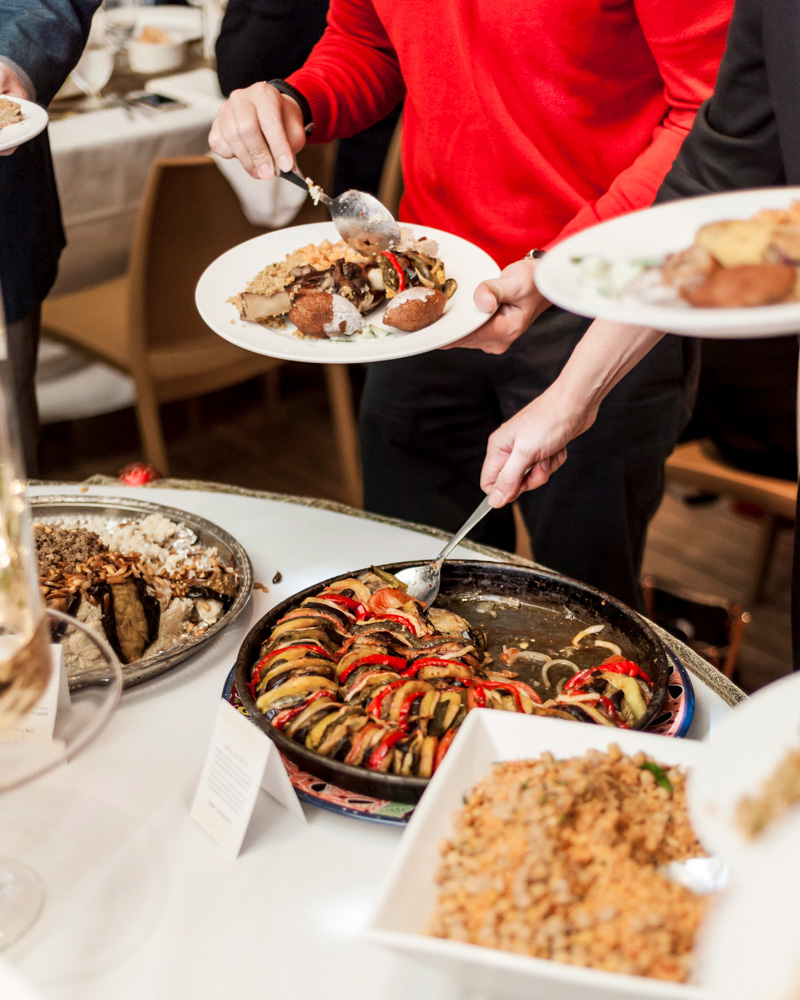 How did you become involved at the Newcomer Kitchen?
In late 2015, I started a project at McMaster called the MSU-IWC 20-for-20 Syrian Refugees Project. It was a partnership between the McMaster Students Union and Immigrants Working Centre (IWC), a Hamilton based resettlement agency with the aim of helping IWC raise funds towards sponsoring 20 Syrian refugee families to Hamilton. Although we never reached our financial goal, I was eager to give back to the community. In July 2016, I came across Newcomer Kitchen online and was inspired to connect with Depannuer's  owner, Len Senater. I learned that Newcomer Kitchen had started as a well-meaning small initiative, but had grown into an independent business separate from Depannuer. Len mentioned that such rapid growth for a small start-up had brought along its challenges. The project was going through a cash flow crisis with no standardized accounting. Given my background working with start-ups in the Middle East, and the fact that I was in my final year of my MBA program at DeGroote, I realized this was the perfect opportunity to get involved in helping refugees while leveraging my experience and education to help Newcomer Kitchen become a successful start-up.
What skills are you bringing to the Newcomer Kitchen project?
Along with skills I learned while completing my MBA, I spearheaded the implementation of cloud-based accounting solutions at a social media marketing firm. The firm was thinly spread across six different geographic locations, and I worked to enable real-time financial data capture. The end-to-end project involved mapping current and desired state operations; gap analysis; evaluating SaaS solutions; tailoring the selected software; user acceptance testing; implementation and training employees.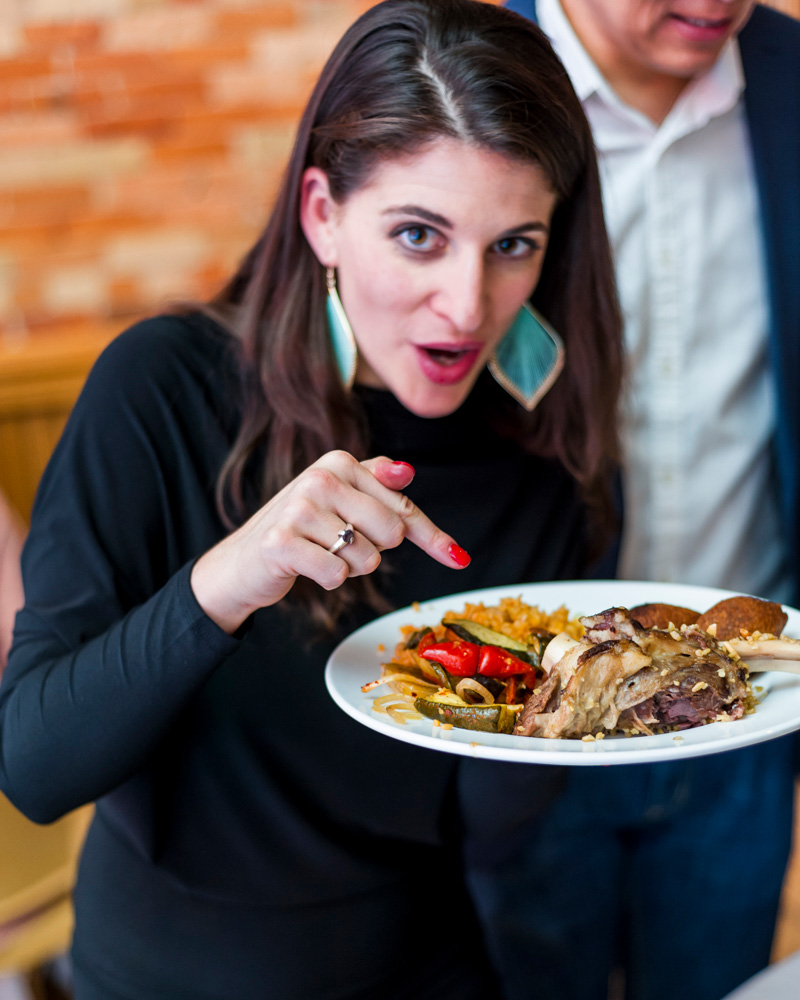 Why become involved in a start-up company? What does this non-profit experience offer?
Having worked with start-ups and project-based environments, I consider myself a bit of a jack-of-all-trades. At young start-ups, everyone involved often has to wear multiple hats – whether it's marketing, business development, operations or finance the whole team has to work together and unlike large corporations there are seldom any silos. The start-up's success depends on how successfully the team is able to work together. Working with Newcomer Kitchen offers me the joys and stresses of working with an emerging organization going through the critical stage of becoming a sustainable business, while also finding peace in the fact that I have been involved in helping women suffering from the wounds of war not only heal but become successful Canadians.
What are the greatest lessons you've learned since becoming a part of the Newcomer Kitchen team?
When you join a large organization there is often someone to guide and mentor you. When you join a start-up, it's like jumping into the middle of a storm in a small dinghy and hoping you will make it through. There is no model, no cheat sheet or map to help you steer your way – you have to figure it out through trial & error and sometimes failure. I have also learned that when you have a lot of stress bearing you down, don't quit. Persevere and you will see light at the end of the tunnel. It does come at a cost sometimes and there are things you should be willing to sacrifice. Finally, success is a messy business. It's never glorious or glamorous when you are in the thick of things, but if you persevere through the outcome is always worth it.
The program has received a lot of media attention. How are you and the team working to expand?
Currently our core operation is focused on our Thursday pop-up, which is our weekly cooking day. We have managed several catering events, as well as a gala fundraiser just before Christmas in which we raised $31,000 in one night. From operations to date, we have learned there are several things we need to work on before expanding. Some of these items have already been accomplished while others are work in progress. Our medium-term goal is to expand to another location in the east end of Toronto. We learned through in-depth data analysis that there is a huge untapped market within Toronto, and a new location in the east end would help us cater to that. We are also in the process of securing deals with some large corporations to run our Thursday style pop-up in their kitchens once a month. This would go hand in hand with other corporate catering initiatives that we are working on. Our long-term goal is to write a playbook based on our experience that would enable anyone who is interested to replicate Newcomer Kitchen with any newcomer group, in any restaurant kitchen, in any city in the world.
---
Want to get involved with Newcomer Kitchen? DeGroote students and staff are encouraged to connect on Facebook.