Pitching in for Charity: MBA candidates give back to the community ahead of holiday season
December 3, 2018
| Hamilton
Contributed by Chris Gaspic, Marketing and Communications Strategist
Approaching the holiday season, the spirit of charity was felt throughout the Ron Joyce Centre during the annual Pitching in for Charity event.
Since 2014, DeGroote MBA candidates, working alongside local charities, have collaborated to answer one question: What should your charity do with $5,000?
Wrestling with the real world challenges these charities face, MBA candidates use their practical experience and classroom knowledge to provide sound business advice and solutions.
Presenting to a panel of judges made up of students, faculty, staff, alumni, and corporate and community partners, the best-judged solution receives a prize of $5,000 (provided to the charity they are representing), with additional prizes of $1,000 given to runners-up.
Pitching in for Charity represents a true win-win scenario for the community, and is a clear example of the School's commitment to transforming business and society. The day would not have been possible without the commitment of both community and corporate sponsors.
"The decision to be a part of this initiative was an easy one – we knew it would be a partnership of not only business, but of values," says Angelo Paletta, President, Paletta International Corporation. His firm generously donated two prize amounts of $5,000 and $1,000.
"Pitching in for Charity is a clear example of the importance in giving back to the community," Paletta continues. "Students learn not only the practical side of business and how to address complex business issues, but more importantly they learn the valuable impact they will have in the community as future business leaders. This is a responsibility we take seriously at Paletta International Corporation and Penta Properties Inc., to sponsor any organization that is this committed to meeting the needs of the local community, is an easy decision."
PACE Credit Union, donating an additional $5,000, and the DeGroote MBA Association (MBAA), donating $1,000, provided the additional corporate donor amounts.
"It was a privilege for PACE Credit Union to sponsor this award because credit unions typically pursue profits for a higher purpose. At PACE, we pride ourselves in being dedicated to the communities we serve and giving is a part of our DNA. We were so impressed with DeGroote's Pitching in for Charity program that we felt that we needed to contribute," says Pauline De Leon-Hutson, Member Experience Manager of PACE Credit Union.
"Part of Pace's mission is not only to 'make a difference in people's lives' but 'to also serve the needs of the community.' To engage these really bright minds in this type of meaningful completion is a great way for PACE to contribute some community investment dollars for the betterment of our community and I'm so proud to work for a company that sees initiatives like Pitching in for Charity as important," she continues. 
De Leon-Hutson, along with Britney Hawkins and Deanna Betts from the MBAA, provided feedback to each student group presenting on the day.
Winners from the day included:
First Prize ($5,000 Supported by Paletta International)
Mark Preece Family House

First Prize ($5,000 Supported by PACE Credit Union)
Wellwood
Runner-Up ($1,000 Supported by Paletta International)
Neighbour 2 Neighbour
Runner-Up ($1,000 Supported by MBA Association)
Threshold School of Building
Below, take a look at an impactful day at the Ron Joyce Centre:
Representatives from corporate sponsors Paletta International and PACE Credit Union were invited to attend.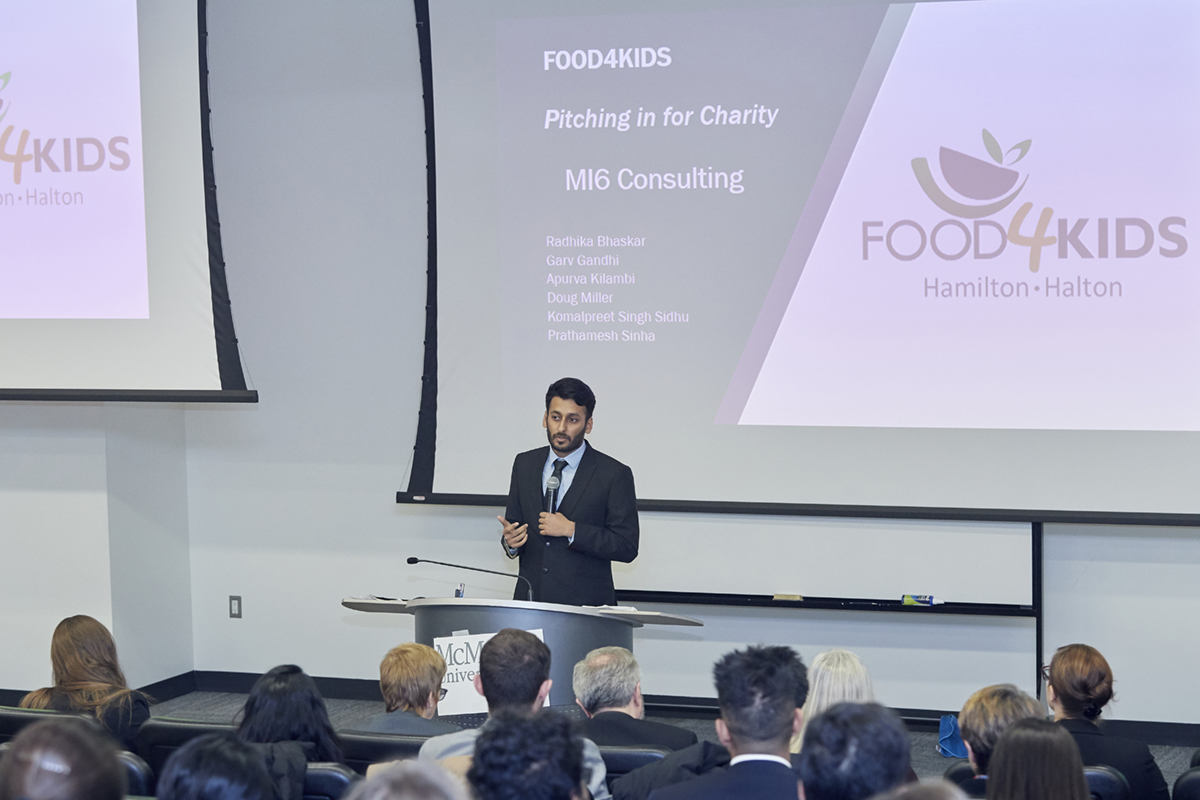 Komalpreet Sidhu stands in front of an attentive audience discussing recommendations for Food4Kids Hamilton and Halton.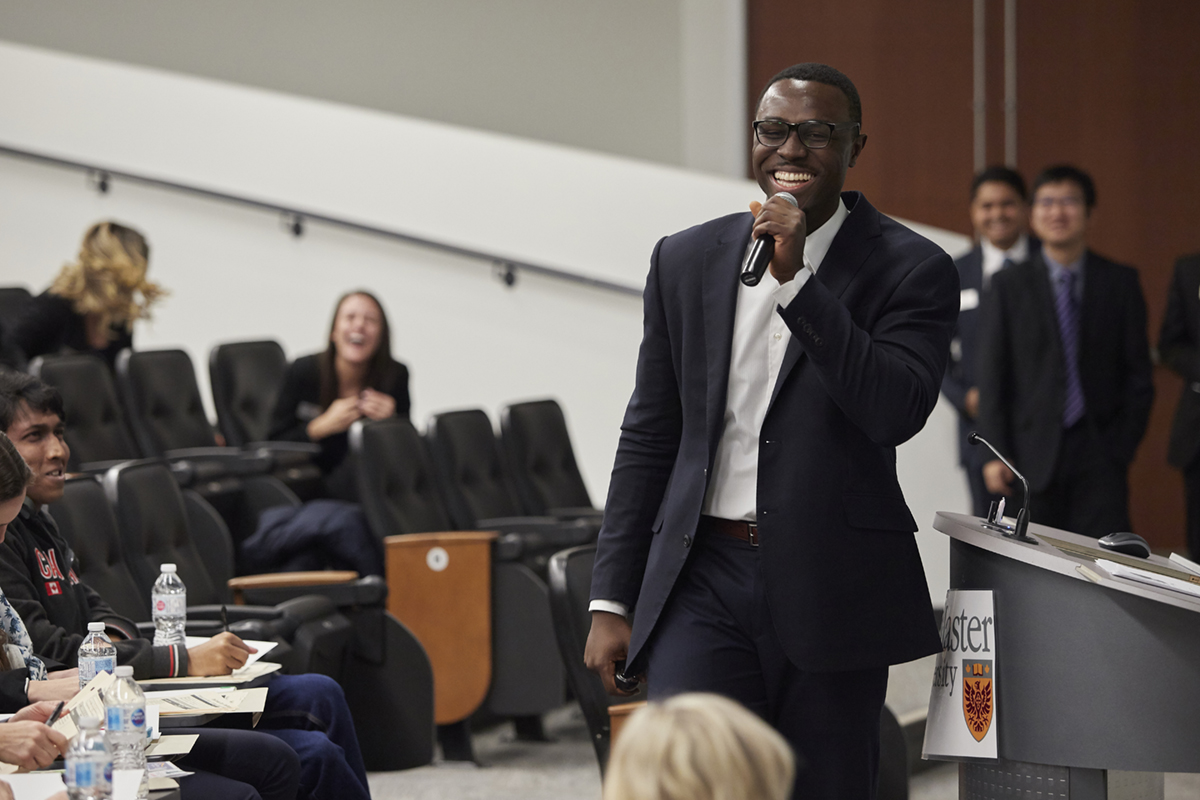 Having a laugh, Kwasi Oti-Awere works the crowd.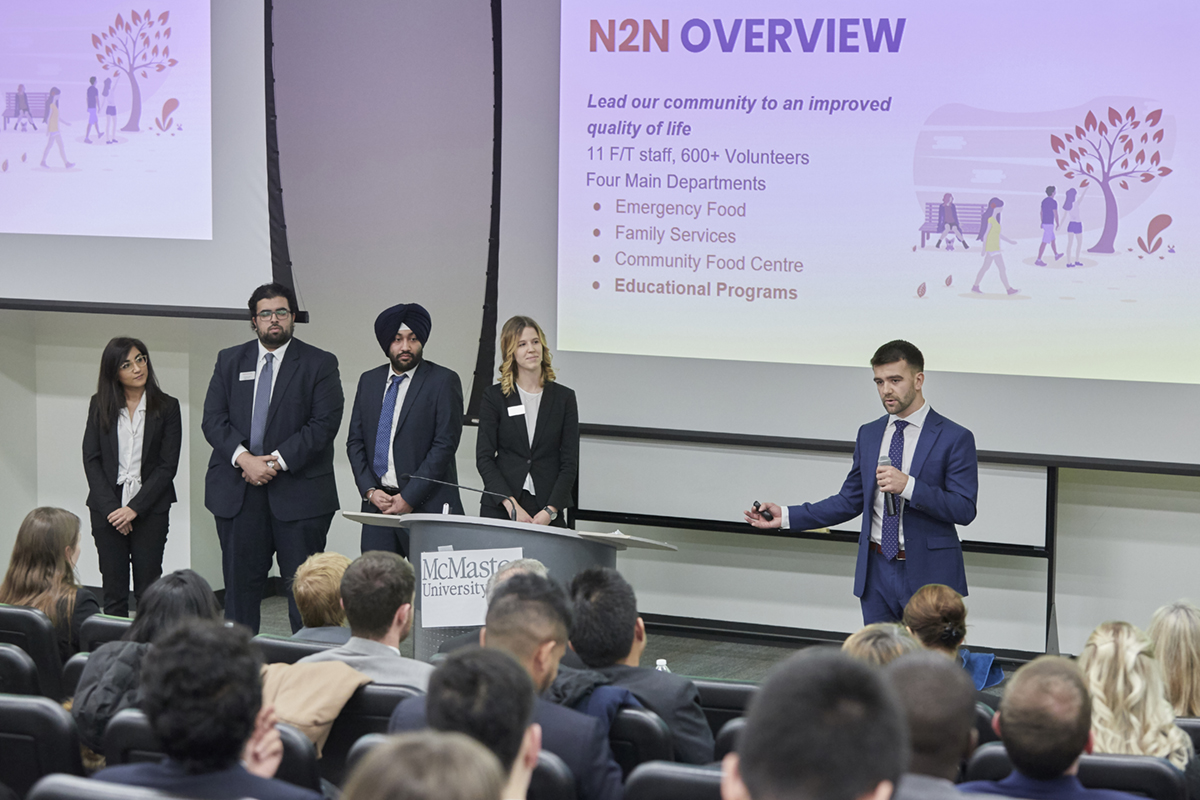 Working with Neighbour 2 Neighbour, MBA candidates (left to right) Sultana Naimi, Fayrose Malik, Jaspreet Singh, Barbora Hrapkova, and Joshua Bell present their recommendations to the audience.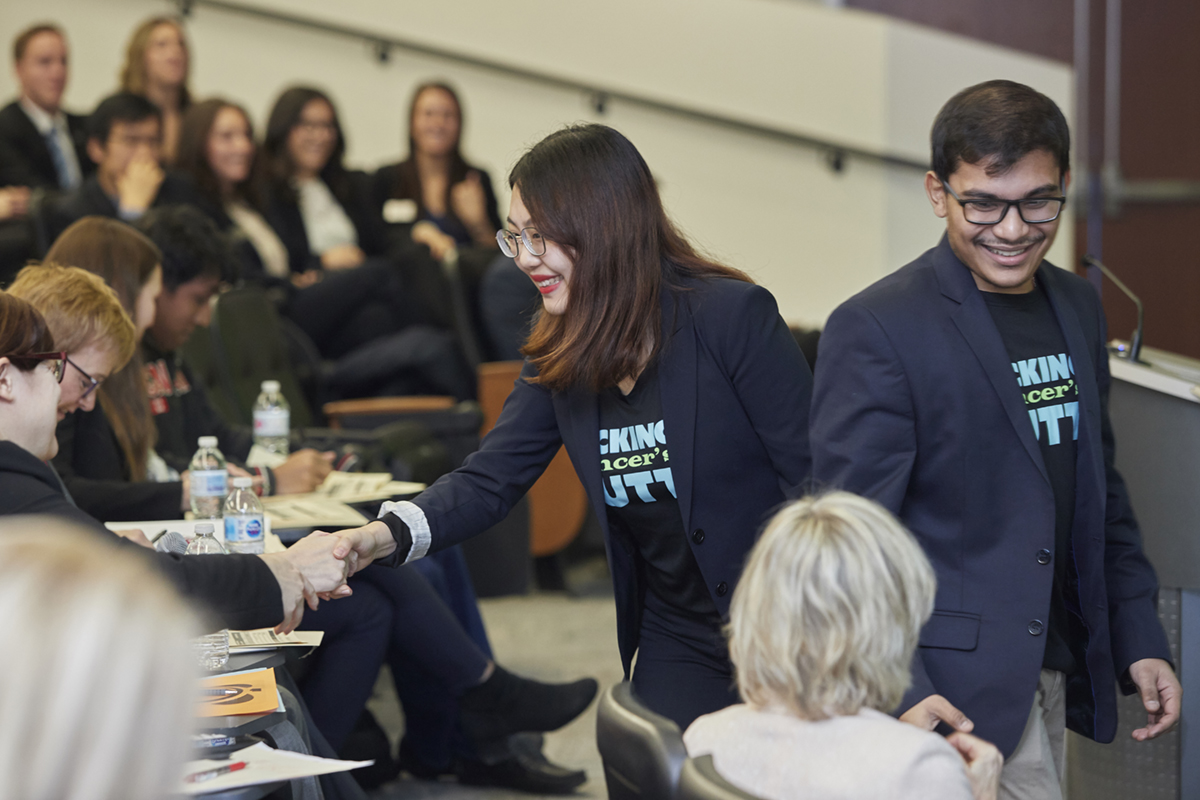 Kicking Cancer's Butt, Suqing Fan and Bishal Podder are congratulated after their presentation.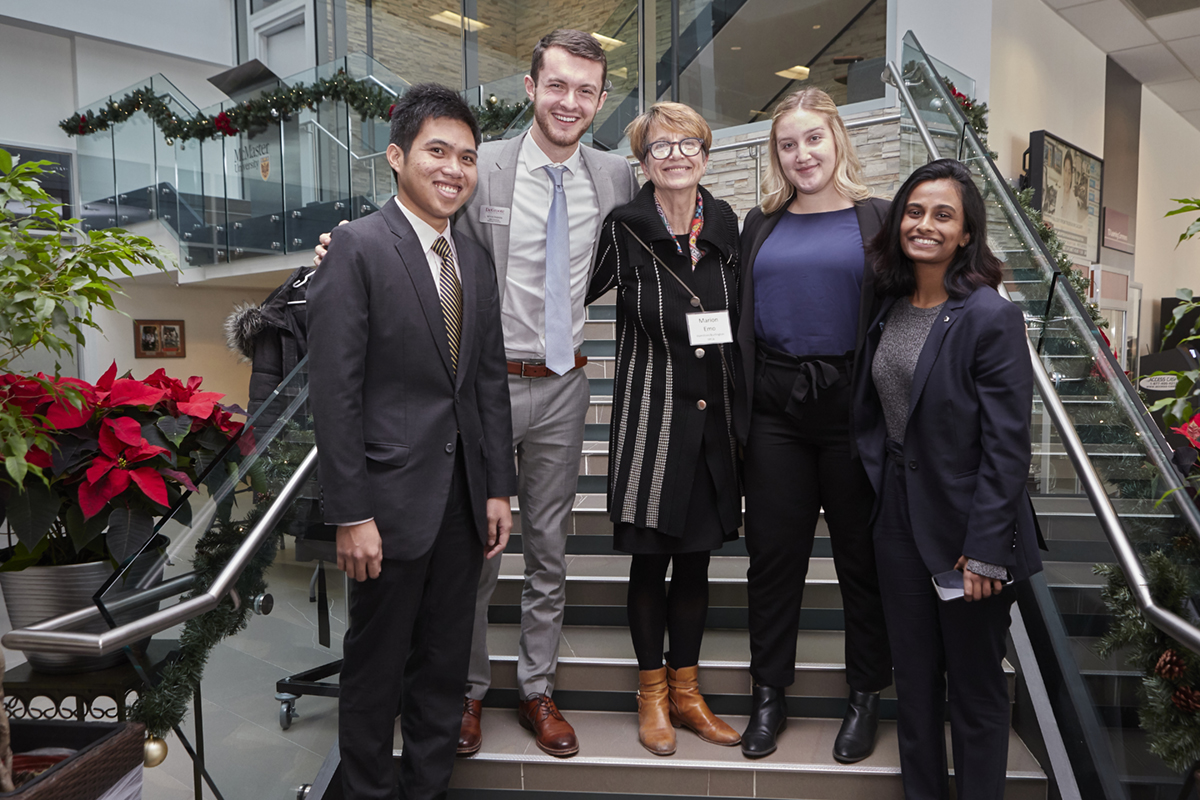 Marion Emo (centre) from Hamilton/Burlington SPCA is joined by MBA candidates (left to right) Rey Cale, Mitchell Fasken, Monica Lutz, and Aditi Austin.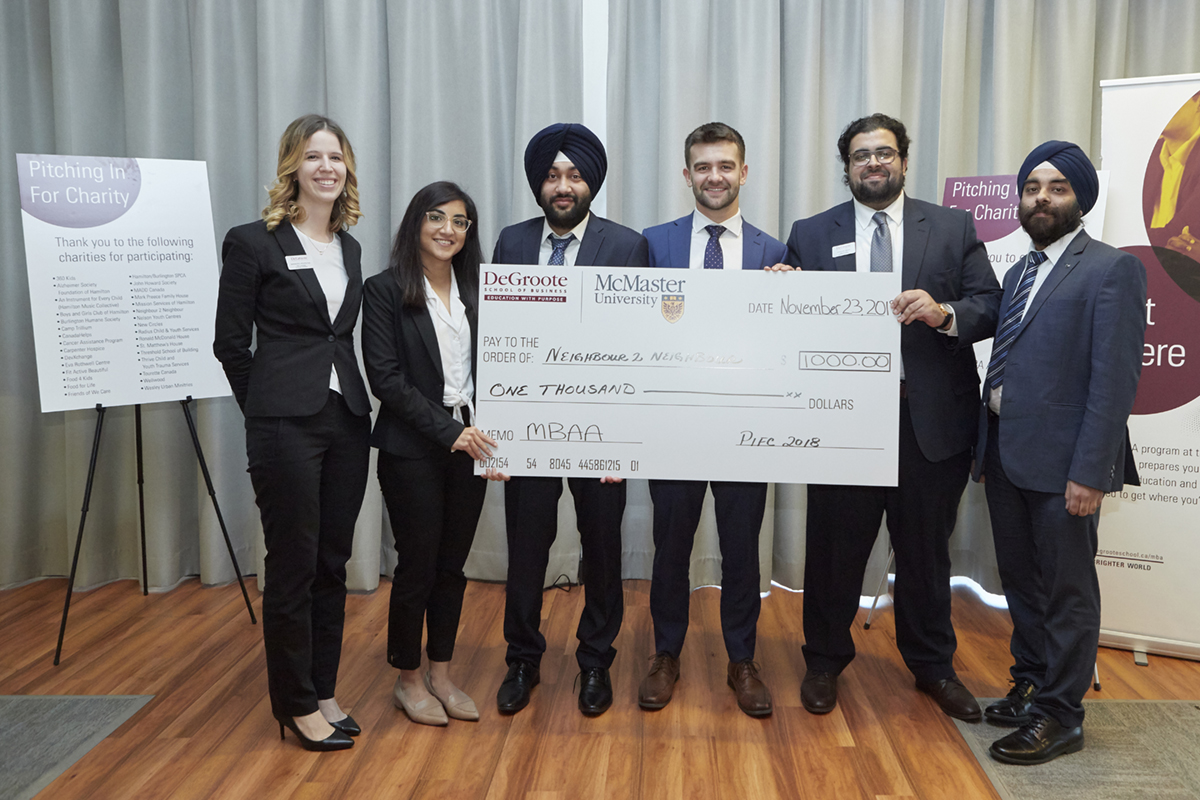 Neighbour 2 Neighbour, a runner-up in the competition, was rewarded $1,000. Holding the cheque are students (left to right): Barbora Hrapkova, Sultana Naimi, Jaspreet Singh, Joshua Bell, Fayrose Malik, and Sumitpal Chhabra.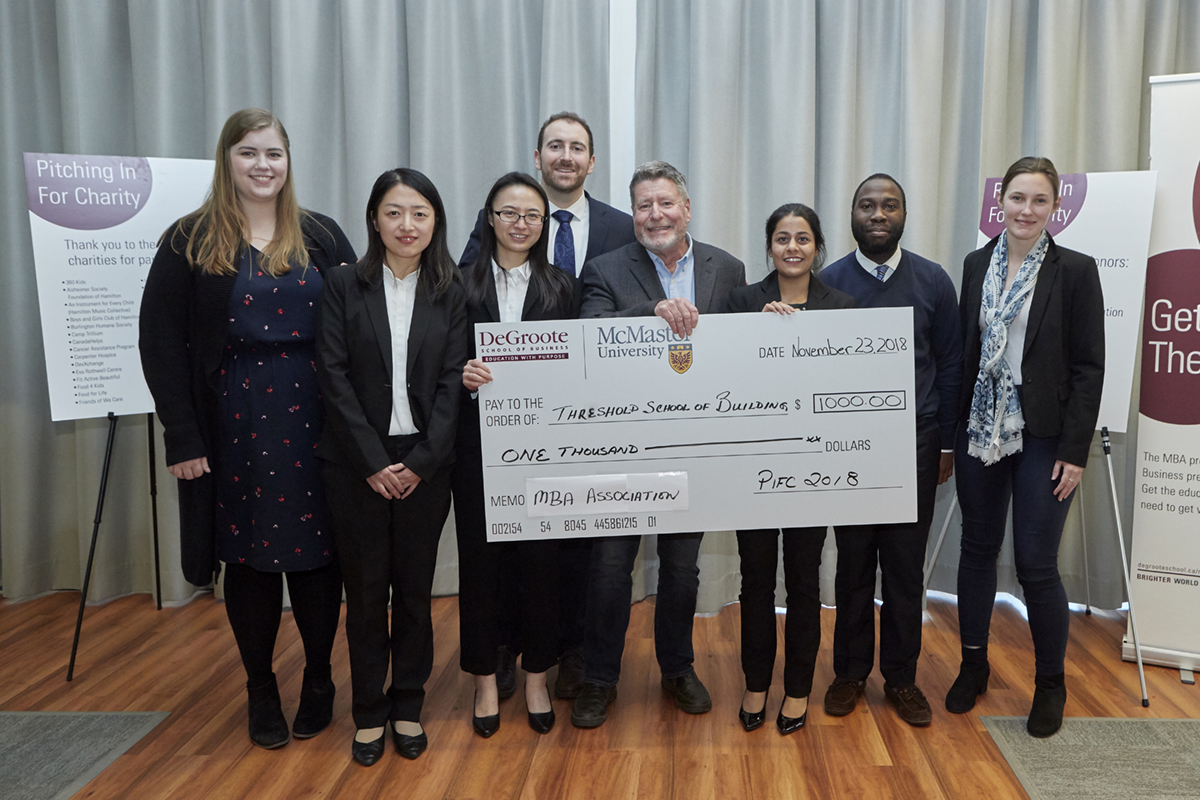 John Grant (centre) from Threshold School of Building, and a $1,000 prize winner, is joined by MBAA Finance Director Deanna Betts, Yining Wang, Xiting Huang, Joseph Coward, Lenna Rahman, Francis Olatoye, and MBAA President Britney Hawkins.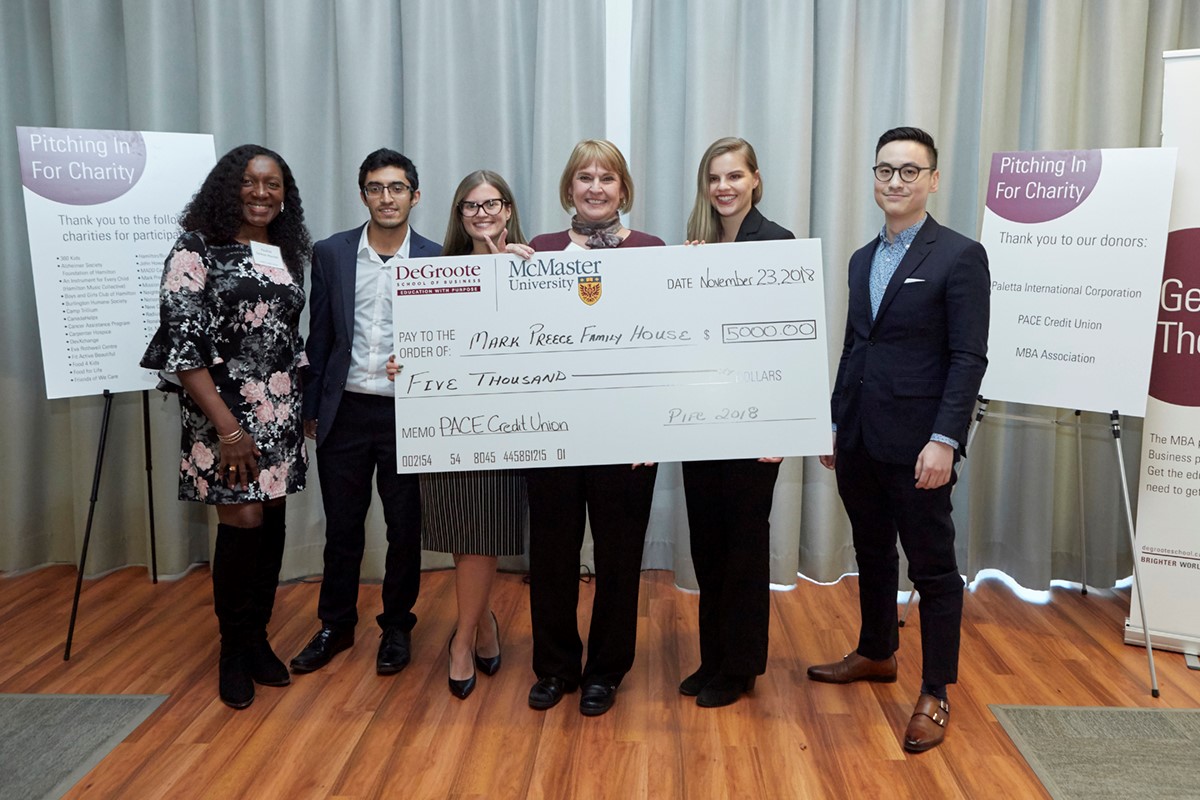 Executive Director Pearl Wolfe (centre) of Mark Preece Family House, which provides a "home away from home" for families of critical care patients, is joined by (from left to right): Pauline De Leon-Hutson, Member Experience Manager from PACE Credit Union, and MBA candidates Akshay Rajani, Ashley Stanford, Tessa Tieman, and James Tang.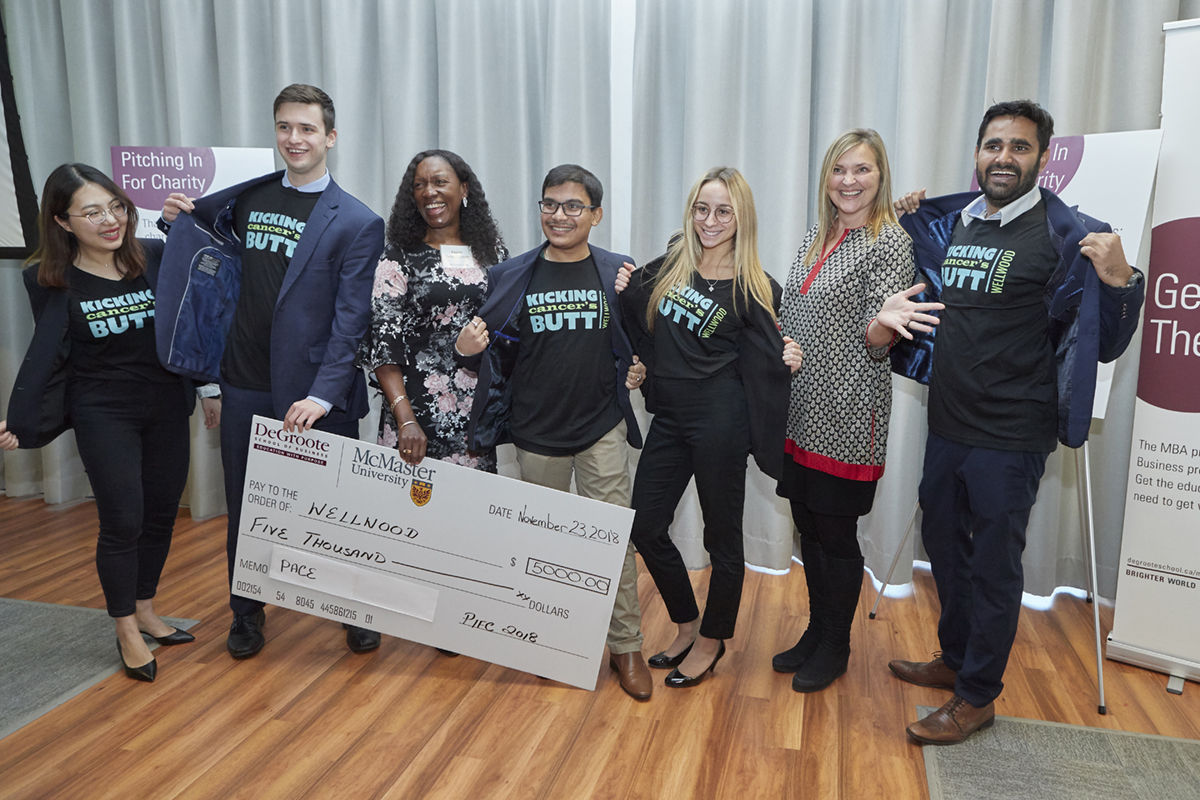 Wellwood, a community-based non-profit which provides tools to cope and empower those living with cancer, was awarded $5,000 as one of the winners of the day. Joining Executive Director Jane George, daughter of former McMaster University President and Vice-Chancellor Peter George (second from the right), and Pauline De Leon-Hutson (third from the left), and showcasing their Kicking Cancer's Butt t-shirts are: Suqing Fan, Christopher Baignet, Bishal Podder, Maja Perisic, and Tejasvi Kaler.