Milena Head is exploring the future of human-computer interaction
| Hamilton
Contributed by Izabela Szydlo, DeGroote Research Writer
At McMaster University, students, researchers, faculty, and staff collaborate across disciplines to explore and expand their potential in a globally renowned, innovative education and research community, committed to advancing societal health and wellbeing. For the next several months, the DeGroote School of Business will be highlighting researchers that are contributing to this push for a brighter world.
Technology marries an understanding of human behaviour in the research of Milena Head, who, since 1993, has been studying human-computer interaction. It is an area of research, she says, whose impact on our professional and personal lives continues to intensify.
"More and more, technology is having a profound positive and negative impact on how we think, behave, and interact with each other on personal and professional levels," says Head, Professor, Information Systems, and Wayne C. Fox Chair in Business Innovation. "Understanding these impacts, with a focus on augmenting the benefits technologies can provide while mitigating their possible negative effects, is increasingly important."
Her current research seeks to answer questions such as: Why do we prefer certain technologies over others? How can we design technology interfaces so that we can more easily and effectively realize their potential and enjoy our experiences with them? How can we better deal with the stress and other negative effects that may arise from technology use?
"In examining these questions, I'm particularly interested in understanding differences by age, gender and culture," she says. "In many ways, we still have a 'one size fits all' mentality when it comes to technology interface design. However, small changes in design can end up having a profound impact on how technology is perceived and used."
Designing technology to meet the differing expectations and needs of individuals is becoming increasingly important for businesses to better serve and engage their customers and employees."
In a large-scale cross-cultural study, Head and her research colleagues discovered that subtle differences in how products are displayed with human images on a website can result in dramatically different reactions regarding appeal and perceptions such as trustworthiness across different cultural groups. They found these individual differences by innovatively combining traditional behavioural research methods (such as questionnaires and interviews) with novel measures (such as eye-tracking).
"Designing technology to meet the differing expectations and needs of individuals is becoming increasingly important for businesses to better serve and engage their customers and employees," she says. "More broadly, at a societal level, technology has great potential to benefit through unprecedented communication, connection and decision support. However, we need to be mindful of the potential 'dark side' effects of technology."
That "dark side," which Head also researches, has recently snagged the spotlight in the form of headlines about technology addiction, cyber bullying, and techno-stress. Technology's negative impact, Head says, can result in dire cognitive, physical, and emotional distress that impact the individual, communities, and society. This is why, she says, understanding the ever-evolving impacts of technology use is critical to help design interfaces, practices, and policies. This will ultimately help mitigate the "bad" while augmenting the "good" sides of technology use.
In addition to her current research areas, Head is beginning to work on understanding perceptions of controversial information technologies such as biometrics. Such technologies, she says, have the potential to benefit and undermine the wellbeing of the user.
"Almost daily we see stories in the news about financial institutions, government agencies, retail organizations, and even schools attempting to implement biometrics," she says. "Research that seeks to understand why, and in what contexts, individuals will or will not accept controversial information technologies is needed to establish some common ground and consensus between those who wish to deploy these technologies and those whom it affects."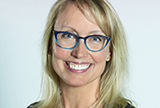 Milena Head is a Professor of Information Systems at DeGroote, the Wayne C. Fox Chair in Business Innovation and Academic Director of the EMBA program at the DeGroote School of Business. She specializes in electronic business (eBusiness) and Human Computer Interaction (HCI), having published over 100 papers in academic journals, books and conferences.