#TheTimeIsNow: Gender-based violence the focus of event coordinated by DeGroote MBA candidates
October 23, 2018
| Hamilton
Contributed by Andrew Baulcomb, Communications Officer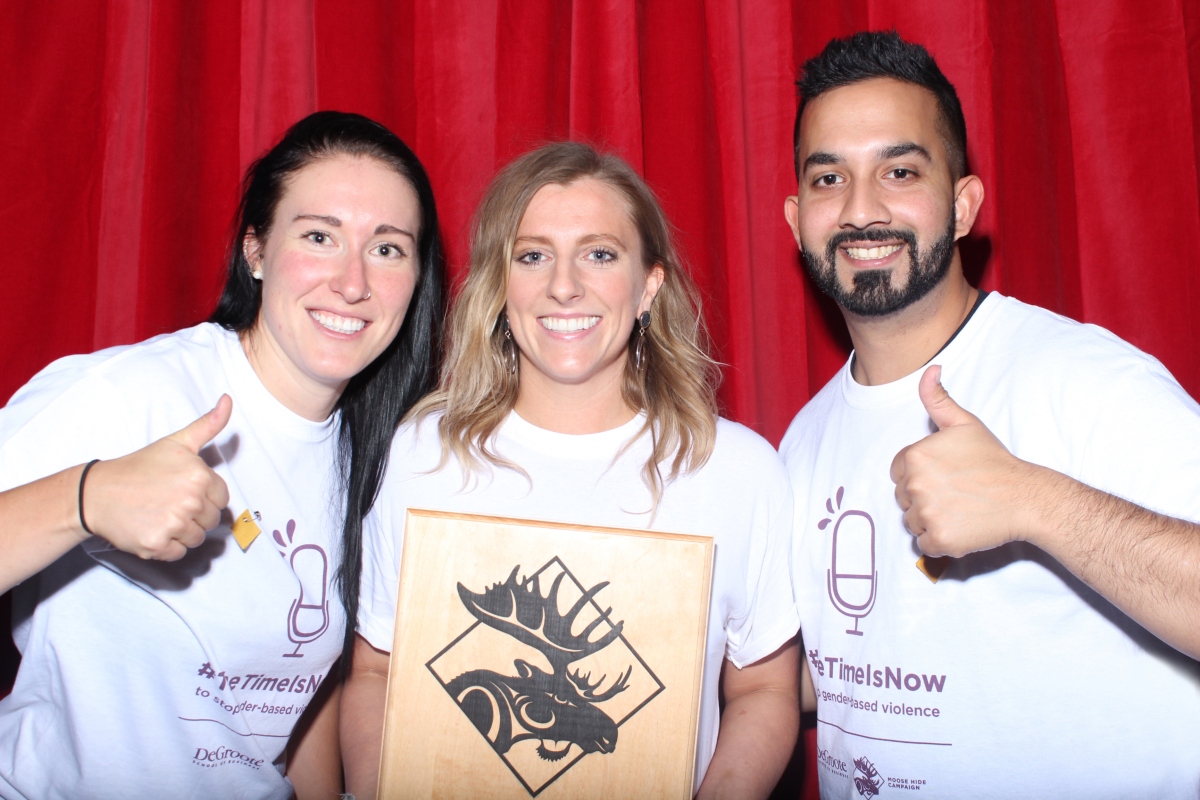 "Organizing #TheTimeIsNow was the most difficult yet rewarding experience of my entire MBA," says Alyssa Marck (centre). "It taught me that social change requires more than open arms, but open ears. We all play a part in creating a safer space." Also pictured are Megan Lee (left) and Omar Karim. Photo courtesy of Nature Booth.
---
The goal was to make a difference. The plan was to start a conversation.
Earlier this month, DeGroote MBA candidates gathered at TwelvEighty to raise awareness of gender-based violence via an event called #TheTimeIsNow. The initiative was supported by the national Moose Hide Campaign, with an overall aim of creating a "safe space, safe place" at McMaster.
Gender-based violence, as defined by the Government of Canada, involves the use and abuse of power and control over another person. It is perpetrated against someone based on their gender identity, gender expression, or perceived gender.
According to Statistics Canada, women aged 15-34 years are at the highest risk of experiencing gender-based violence in Canada. Women are also at a 20 per cent higher risk of violent victimization than men.
A 2015 study found women living in Canadian territories possess a risk of violent victimization about 45 per cent higher than men, when controlling for other risk factors.
The Moose Hide Campaign is a grassroots movement of Indigenous and non-Indigenous men and boys who are standing up against violence toward women and children. A grant of $10,000 was provided by Moose Hide to help coordinate the event and distribute promotional material.
The event featured a keynote address from Moose Hide representative Omar Karim, as well as two spoken word performances. SoftHoney, the first performer, spoke of non-binary queer love, while Kashenniyo addressed Indigenous decolonization.
As a final call to action, attendees were encouraged to envision their next move in promoting tolerance of all genders and cultures on campus.
Campus partners that contributed to the success of the event included: MISCA; WGEN; MBA Games; MBAA; the Silhouette; the Campus Store; DCSS; and the Education, Outreach, and Support program.
Below, Alyssa Marck, President of DeGroote MBAs for Impact (DMI), sheds light on the #TheTimeIsNow event, as well as the role business students can play in social activism.
Can you tell me a little more about creating a safe space, safe place at McMaster?
Safe space, safe place is not a physical location on campus. The event was designed to kick-start a social movement and conversation surrounding gender-based violence. By allowing students to educate themselves on gender-based violence, and be mindful of these learnings during day to day conversations, they can find their own call to action. Students can ask themselves, "how will I make a difference?"
Why is it important for students, specifically DeGroote MBA candidates, to raise awareness of gender-based violence?
As the leaders of tomorrow, it is absolutely vital for us to address stigmatized topics. Experiences make up who people are, and if we do not take time to understand how our differences make us similar, we will not relate, we will not listen, and we will not lead with integrity. Gender-based violence is a topic that impacts everyone, and it's something we should not shy away from. Conversations are the first step toward creating a safer space for all, in both educational and professional settings.
Are business students uniquely positioned to offer something of great value on this front?
A business is only as successful as its people. People are only successful if they are truly content and able to be authentic. If we want a creative, motivated work force, we cannot just focus on technical skills. We must understand the importance of our social skills. Business students need to be equally involved with social movements, in order to add value to future careers and work spaces.
What was the experience like working with the Moose Hide Campaign team? Who else assisted in the process?
The Moose Hide Campaign was very supportive throughout this process, and helpful in guiding us on the agenda, topics, content, and setup of the event. Moose Hide even flew in Omar Karim from Vancouver to act as our keynote speaker. Personally, I cannot turn down an opportunity to raise awareness on a topic that is relevant and beneficial to our student body, so I was happy to take the lead on this. I recruited Megan Lee, President of Women in Management (WMA), as she too is a hard-working woman who believes in fulfilling promises and making differences. We also recruited Margot Cunningham and Patrick Sinclair for a planning committee.
A number of other campus stakeholders took part in the event. What does it mean to know the greater McMaster community supports this kind of initiative?
Support from stakeholders was comforting. It's great to know there are many different groups who support raising awareness of gender-based violence. I'd also like to extend a very special thank you to the McMaster Indigenous Student Community Alliance (MISCA) and Evan-Jamieson-Eckel, who opened and closed the evening with the proper protocol.