Using Technology to Help Your Company be Socially Responsible
The social responsibilities of any company have changed. How is technology being used to propel organizations' CSR goals forward?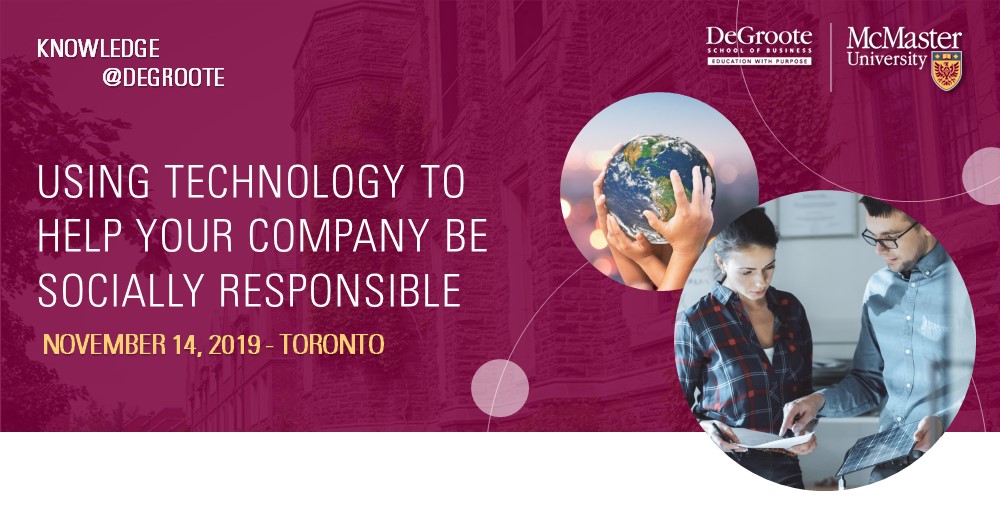 Details
Date & Time
November 14, 2019
5:00 p.m. - 8:30 p.m.
Location
The St. Regis Hotel, Astor Ballroom
325 Bay St, Toronto, ON M5H 4G3
Cost
$45

Cocktails, Hors D'oeuvres
Description
In an increasingly globalized and connected world, consumers are looking to corporations to generate positive social impact. This is often labeled as corporate social responsibility (CSR) and can have many demonstrated business benefits, including attracting and retaining talent, strengthening the reputation of a company while also having a positive effect on the bottom line, and more. How does technology fit into this equation and how is it being used to create impact in a positive way?
Join the DeGroote Network, as we host  Anne Connelly, MBA '10, Faculty, Singularity University and Andreas Souvaliotis, MBA '89, Author, Social Entrepreneur to share their professional experience and insights in using technology like blockchain, cryptocurrency, and applications to create a future rooted in contributing to a sustained society. The discussion will be moderated by DeGroote Assistant Professor of Strategic Management, Candice Chow. 
Guests are invited to join the speakers for cocktails, hors d'oeuvres, and networking before and after the presentation.
Event open to alumni, business community members, and students.
Map
The St. Regis Hotel, Astor Ballroom
325 Bay St, Toronto, ON M5H 4G3
(The St. Regis Toronto, Bay Street, Toronto, ON, Canada)
Notes
Agenda
5:00 p.m. Registration, networking, cocktails and canapes
6:00 p.m. Presentation & Q&A
7:00 p.m. Optional networking continues + coffee & dessert
8:30 p.m. Event concludes
Panelists
Anne Connelly, MBA '10, Faculty, Singularity University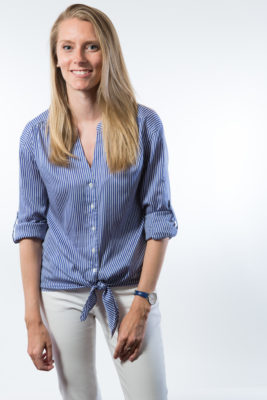 Anne Connelly is passionate about harnessing blockchain and decentralized technology to transform the lives of people in developing countries. Anne is Faculty at Singularity University, teaching global leaders how exponential technologies can solve problems that impact over a billion people.
She has been an active part of the global blockchain community since 2012, and has worked with notable companies including Uulala, Bunz, Decentral, and Ledger Labs. She previously worked with Doctors Without Borders Canada in Central African Republic and the Democratic Republic of Congo, and currently serves on their board of directors.
She has a Bachelor of Life Sciences from Queen's University, an MBA from McMaster University, and a Fintech Certificate from MIT. She was honoured as one of CBC's 12 Young Leaders Changing Canada and one of the Fifty Most Inspirational Women in Technology in Canada.
Andreas Souvaliotis, MBA '89, Author, Founder & CEO, Carrot Rewards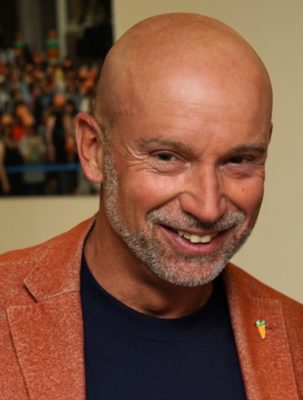 He's been called Canada's Chief Gamification Officer for figuring out how to influence the behaviour of millions in remarkable ways. He simply calls himself a Misfit in his bestselling memoir about turning his autistic, gay, immigrant edges into a changemaker's toolkit.
Andreas Souvaliotis is a globally recognized social innovator. He created the world's first wellness rewards platform, the hugely popular Carrot app. A decade earlier he had built Green Rewards, the first-ever eco loyalty points program.
He is an unconventional and disruptive pioneer of social change, an incurable lover of real, measurable, mass scale impact, and an outspoken promoter of diversity, inclusion, wellness and climate action.
He proudly serves on the Boards of a number of impact-centric organizations, including the Institute for Canadian Citizenship, Windmill Microlending and the Young Presidents' Organization (YPO).
Discussion Moderator
Candice Chow, Assistant Professor, Strategic Management, DeGroote School of Business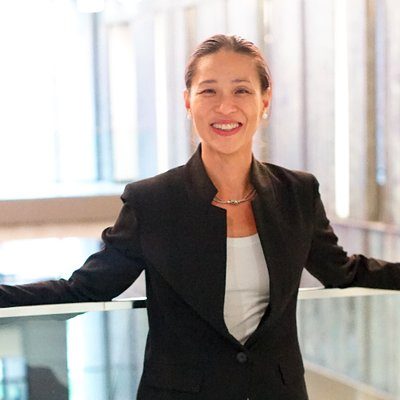 Candice is the Assistant Professor of Strategic Management at DeGroote School of Business. She completed her Doctorate in business administration (DBA) degree at Henley Business School, University of Reading, UK. She holds an MBA from the Ivey Business School, a chartered financial analyst (CFA) designation and she earned her undergraduate degree in mechanical engineering from Imperial College, London UK. She has over 25 years of progressive senior management experience in Canada and in Asia, including leading Purolator's Corporate Strategy function for over 10 years before becoming a full time academia. Despite her career shift, she continues to engage in business practices. She is currently a member of the board of directors of a technology company in Toronto. Her research interests lie in intersection of leadership, corporate governance,  foresight and sustainability and corporate responsibility practices.