Evening of Accolades | Celebrating Alumni Excellence
Celebrating Claire Gillies (2021) and Paul McLean (2022), Wayne C. Fox Distinguished Alumni Award Recipients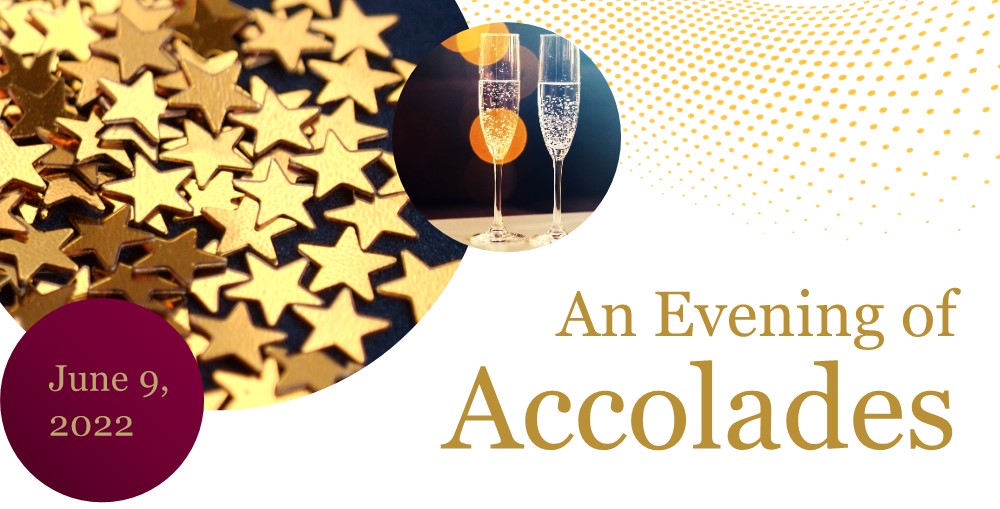 Details
Date & Time
June 9, 2022
6:00 p.m. - 9:30 p.m.
Location
Fairmont Royal York,
100 Front Street W., Toronto
Cost
$225 per person | $1,800 per corporate table
Description
Please join us for an extraordinary evening in recognition of outstanding leadership. The annual Wayne C. Fox Distinguished Alumni Award honours a graduate of the DeGroote School of Business whose personal accomplishments, reputation and character have served to enhance the reputation of McMaster University.
This year we are pleased to be back in-person to host DeGroote's Accolades celebration and present the Wayne C. Fox Distinguished Alumni Awards to our 2021 and 2022 award recipients:
Claire Gillies, MBA '01, Executive Vice President, Marketing and President, Consumer, BCE Inc.
Paul McLean, MBA '81, CEO, Turf Care Products and CEO, Care Lending Group
The DeGroote alumni community, along with family, friends, and colleagues are invited to send the award recipients a special note of congratulations via the digital message board:
Map
Fairmont Royal York,
100 Front Street W., Toronto
(100 Front Street West, Toronto, ON, Canada)
Notes
Graduating with an MBA from the DeGroote School of Business in 2001, Claire Gillies has been able to build a long and impressive resume of progressively senior positions at Bell Canada, one of Canada's largest and most iconic companies. Gillies is currently the Executive Vice President Marketing and President Consumer, where she leads all consumer marketing for Bell, Virgin Plus, and Lucky Mobile Brands.
Gillies originally graduated from McMaster University's Faculty of Science in 1998, with an undergraduate degree in science, specializing in biology and psychology, which was one step in her lifelong plan to become a physician. On graduation day, Gillies began to wonder if there was another path for her. She then enrolled in the co-op MBA program at DeGroote with an understanding that she could return to medicine, while having business skills as an asset. However, once the program began, there was no turning back for Gillies.
She went on to spend all her co-op terms with Bell Mobility and was subsequently offered full-time employment after completing her MBA. Gillies rose quickly through the ranks to senior leadership roles within the company, including President of The Source, and Senior Vice President, Retail at Bell Mobility, where she was responsible for all Bell retail operations. Gillies has dedicated much of her career to Bell, that colleagues joke her "blood is blue".
Gillies credits her success to personal drivers such as her curiosity and preparedness but is also quick to acknowledge that the learnings she received while at McMaster has played a major factor in her success.
Gillies is an active leader in the community working with Kids Help Phone and currently sits on the organization's Board of Directors. In 2022 she was named one of Canada's Best Executives in the Globe & Mail Report on Business Magazine.
Raised in a six-generation family dairy business in Peel County, Paul McLean's parents instilled in him the importance of education and relationship building. McLean went on to graduate with an Honours Bachelor of science degree from McMaster and complete an MBA from the DeGroote School of Business. McLean applies both his personal and educational learning into his business decisions, where he is currently the CEO for Care Lending Group, a finance company that he launched in 2021.
Upon graduation, McLean began his career at Xerox Canada, where he then moved on to become the President of Triathlon Equipment Leasing, while serving on the Board of the Canadian Finance & Leasing Association. He later co-founded Maxium Financial Services, which quickly became an industry leader among private financing companies, boasting a financial portfolio of more than 35,000 customers with an investment balance of over $1 billion. Maxium was awarded the distinction of being one of Canada's Best Managed Companies for five years in a row. McLean later sold Maxium to Canadian Western Bank Group, where he became the CEO of CWB Maxium Financial.
It was while at Maxium that McLean was able to break into the golf industry through golf course and equipment financing. These relationships led him to becoming the President of Golf Canada in 2015, where he was later named one of the Top 25 most influential people in Canadian golf. His golf connections gave him the opportunity to purchase and become the CEO of Turf Care Products Canada, which later become one of Canada's Best Managed Companies.
Despite McLean's tremendous business acumen, arguably his biggest success is his philanthropic work. In addition to his family providing DeGroote with a $15 million gift to construct the new McLean Centre for Collaborative Discovery – a state-of-the-art collaboration, networking, and study space – he has provided McMaster University with student bursaries, supported the Muskoka Food Bank, has helped contribute to player development at Golf Canada, all while serving on the board for the Golf Canada Foundation.
McLean continues to serve on the boards of several organizations, including: Öviinbyrd, CLG, CABOT, Turf Care, and Aquimo. In addition, he supports the Crohn's and Colitis Foundation of Canada and Southlake Hospital.