Leadership, recovery and resilience: How women are leading their businesses during the pandemic
Join us for a conversation with DeGroote MBA Alumnae, Lisa Mattam, Founder and CEO of Sahajan and Sarah Hartkorn, Co-Founder of Primped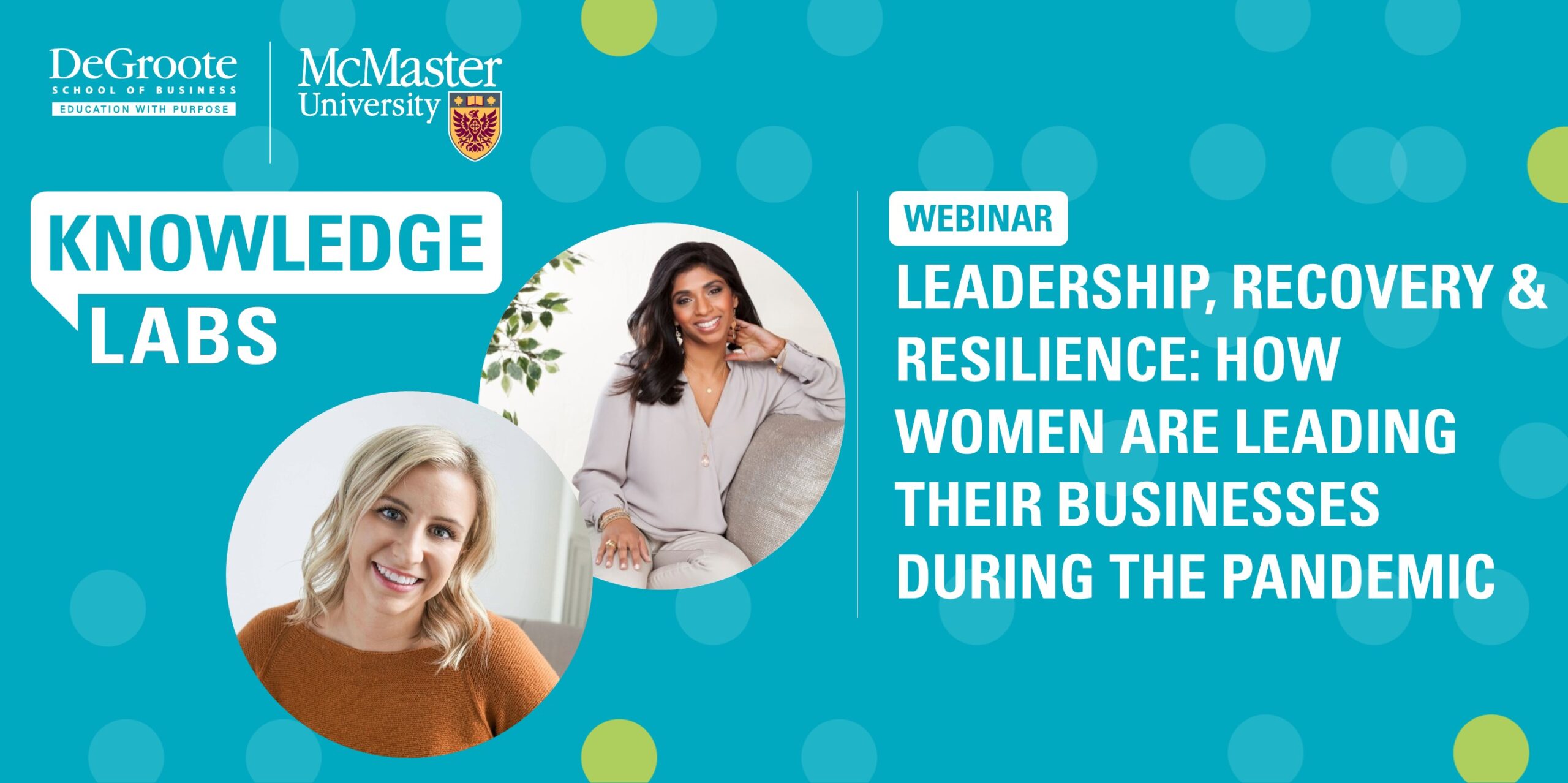 Details
Date & Time
July 15, 2020
1:00 p.m. - 2:00 p.m.
Cost
Free. Registration Required.
Description
Join us for the next webinar in our Knowledge Labs series with Lisa Mattam, Founder and CEO of Sahajan and Sarah Hartkorn, Co-Founder of Primped.
Moderated by DeGroote Assistant Professor Candice Chow, Lisa and Sarah will participate in a discussion about their experiences as business owners and how they pivoted during the pandemic. Learn how they have had to adjust their own business models to accommodate the current landscape, their learnings along the way, and how they think the future of their industries will be impacted in the long term.
This webinar is free for all DeGroote Alumni and community members.
Notes
Agenda
1:00 p.m. Webinar starts: panel discussion with Lisa Mattam and Sarah Hartkorn begins
1:45 p.m. Q&A
2:00 p.m. Webinar concludes
Panelists
Lisa Mattam, MBA '01, Founder & CEO, Sahajan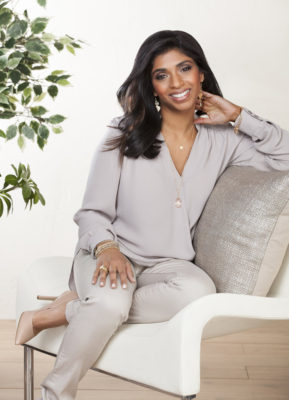 Lisa Mattam is a proven and passionate entrepreneur.
Named by Profit Magazine as one of the Top Ten Emerging Women Entrepreneurs in Canada and recognized by the Indo-Canada Chamber of Commerce as Female Entrepreneur of the Year, Lisa has become a thought leader in the areas of entrepreneurship, resilience, the advancement of women and diversity. She is a frequent commentator on these topics  and has been quoted in variety of media  including Fast Company, The Globe and Mail, CBC, and The Toronto Star.
With her first venture The Mattam Group, she grew a consulting firm with clients in Canada, the US, Latin America and the UAE. More specifically, she equipped Fortune 500 companies like Walmart with the tools to keep women in the C-Suite and advance diversity in the workplace. Notably, she co-authored the report, "Mom's the Word: How Organizations can change the impact of Motherhood on Career Success" and was a contributor to the book, "Five Good Ideas",  published by Coach House Books.
Building on that success, Lisa launched Sahajan, an evidence-based natural skincare line based on the Ancient Science of Ayurveda. With Sahajan, Lisa brings together her entrepreneurial background and her knowledge from over 15 years working in and consulting to the pharmaceutical industry to create a skincare collection that since its launch has been featured in Vogue Paris, Chatelaine and Forbes and is distributed in Canada and the US in retailers such as Indigo, The Shopping Channel and the Home Shopping Network. Lisa was the only Canadian to be selected for Sephora's Inaugural Beauty Accelerator.
Lisa has an Honours Bachelor of Science, an MBA, and Diploma in European Business. She is a former instructor with the Schulich Executive Education Centre and sat on the board of the Rouge Valley Health System. A young leader with the BMW Foundation and an active business mentor to other start-ups, Lisa lives in Toronto with her husband and her two children.
Sarah Hartkorn, MBA '16, Co-Founder, Primped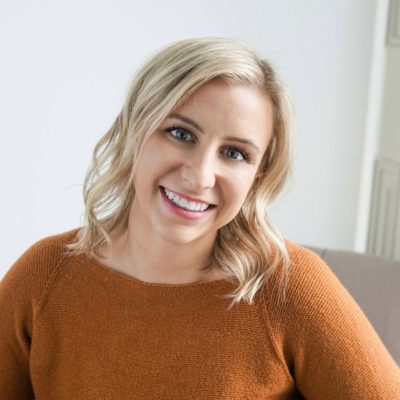 Sarah Hartkorn is one of the co-founders of Primped, a web and mobile platform where women can book vetted, top-rated freelance beauty professionals to receive beauty services (manicures, hair styling, waxing, etc.) anywhere, anytime. She met her co-founder, Kate Dickson, while completing the MBA program at the DeGroote School of Business at McMaster University. Upon graduating DeGroote's MBA program with a specialization in Finance, Sarah worked as an Investment Banking Associate at TD Securities. While working on Bay Street, Sarah and Kate experienced the constant challenge of fitting in their self-care needs into their schedules due to the archaic nature of the industry (call to book, pen & paper appointments, etc). Continually faced with this problem, Sarah decided to make the leap into entrepreneurship to create a solution with her co-founder, Kate. That solution is Primped.
Sarah wears many hats at Primped from overseeing operations, accounting, and legal tasks, to leading the recruiting and engagement of its professionals. While investment banking is part of her former life, Sarah still loves crunching numbers in excel, intensely researching, engaging with investors, and meeting other founders. One of the most fulfilling parts of her entrepreneur journey is the meaningful impact Primped has had on the many beauty professionals seeking a sustainable career in freelancing. When Sarah is not busy building Primped, she is running outside, cooking up a new recipe, or planning her next travel destination.
Discussion Moderator
Candice Chow, Assistant Professor, Strategic Management, DeGroote School of Business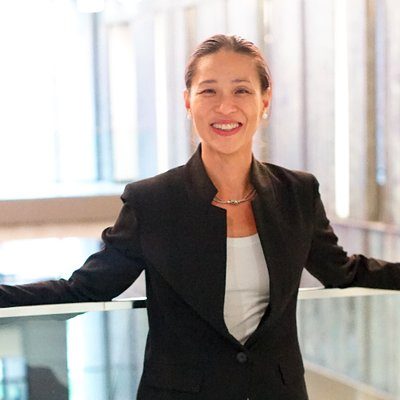 Candice is the Assistant Professor of Strategic Management at DeGroote School of Business. She completed her Doctorate in business administration (DBA) degree at Henley Business School, University of Reading, UK. She holds an MBA from the Ivey Business School, a chartered financial analyst (CFA) designation and she earned her undergraduate degree in mechanical engineering from Imperial College, London UK. She has over 25 years of progressive senior management experience in Canada and in Asia, including leading Purolator's Corporate Strategy function for over 10 years before becoming a full time academia. Despite her career shift, she continues to engage in business practices. She is currently a member of the board of directors of a technology company in Toronto. Her research interests lie in intersection of leadership, corporate governance,  foresight and sustainability and corporate responsibility practices.