Neuroscience and the Older Consumer
Featuring keynote speaker Dr. Michael E. Smith. Explore opportunities for innovation in meeting the consumer needs of an older population.
Details
Date & Time
December 4, 2017
5:30 p.m. - 7:30 p.m.
Description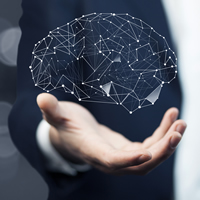 The World Health Organization estimates that by 2050 as many as two billion people may be over 60 years old. This growing demographic will control a significant proportion of all wealth and disposable income.
Recent years have witnessed significant progress in understanding how the brain and body changes with age, and has also produced key insights into strategies that may promote successful and independent living in older adults. Despite these facts the consumer marketplace has not kept up with such trends. Most advertisers largely ignore this important demographic, and consumer-facing marketers have been slow to address the unique needs of this segment by creating next-generation products and services.
This presentation, featuring keynote speaker Dr. Michael E. Smith, will review related issues and identify emerging opportunities for innovation in this key business sector.
This event is free and open to alumni, community members, faculty, and students.
The McMaster Institute for Research on Aging, the McMaster Digital Transformation Research Centre and the Faculties of Business and Humanities have partnered to present this event.
Map
Burlington
(Ron Joyce Centre, DeGroote School of Business, South Service Road, Burlington, ON, Canada)
Notes
Agenda
| | |
| --- | --- |
| 5:30 p.m. | Doors open. Registration, reception, and networking. |
| 6:00 p.m. | Presentation |
Coffee, tea, and light refreshments will be provided.
Keynote Speaker
Dr. Michael E. Smith is a scientist and business professional whose career has spanned the academic, governmental, and commercial sectors. His research applies neuroscience methods to improve understanding of how people interact with technology and media, and how those interactions change with cognitive aging. Most recently he served as Vice President of Consumer Neuroscience Solutions at Nielsen, a global information services and consumer measurement company. In that role he consulted with business organizations on methods for leveraging neuroscience to improve consumer engagement with advertising and branding, and how they might adapt their communication strategies to better target older consumers. Over the last several years he has also focused on helping NGOs to use equivalent methods to improve and optimize their efforts to promote the public interest. Michael earned a PhD from the Psychology Department of UCLA, and an MBA from the Haas School of Business at UC Berkeley.
Moderator
Dr. Khaled Hassanein is a Professor of Information Systems, Associate Dean (Graduate Studies & Research), and Director of the McMaster Digital Transformation Research Centre (MDTRC) at the DeGroote School of Business, McMaster University. His interdisciplinary research interests span the areas of digital technology adoption of e-Commerce, m-Commerce, and e-Health applications; human computer interaction; decision support systems including data analytics; and Neuro-Information Systems. To date, his research activities have resulted in over 100 peer-reviewed articles in leading academic journals, conference proceedings, and books.
Joining the Discussion
Dr. Milena Head is a Professor of Information Systems at DeGroote, the Wayne C. Fox Chair in Business Innovation, and Academic Director of the EMBA program at the DeGroote School of Business. She specializes in electronic business (eBusiness) and Human Computer Interaction (HCI), having published over 100 papers in academic journals, books and conferences. Her research interests include trust, privacy and adoption of electronic commerce and new technologies; interface design; and cross-cultural, gender and age issues related to technology use. She also examines the potential negative impacts of technology, including identity theft, techno-stress and cyber-bullying. Milena has received numerous teaching and research awards and is frequently called upon by the media and by community groups to speak about her research.
Dr. Terence (Terry) Flynn, APR, FCPRS, is an Associate Professor of Communications Management in the Department of Communication Studies & Multimedia and lead professor and founding director of the Master of Communications Management (MCM) program. Terry is one of Canada's leading public relations/communications management scholars and an important bridge between the academy and the profession. He joined McMaster University in 2004 after a 20-year communications consulting career, having built an international reputation specializing in crisis and risk communications and having worked with numerous organizations across a broad spectrum of industries. He has been internationally recognized by: the Canadian Public Relations Society; the International Association of Business Communicators; the Community Relations Awards and the United States Secretary of Defense Environmental Restoration Award.