Knowledge Labs Webinar | Planning for Fundraising in an Unstable Environment
Mario De Divitiis joins DeGroote alumni, Meaghan Stovel McKnight, BCOM '01 and Jessica Bernat, BCOM '09, to discuss the nuances of Fundraising in an Unstable Environment.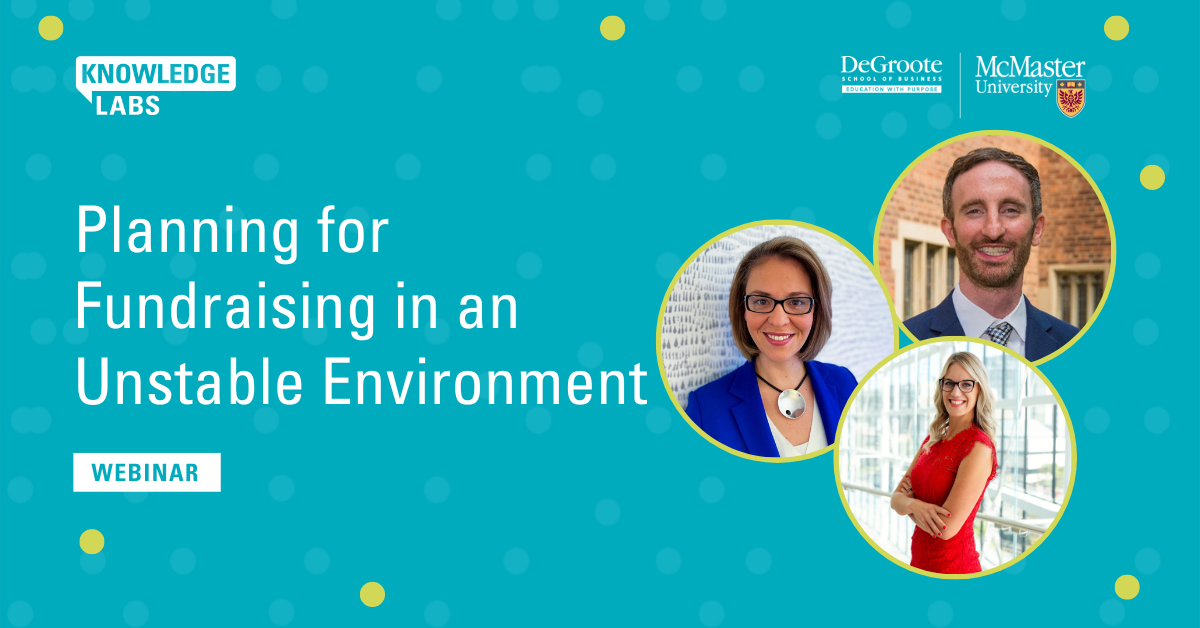 Details
Date & Time
January 26, 2023
12:00 p.m. - 1:00 p.m.
Cost
Free. Registration Required
Description
Join us on Thursday, January 26 at 12:00 PM EST for our Knowledge Labs Webinar where we examine the obstacles, challenges and opportunities of fundraising in an unstable environment. This webinar is designed to shed some insight on the nuances of fundraising planning in an environment that is constantly facing changing economic, climate, financial and cultural headwinds. When the ground is constantly shifting, how does the fundraising industry not only plan to survive, but also to thrive?
Moderated by Mario De Divitiis, Director's College graduate and Chief Executive Officer at Ronald McDonald House Charities South Central Ontario, our panel will be made up of DeGroote alumni industry experts Meaghan Stovel McKnight, BCOM '01, Chief Executive Officer at Make-A-Wish Canada, and Jessica Bernat, BCOM '09, Associate Director, Digital Marketing at Canadian Red Cross. Mario, Meaghan and Jessica all have extensive experience in the Canadian Fundraising industry, as well as being leaders of their various organizations. They will be bringing this knowledge and experience to us as they dive deep into the topic of "Planning for Fundraising in an Unstable Environment" while answering your questions. Some of the topics that will be discussed include:
Current issues facing the fundraising industry
How to break through clutter
Digital transformation / adoption of data
Managing donor expectations
A look towards the future
We look forward to having you join us for this Knowledge Labs Webinar. Pre-submitted questions can be submitted through the registration mechanism.
Notes
As Chief Executive Officer, Meaghan Stovel McKnight leads Make-A-Wish Canada in its mission to grant life-changing wishes for children with critical illnesses. Meaghan brings over two decades of mission motivated leadership to her role, and possesses an outstanding track-record of building strong teams and delivering exceptional results in both the private and not-for-profit sectors.
Meaghan holds a Bachelor of Commerce degree from the DeGroote School of Business (BCOM 01′) and an MBA from the Schulich School of Business at York University. She is a Certified Fund Raising Executive (CFRE), and was recognized as a Top-40 Under 40 by the Association for Healthcare Philanthropy.
As a DeGroote School of Business alum, BCOM 09′, Jessica Bernat has spent the last four of her fifteen year marketing career on the frontline of fundraising campaigns that have yielded millions of dollars and benefitted thousands of Canadians and people around the world. In her current role as the Associate Director, Digital Marketing with the Canadian Red Cross, she sees the impact of her team's work every day. "The best part of my job is knowing that everything we do is for the benefit of other people". Committed to lifelong learning, Jessica is a certified Digital Marketing Specialist through the Canadian Marketing Association and a recent graduate of the Mini MBA in Marketing program with award-winning MBA Professor, Mark Ritson.
Mario is the Chief Executive Officer (CEO) of the Ronald McDonald House Charities South Central Ontario (RMHC SCO), which works in partnership with the McMaster Hospital for Sick Children to provide critical accommodation for families with critically ill children. Prior to RMHC SCO, Mario was the CEO of the Niagara Workforce Planning Board – Niagara's thinktank for labour market data – and prior to NWPB, he served as the Founding Executive Director of Leadership Niagara.
An experienced and committed volunteer, Mario served on the Brock board of Trustees for 6 years where he was granted Trustee Emeritus in 2021 and acknowledged by Brock University Alumni Association in 2022 as Community Leader of the Year.
Mario is a proud Political Science graduate, 40-under-40 Business Achievement winner, and received his Corporate Director designation from McMaster University.