The Future of Indigenous Health and Well-Being
An event about the future of indigenous health & well-being, and the leadership capabilities which will get us there.
It has been over two years since the release of the Truth and Reconciliation Commission of Canada's final report which documented Canada's shared history of colonialism and residential schooling of Indigenous people. The legacy of this dark period can be measured by the inequitable health and social conditions experienced by Indigenous people in Canada. A reconciliation path forward requires the leadership of both Indigenous and non-Indigenous people.
Dr. Downey will discuss key concepts related to engaging with Indigenous peoples towards implementation of the TRC Calls to Action in the spirit of reconciliation.
Event Details
When:
April 5, 2018
Time:
12:00 p.m. to 1:30 p.m.
Where:
Ron Joyce Centre | DeGroote School of Business, South Service Road, Burlington, ON, Canada
Cost:
$10
Parking included. Transferable. More details below.
Contact:
An Kuye
hlainfo@mcmaster.ca
Ron Joyce Centre | DeGroote School of Business, South Service Road, Burlington, ON, Canada
More Information
Location
Ron Joyce Centre, Dean's Lounge
Cost
$10
Parking is included and tickets are transferable.
Students free.
Flex packages available.
About Dr. Bernice Downey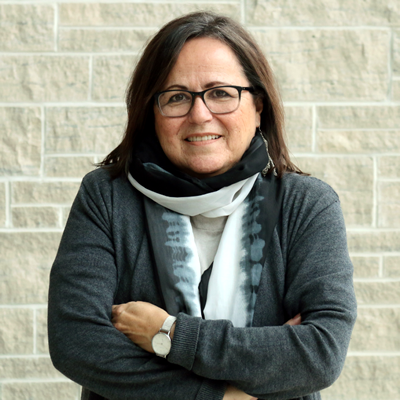 Dr. Bernice Downey is a woman of Ojibwe and Celtic heritage, a mother and a grandmother. She is a medical anthropologist with research interests in health, health literacy and Indigenous Traditional knowledge and health/research system reform for Indigenous populations. Bernice is currently cross appointed to the School of Nursing and Department of Psychiatry and Neuro-Behavioural Sciences and is the Indigenous Health Lead for the Faculty of Health Science at McMaster University. This past year she successfully led the development of the McMaster Indigenous Research Institute. She is also the Regional Aboriginal Cancer Lead for Cancer Care Ontario, Toronto-Central Region.
Bernice's professional experience includes Sole Proprietor of her consulting company; 'Minoayawin – Good Health Consulting'; Chief Executive Officer of the National Aboriginal Health Organization, Executive Director of the Aboriginal Nurses Association of Canada, Associate Director and Research Associate of the Well Living House – Centre for Research on Inner City Health at St. Michael's Hospital in Toronto. She was a member of the the Canadian Institute of Health Research – Institute of Aboriginal Health, Advisory Board for six years. She was appointed to the WHO Commission on the Social Determinants of Health, Canadian Reference Group. She is an experienced administrator, facilitator, and an organizational and systemic change agent. She is also a life – long advocate in the work towards addressing the serious health inequities among Indigenous populations in Canada.
Health Leadership Academy
With the generous funding of Michael G. DeGroote, the Faculties of Business and Health Sciences have come together to present the Health Leadership Academy (HLA). This Academy aligns closely with the mission, vision and values of its two founding Faculties, and will be specifically aimed at producing the best health leaders of tomorrow. To make a transformative impact on all levels of the health system the HLA will develop current and future health leaders with the capacity to identify, support and operationalize new ways of "thinking" and "doing" within a rapidly evolving health environment. The HLA's goal is to be recognized as Canada's preeminent Academy for health leadership and innovation with a reputation for creating and disseminating original work that intersects the areas of action-oriented learning, research and community engagement.
Our Collaboratorium Talks are intended to introduce new ways of thinking, projects and pedagogy in health leadership and innovation within the McMaster community and surrounding area.