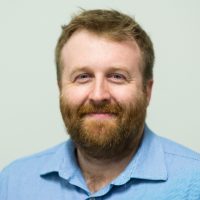 Patrick Beeson
Management Science
McMaster University 1280 Main Street West Hamilton, ON, Canada L8S 4M4
DSB A210
905-525-9140, x27446
Patrick joined the PhD program in September 2016 after 18 years of service in the Canadian Armed Forces (CAF). During this time, he pursued two different career paths. Initially, he served as an officer in the Royal Canadian Navy specializing in the planning and conduct of above water warfare operations. Subsequently, he became a pharmacy officer in the Royal Canadian Medical Service.
Supervisor: Kai Huang
Education
MBA, Department of Management and Economics, Royal Military College of Canada (2016)
BScPhm, Leslie Dan Faculty of Pharmacy, University of Toronto (2013)
BEng, Department of Mechanical Engineering, Royal Military College of Canada (2003)
Research and Study Interests
Patrick's research interests centre around the application of management science methods to health care operations; he is interested in pursuing two lines of research in this general area. First, Patrick is interested in ameliorating Canada's drug shortage problems via the use of operations research to optimize pharmaceutical supply chains. Second, he is interested in applying computer modelling techniques to study military medical operations with a view towards optimizing casualty evacuation tactics, doctrine and procedures. This second line of research also has civilian applications related to mass casualty situations.
Recognition
Recipient of the Ontario Graduate Scholarship (2017-2018)
Recipient of the Harry Lyman Hooker Sr. Fellowship
Winner of the Canadian Forces Logistics Branch Medal of Academic Excellence in the MBA Programme
Professional Activities
Early in his military career, Patrick trained and qualified as a naval officer with a specialization in above water warfare operations. During this time, he was involved with the planning and directing of operations related to air defence, anti-surface warfare and law enforcement. Notably, he has participated in numerous domestic and multinational exercises as well as counter narcotics and terrorism patrols in the Caribbean theatre. Later, Patrick changed careers to become a pharmacy officer. In this capacity, he was a licensed pharmacist who assessed patients and prescribed medications either independently or as a consultant to physicians. As a pharmacy officer, Patrick was also responsible for managing the provision of medical logistics support to military units in his area of responsibility. Notably, he played a significant role in the coordination of medical logistics for the CAF's contribution to Canada's Syrian migrant resettlement plan.