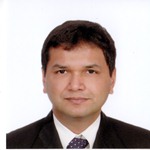 Punit Anand
Finance and Business Economics
McMaster University 1280 Main Street West Hamilton, ON, Canada L8S 4M4
DSB A210
905-525-9140, x26176
Punit joined the PhD program in finance in September 2014. His research interests are in the field of valuation of emerging markets, corporate finance, insurance and derivatives.
Supervisor: Ronald Balvers
Education
M.B.A, Memorial University of Newfoundland, Canada
B.Eng, Electronics & Telecommunication, National Institute of Technology, Surat, India
Selected Publications and Presentations
Publications
Anand, Punit. (2006). Accounting Models for Equity Valuation. Business Valuation Review (Dec 2006), Vol 25, 4. (The paper was awarded Joint 1st Prize in a research paper competition sponsored by Canadian Institute of Chartered Business Valuators).
Conference Proceedings
Anand, Punit., Faseruk, Alex. (2007). Financial Applications For Neural Networks. ASAC 2007, Vol. 28, 1, pp. 158-174.
Experience
Before pursuing his PhD at McMaster, Punit worked for six years as a quantitative equity analyst for a firm on Bay Street, Toronto. While there, he was responsible for developing quantitative models, DCF models, and identifying investment opportunities in the emerging markets. Prior to his MBA, Punit worked for four years as a software developer and junior project manager with leading IT firms from India.
Professional Activities
Professional Designations
CFA charter holder and member of Toronto CFA society.
Personal Activities
Beta Gamma Sigma Honor Society (Memorial University of Newfoundland, Canada Chapter)