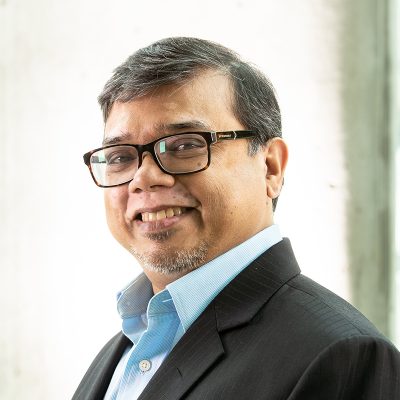 Dr. Sourav Ray
Professor
Available to Supervise
Dr. Sourav Ray's expertise is in Industrial and Retail Marketing strategies with specific research interests in Strategic Pricing and Distribution Channel issues. Recent topics of his research include using Big Data technologies for managing distribution channels, and dynamic pricing and product marketing practices in high-tech markets and Fast Moving Consumer Goods (FMCG) retail. His research has been published in the top international journals of the field and has won several international awards. He has won multiple competitive research grants from prestigious granting agencies.
Dr. Ray has consulted for a broad range of client firms on strategic marketing issues and taught marketing at multiple levels, spanning Executive Education, Ph.D., MBA and Undergraduate programs. More details are available from his personal website.
Ph.D., Marketing, Carlson School of Mgmt., University of Minnesota, USA
M.S., Aerospace Engineering, Texas A&M University, USA
B.Tech. (Hons.), Aerospace Engineering, Indian Institute of Technology, India
Dr. Ray's research has been published in top journals such as Journal of Marketing, Marketing Science, Journal of Law and Economics, Journal of Monetary Economics, and Journal of Business Venturing.  Prestigious funding agencies that have supported his research include the Canadian Foundation of Innovation (CFI), Ontario Research Foundation (ORF), Social Sciences and Humanities Research Council (SSHRC) of Canada and Fonds Québécois de la Recherche sur la Société et la Culture (FQRSC) of Quebec, Canada.  He currently supervises several PhD students.
Dr. Ray is the co-founder and Research Director, Marketing Analytics of the Marketing and Supply Chain Analytics (MiSCAN) lab in Burlington, which is funded by CFI and ORF.  He is a co-founder and co-chair of the annual Canadian Empirical and Theoretical (ET) Symposium on Marketing Strategy which is Canada's premier research conference focused on quantitative marketing strategy. He is also the founder and chair of the Value in the Vertical (VIV) workshops, which is dedicated to bring together practitioners and early stage researchers in the general domain of Distribution Channels and Supply Chain Management (SCM). Dr. Ray serves on the editorial board of the journal E-Commerce Research and Applications (ECRA) and is a frequent reviewer for a number of journals and granting agencies.  He served four years in Canada's Social Science and Humanities Research Council's (SSHRC) prestigious Adjudication Committees for Standard Research Grant and Insight Grant programs.
Dr. Ray is often invited to present his research in different institutions, conferences and workshops around the globe.  He was invited to publicly speak on the topic of pricing policy regulations, by Michigan State Legislature's Commerce Committee.
Marketing management, Inter-organizational research, Channels, Technology marketing, Pricing and Retailing are Dr. Ray's primary teaching interests within Marketing.  He teaches at both graduate, undergraduate courses and has been nominated for and won awards for his teaching.
Dr. Ray has consulted for several Fortune 100 firms in the aviation, chemical and consumer products sectors.  Outside of academics and consulting, he has worked in several hi-tech industries as a marketing executive and entrepreneur, and in aeronautical engineering structural design roles in the aerospace industry.
For more details please check his personal website.