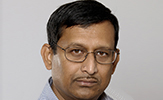 Sudipto Sarkar
Professor
Finance and Business Economics
McMaster University 1280 Main Street West Hamilton, ON, Canada L8S 4M4
DSB-302
905-525-9140, x23959
Available to supervise
Real options, corporate finance, agency problems, working capital management.
Education
Ph.D., Finance & Economics, Columbia University
B.Tech., Chemical Engineering, Indian Institute of Technology
Selected Publications and Presentations
Selected Publications
Optimal Size, Optimal Timing and Optimal Financing of an Investment, Journal of Macroeconomics, 2012 (forthcoming).
Optimal Expansion Financing and Prior Financial Structure, International Review of Finance, 2011 (Vol. 11), 57–86.
Optimal Fishery Harvesting Rules Under Uncertainty, Resource and Energy Economics, 2009 (Vol. 31), 272-286.
Can Tax Convexity be Ignored in Corporate Financing Decisions? Journal of Banking and Finance, 2008 (Vol. 32), 1310-1321.
Equity Systematic Risk (Beta) and its Determinants (co-author Gwangheon Hong), Contemporary Accounting Research, 2007 (Vol. 24), 423-466.
Optimal Dividend Policy with Mean Reverting Cash Reservoir (co-authors Abel Cadenillas and Fernando Zapatero), Mathematical Finance, 2007 (Vol. 17), 81-109.
Real Options, Agency Conflicts, and Optimal Capital Structure (co-author David Mauer), Journal of Banking and Finance, 2005 (Vol. 29), 1405-1428.
The Trade-Off Theory with Mean Reverting Earnings (co-author Fernando Zapatero), The Economic Journal, 2003 (Vol. 113), 834-860.
The Effect of Mean Reversion on Investment under Uncertainty, Journal of Economic Dynamics and Control, 2003 (Vol. 28), 377-396.
Probability of Call and Likelihood of the Call Feature in a Corporate Bond, Journal of Banking and Finance, 2001 (Vol. 25), 505-533.
On the Investment-Uncertainty Relationship in a Real Options Model, Journal of Economic Dynamics and Control, 2000 (Vol. 24), 219-225.
Professional Activities
Associate Editor: Journal of Economic Dynamics and Control.
Associate Editor: Quarterly Journal of Finance.
Member: Resource Allocation Committee, SHARCNET Canada.