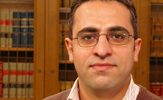 Dr. Vahid Assadi
Information Systems
Vahid joined our PhD program in January 2007. His research interests lie in the areas of e-Health as well as adoption of Information Systems by individuals and organizations. He is also interested in understanding capabilities of Information Systems to support consumer-based health care. In particular, he is interested in investigating various benefits, barriers and factors leading to the adoption of Personal Health Record (PHR) systems by the general public. Vahid was a PhD student participant in the 30th ICIS Doctoral Consortium in Phoenix, Arizona (2009). He was a member of the School of Business Student Research Ethics Committee (SBSREC) 2007-2009. He is currently the President and a founding member of the Association for Information Systems (AIS) Student Chapter of the DeGroote School of Business.
Thesis Title: Adoption of Integrated Personal Health Record Systems: A Self-Determination Theory Perspective
Supervisor:  Khaled Hassanein
Education
Ph.D., Information Systems, McMaster University
M.A., Information Technology Engineering, Tarbiat Modares University (Iran)
B.A., Software Engineering, Sharif University of Technology (Iran)
Selected Publications and Presentations
Assadi, V., Hassanein, K., (2010), "Continuance Intention to Use High Maintenance Information Systems: The Role of Perceived Maintenance Effort," European Conference on Information Systems (ECIS), Pretoria, South Africa, June 7-9.
Assadi, V. (2009). "Consumer Adoption and Use of Personal Health Record Systems," International Conference on Information Systems (ICIS), Doctoral Consortium, Phoenix, Arizona, December 11-14, 2009.
Assadi, V., Hassanein, K., (2009), "Consumers' Acceptance and Use of Personal Health Records Systems: A Theoretical Model," European Conference on Information Systems (ECIS), Verona, Italy, June 8-10.
Assadi, V., Sepehri, M., M., (2006), "Assessment of B2C Websites Based of Successful Implementation of Trust-Building Factors", International Marketing Management Conference, , Tehran-Iran, August 2006.
Professional Activities
Over the course of Vahid's extensive career, he has been involved in a number of industrial projects for software development and automotive production companies. He has worked as a web and application programmer, database designer, system analyst, and project manager and has also taught undergraduate courses such as software engineering, systems analysis and design, and web programming and architecture.