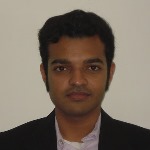 Vivek Krishnamoorthy
Finance and Business Economics
McMaster University 1280 Main Street West Hamilton, ON, Canada L8S 4M4
DSB A210
905-525-9140, x26184
Vivek joined the PhD program (Finance) in September 2014. His current research interests are in the areas of empirical finance including corporate finance and financial markets.
Supervisor: Jiaping Qiu
Education
Graduate Certificate in Public Policy, The Takshashila Institution, India
M.B.A., Banking & Finance, Nanyang Business School, Singapore
B.Eng., Electronics & Telecom, VESIT, Mumbai University, India
Experience
Before coming to McMaster, Vivek worked for over 1.5 years as an Assistant Professor of Finance at Symbiosis Institute of Business Management (Pune, India).
Prior to that, he had over 7 years of corporate experience in finance, education & technology working in Singapore and India.
Professional Activities
Student Member of the Institute of Actuaries, India
Cleared actuarial paper Financial Mathematics (CT1) in August 2014
Co-Written a paper on "The Indian Stock Markets : Testing for the Random Walk Model and Anomalies" (Conditionally accepted at an Indian peer reviewed research journal in August 2014)