2020 MBA Student Ambassador Application
extracurricular
| May 12, 2020
Submitted by
Matt Vonk
for MBA Recruitment and Admission
Important Notice
For the latest information and updates about McMaster's response to COVID-19 (coronavirus) please visit the McMaster COVID-19 site.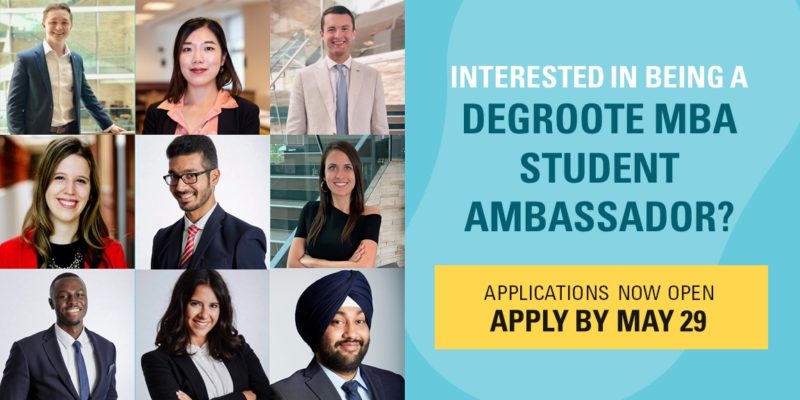 DeGroote's MBA Recruitment and Admissions Team is looking for current students to participate in the 2020 DeGroote MBA Student Ambassador Program.
Student Ambassadors spend about four hours a month developing relationships with prospective students and assisting with program marketing, recruitment, and engagement initiatives at events. Ambassadors participate in the program for the length of their study at DeGroote and play an integral role in an incoming student's educational journey, and in the larger student community at DeGroote.
This is a high-profile, student leadership role that gives Ambassadors the opportunity to interact and network with MBA peers, administration and other stakeholders while developing key professional skills, like:
Public speaking
Written and verbal communications
Strategy development
Knowledge transfer/Peer mentorship
Past Ambassadors have demonstrated:
Exceptional communication skills
Active engagement in activities on and off-campus
A willingness to learn
Excellent time management skills
Tact and empathy
Confidence speaking in public
Interested in applying? Submit your application to Matt Vonk and Rita Chen at mbainfo@mcmaster.ca by May 29. Interviews will be held in June and the first online training session will take place on July 6.