Attend The 8th Annual Synapse Competition | Mar. 24
extracurricular
| March 16, 2021
Submitted by
Rafik El Werfalli
for McMaster Industry Liaison Office
Important Notice
For the latest information and updates about McMaster's response to COVID-19 (coronavirus) please visit the McMaster COVID-19 site.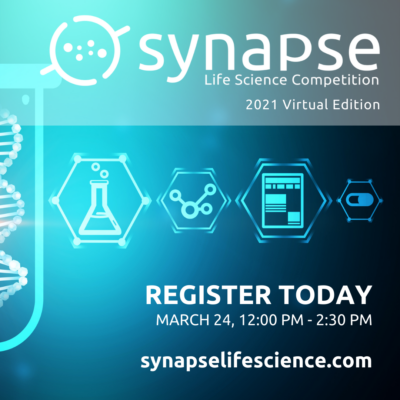 Innovation Factory's Synapse Life Science Competition is Ontario's premier life science pitch competition and designed to help move innovative life science products and services out of the lab and into the market, by pairing up life science Innovators with business and entrepreneurship students.
Join us there, meet the finalists and hear the top 3 pitch their ideas for the chance to win cash and prizes. And be sure to stick around for networking in order to connect with Hamilton's growing life science ecosystem.
Event details:
Wednesday, March 24
12 – 2:39 p.m.
Register and learn more on the Synapse Life Science website.