Accessibility and Disability Inclusion Celebration!
extracurricular
| November 12, 2019
Submitted by
Kate Brown
for Equity & Inclusion Office, AccessMac Program
Important Notice
For the latest information and updates about McMaster's response to COVID-19 (coronavirus) please visit the McMaster COVID-19 site.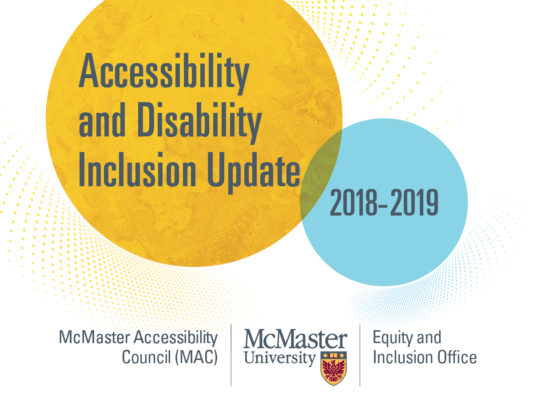 The AccessMac program, within the Equity and Inclusion Office, is celebrating the release of the Accessibility and Disability Inclusion Update 2018-2019 by bringing together contributors, accessibility and disability inclusion workers/learners, and members of McMaster's disability communities. At this celebration, we will also highlight and celebrate the International Day of Persons with Disabilities, which takes place annually on December 3.
Join us to celebrate, enjoy some food, and connect with members within the disability communities at McMaster and those interested in contributing to accessibility and disability inclusion work. For the first time, limited physical copies of the Accessibility and Disability Inclusion Update for 2018-2019 will be available for attendees. The update will also be released via email and social media on Tuesday, December 3!
Event details:
Monday, December 2
2:30 p.m. – 4:30 p.m.
L.R. Wilson Hall – Community Room 1003
To RSVP or for more information, click here.