Apply for Business Today's 45th International Conference in NYC
extracurricular
| April 25, 2019
Submitted by
Meagan Keane
for Student Experience
This message does not apply to part-time students.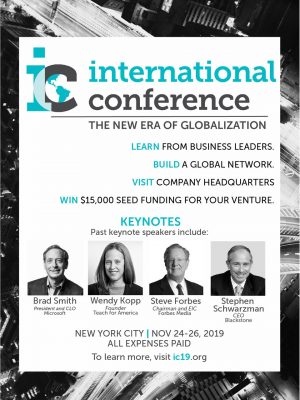 Apply for Business Today's 45th International Conference in NYC
The International Conference is an all expenses-paid opportunity that connects undergraduate students around the world with business executives. The conference connects the leaders of today with students like you — the leaders of tomorrow.
This year's theme, "The New Era of Globalization", will examine how a new form of globalization is affecting businesses around the world.
Details of the conference include:
All-expenses paid, three-day business conference
150 undergraduate students, 75 executives
November 24-26 at the Grand Hyatt in New York City
Past keynotes include:
Gerald Ford (38th President of the United States)
Jeff Immelt (CEO of GE)
Wendy Kopp (Founder of Teach for America)
Muhtar Kent (CEO of Coca-Cola)
Michael Fucci (Chairman of Deloitte)
Melanie Whelan (CEO of SoulCycle)
Apply today at ic.businesstoday.org or email info@ic19.org for more information.
*Funding is available through the DeGroote Experience Fund.