Apply to attend Bell's exclusive Business Recruitment Blitz
career
| July 24, 2019
Submitted by
Meghan Forbes
for SE-CPD
This message does not apply to part-time students.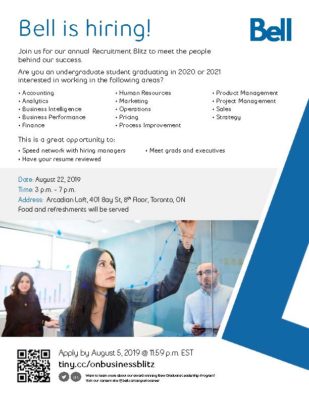 Attention all 2020 and 2021 undergraduate candidates!
Bell is hosting an exclusive recruiting event at the Arcadian Loft in Toronto on Thursday, August 22. This event is a great way to speed network with hiring managers from the Graduate Leadership Program and Summer Internships, get resume tips, and meet the amazing people at Bell!
Spots are limited. Apply by Monday, August 5. Details of the event will be sent to successful applicants.