Last Call: Apply to Become a DeGroote Ambassador by Oct 4
extracurricular
| September 24, 2020
Submitted by
Sarah Rotella
for DeGroote Ambassador Program
Important Notice
For the latest information and updates about McMaster's response to COVID-19 (coronavirus) please visit the McMaster COVID-19 site.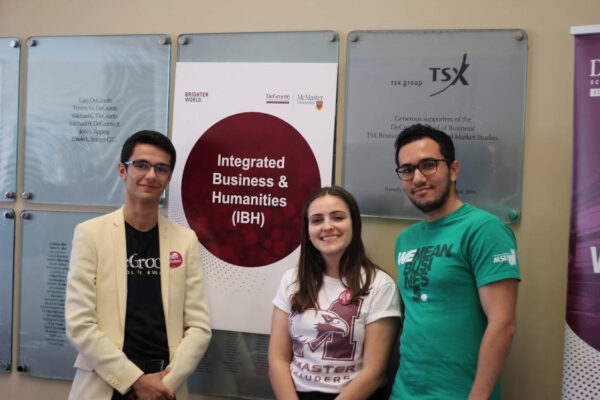 "As a DeGroote Ambassador, I have had the privilege of connecting with prospective students to provide insight about the commerce program at McMaster. My favourite event, whether virtual or in-person, has been our university open houses where I have the opportunity to share my unique undergraduate experience and showcase the incredible academic and experiential offerings at DeGroote. In addition, it is rewarding to see prospective students accept their offer to DeGroote because of the impact I've had on their decision and the valuable advice I provided. Being a DeGroote Ambassador has allowed me to show my faculty pride and be a part of an extraordinary team of leaders." – Stephanie H, Level IV Commerce

"Through my time in the Ambassador program, I have been given the opportunity to make a long-lasting impression on the future of the DeGroote School of Business. Engaging with prospective students has always been an interest of mine; to share my experiences with others who are genuinely curious and looking for guidance is a great feeling. Being an Ambassador gave me the ability to connect with and help these prospective students find their home at DeGroote, and there is no better reward than making others feel more confident in themselves and their decisions!" – Dylan P, Level IV IBH
The DeGroote Ambassador Program consists of a group of volunteers who represent DeGroote at recruitment events and activities throughout the year. Ambassador involvement can be as much or as little as preferred. It is expected that each Ambassador attends mandatory training in advance of each event they are involved in, beginning in October 2020.
How to apply:
Apply by Sunday, October 4 at  11:59 p.m. (EST)
If you have any questions regarding the program, commitment, or application process, please do not hesitate to contact the Program Leads at commerce@mcmaster.ca.